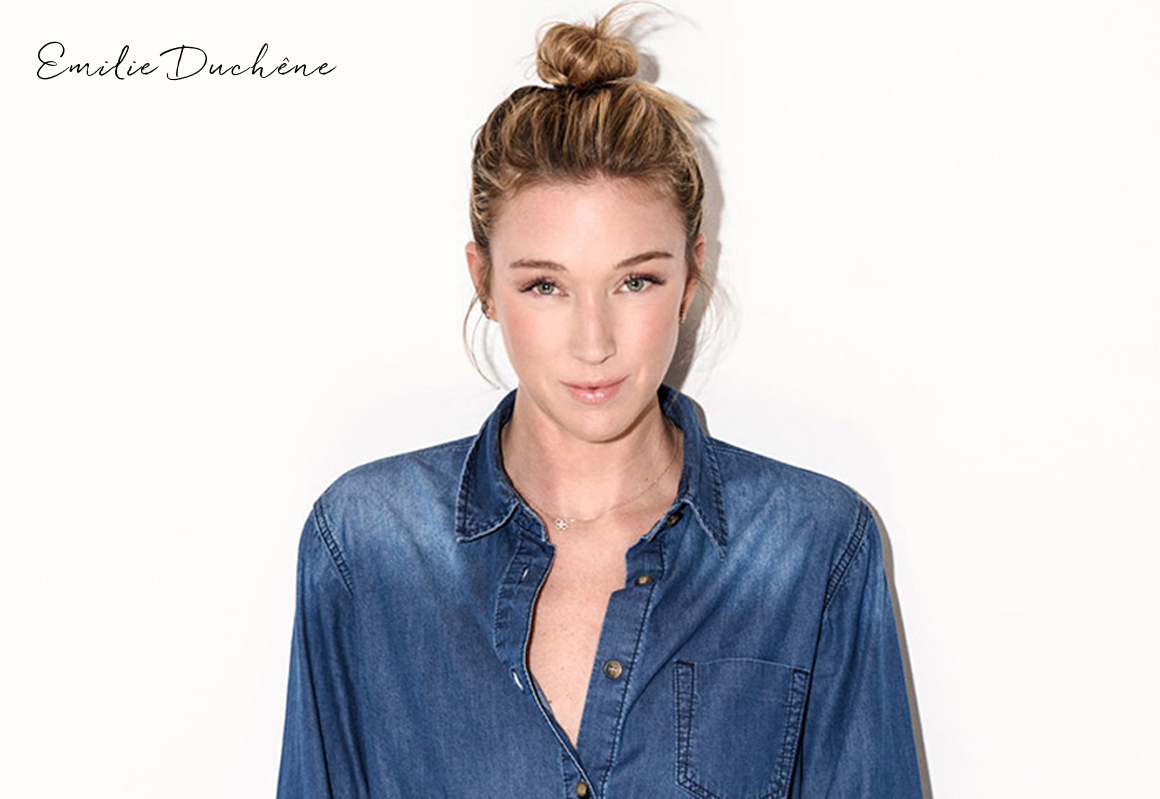 Just before fashion week, I got a call from Vincent, who told me in his unequivocal tone: "You must meet Emilie Duchêne, you'll love her."
I'm ashamed to say that I knew neither Emilie nor her jewellery brand, Thea Jewellery, nor of its resounding success in her native Belgium and also in the United States, where many celebrities have adopted her jewellery.
However, Vincent is unstoppable, oblivious to my lamentable ignorance, singing the praises of this young designer and her own brand of customised jewellery (in fact he alone has this talent, I'm seriously thinking of employing him as my PR: he could sell the Eiffel tower to the Mayor of Paris!) convincing me to go and take a look.
I went to her site and her Insta, and immediately understood that Thea Jewellery was a textbook case, something that happens very rarely in the cut-throat business world, and even less in the over-saturated world of jewellery. Rocketing to success, complete with international expansion, a story with the tempo of a fairy tale and the pretty Emilie as the happy heroine.
Vincent, who conducts everything with a master's hand, gave me an appointment in the middle of fashion week at the new hotel on the Rue Saint Roch decorated by Sarah Lavoine. A great idea, a super new, hip place to do the portrait of a well- connected girl, it makes perfect sense.
When I arrived at the rue Saint Roch on Friday 30 September, I was obviously a little rushed, a little stressed, and I quickly looked up the address of the Hotel Saint Roch to tell my Uber.
He stopped at number 25, in front of a crummy 2-star hotel, totally in its original state, like the Hotel du Nord before its renovation by Arlety, it hadn't been done up in ages and the atmosphere was mothballs!
Inevitably taken aback, I re-checked my iPhone, which then explained that the hotel renovated by Sarah Lavoine was actually called Le Roch Hotel & Spa and was at number 9 on that street. Saved by technology, I arrived just in time, and got settled in the charming, blue-green living room picked out in black, the very fashionable signature colour of the famous Parisian decorator.
I breathed in as I looked around: calm, serenity and luxury, an ultra cocoon décor, refined and charming, chiaroscuro, touches of gold, ideal for a jewellery interview.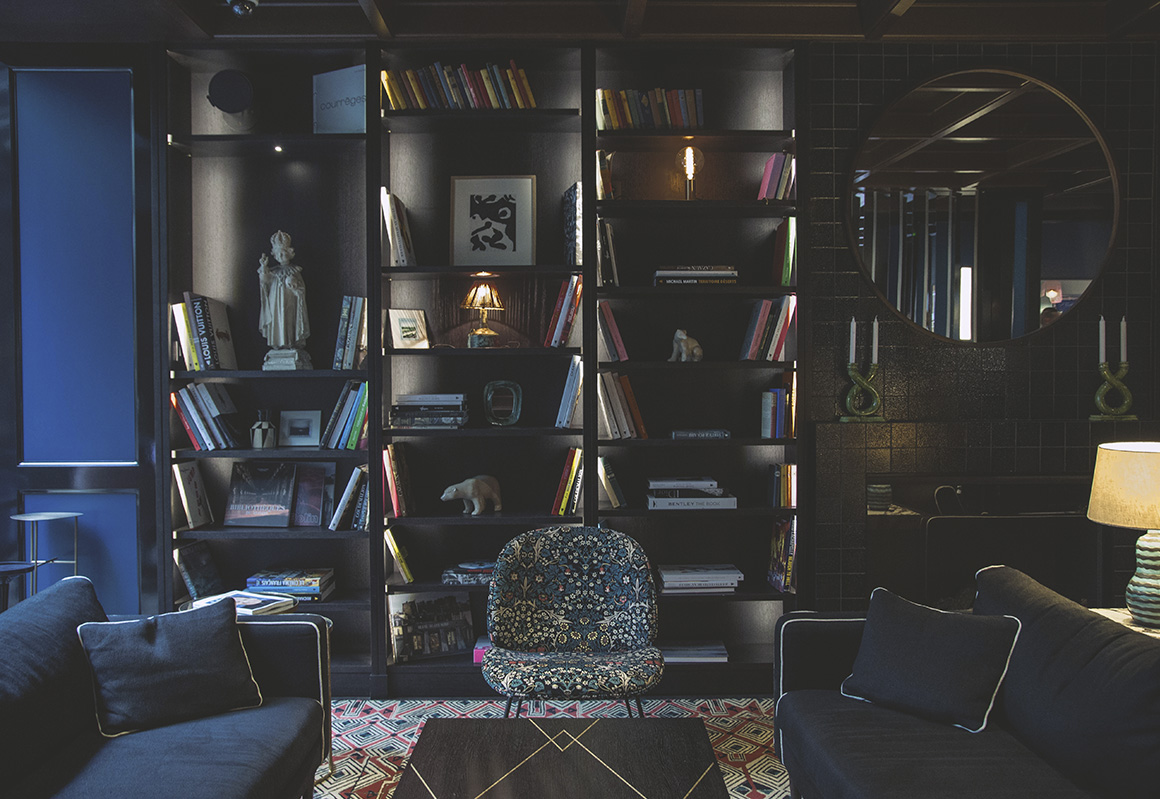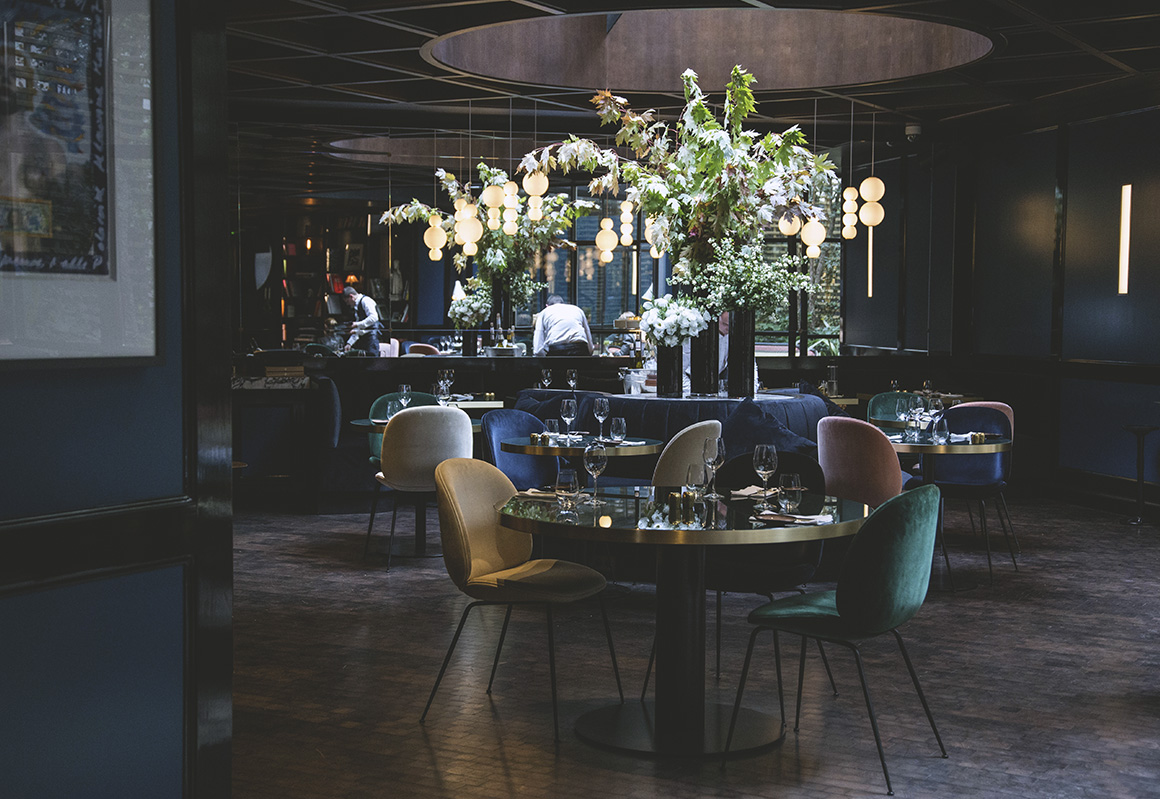 Emilie arrived immediately afterwards , blond and slender, and I couldn't resist exclaiming at her youthful appearance. She looks as much like a teen-ager in real life as on the photo on her site, yet she already has a family, a business, and fifteen years of professional experience. She laughs at once, pretty dimples brighten her smile, and she says without false modesty that this image doesn't displease her!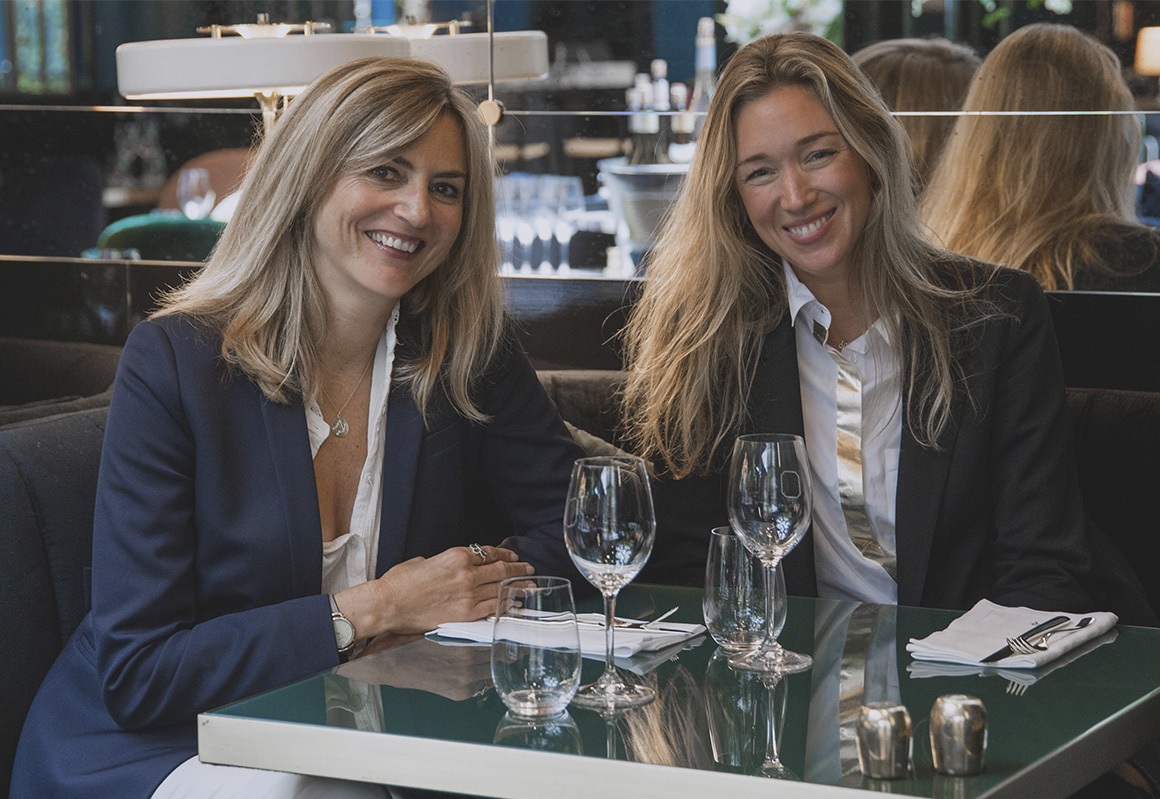 She has a trendy, casual look: white shirt and a blazer highlighted with a gold band – black jeans with her knees showing. Vincent caustically observes that she has holes in her trousers and she answers, without missing a beat, that she knows and her daughter had said when she saw her this morning: "Mummy, have you fallen down? ". Emilie loves fashion, and unlike Loic Prigent, she clearly doesn't detest anything about it.
We joke about the hotel gag, she had done exactly the same detour as I had, the vintage hotel before the luxury one, you could almost say it was an incredible PR coup for the latest hotel news: seedy outside and ultra luxurious within, a sort of happening.
I took my notebook and moved next to her, whilst Sarah was busy shooting the fabulous decor in all directions and Vincent nonchalantly watched over his little world. So let's begin with the Fairy Tale, the story of Emilie.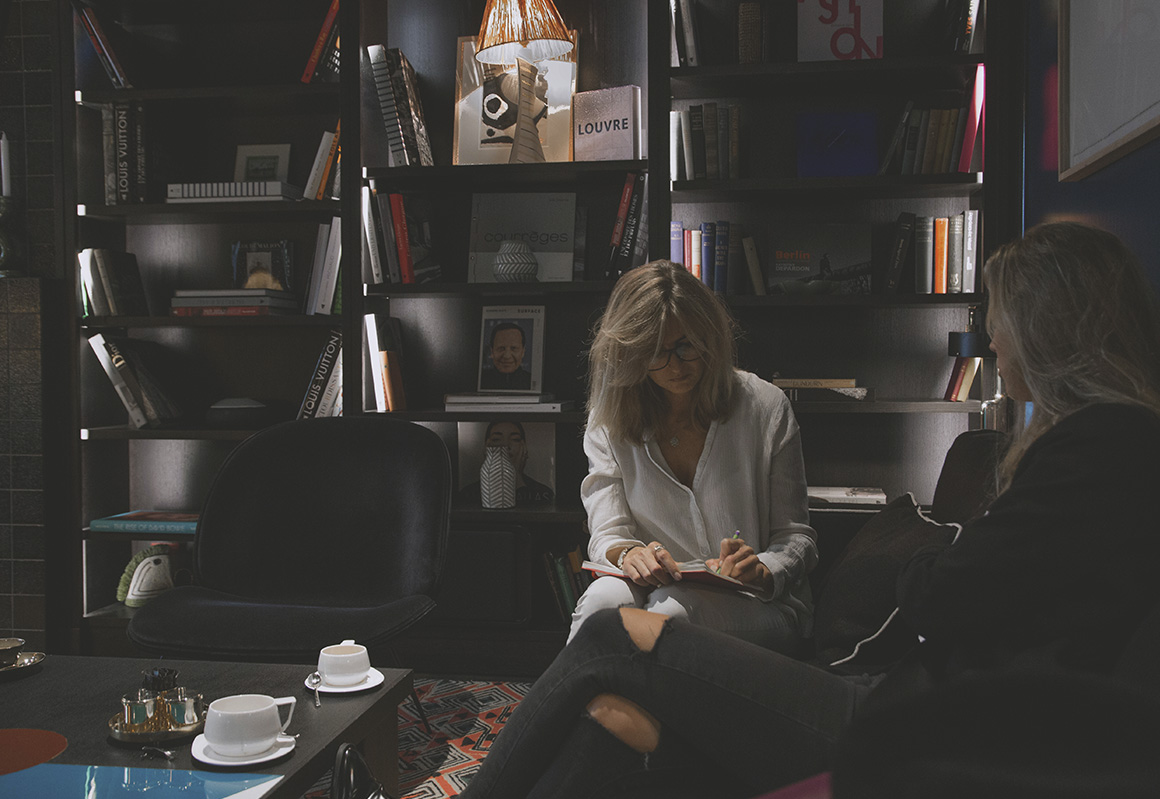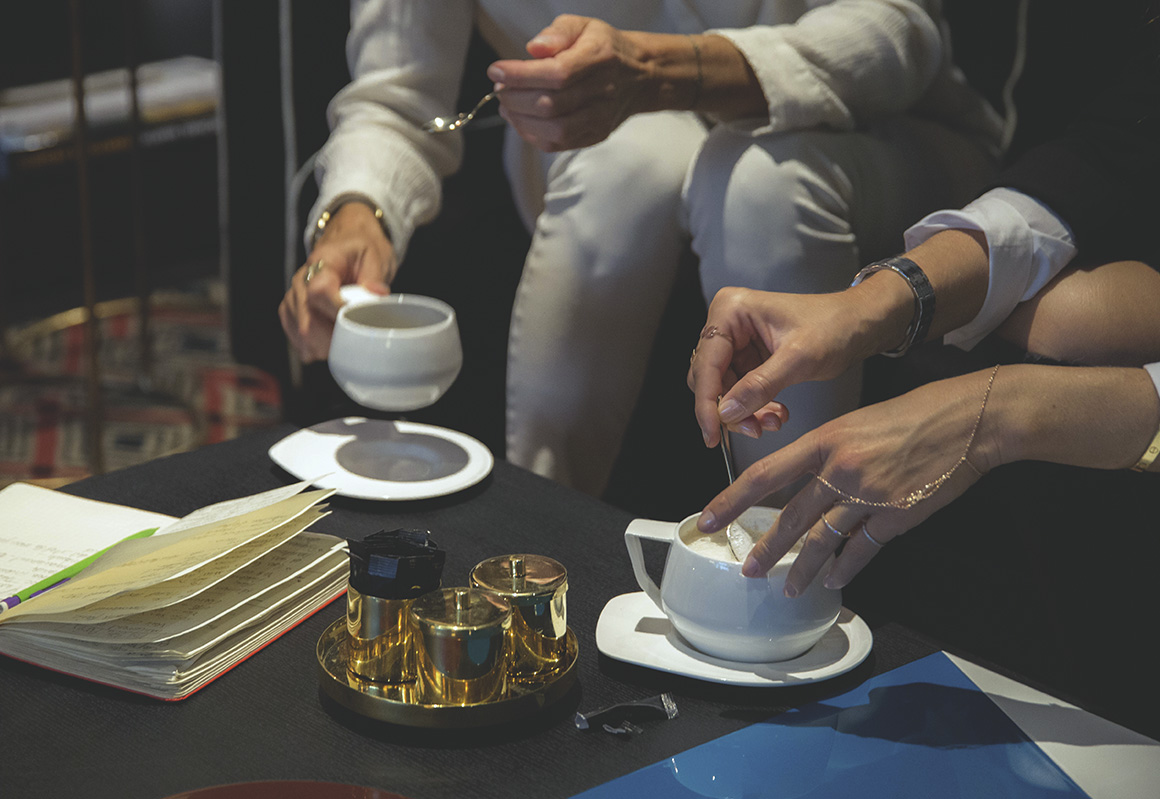 Emilie was born into fashion. Her father and mother worked together distributing the Chipie and Chevigon brands in Belgium and creating the Mer du Nord brand, a fashion institution for our Belgian neighbours. She grew up in Brussels, studied fashion design, left to spend 4 years living in Paris where she took her first professional steps, first at major fashion labels such as Isabelle Marant and Dior, then as assistant to the editor of Elle. From these first jobs, she says, she learnt a lot in two fundamental areas of fashion: creation and communication.
When she returned to Brussels, it seemed obvious she would work for Mer du Nord in charge of marketing and communication, a position she would hold for 9 years.
I understand that this is where Emilie learned the trade, the demands of marketing and new communication technologies on the web. You only need to look at her website to understand that she is totally pro in this area, from the video that presents her story, highlighting celebrities who wear her jewellery, plus ideas of creations being worn, and her ordering system for the client who wishes to imagine her jewellery, at the same time being guided.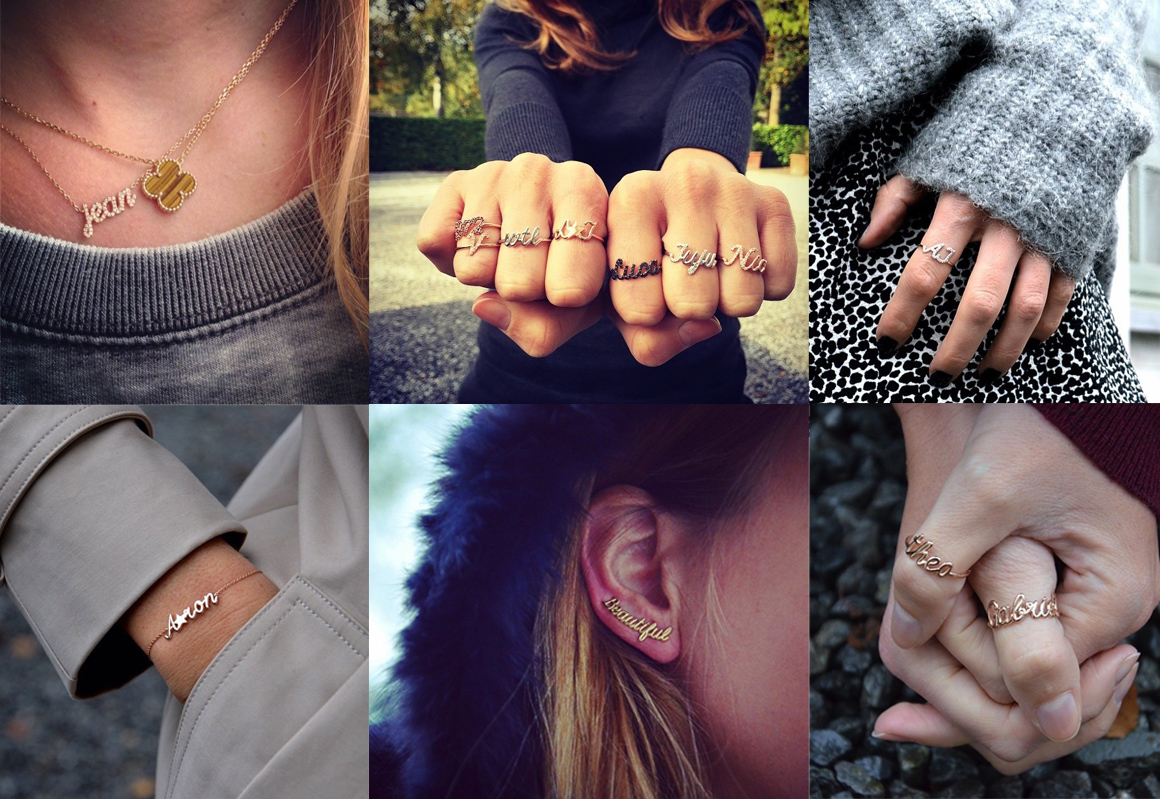 She tells me that after her first years of professional experience, she began to have the desire to create her own project, a special thing for herself, but at this stage she can't really formulate the project.
She got married and expected her first child, a girl she called Thea, from the Greek theos which means god. During this magical interlude, she remembers that she was overcome with an irrepressible creative frenzy.
I understand very well what Emilie is talking about. I remember whilst waiting for the birth of my oldest son, I started doing macramé and stringing beads bought at the Droguerie. At the time it didn't lead anywhere, I've been slower on the uptake to bring my creative project to fruition …
But she continues, she absolutely wanted to have a piece of jewellery with the name of her daughter Thea. She looked everywhere, found nothing, and eventually had a ring custom-made by an Antwerp craftsman. She has nice handwriting, she draws the first name, the craftsman reproduces it, and the first Thea ring was born.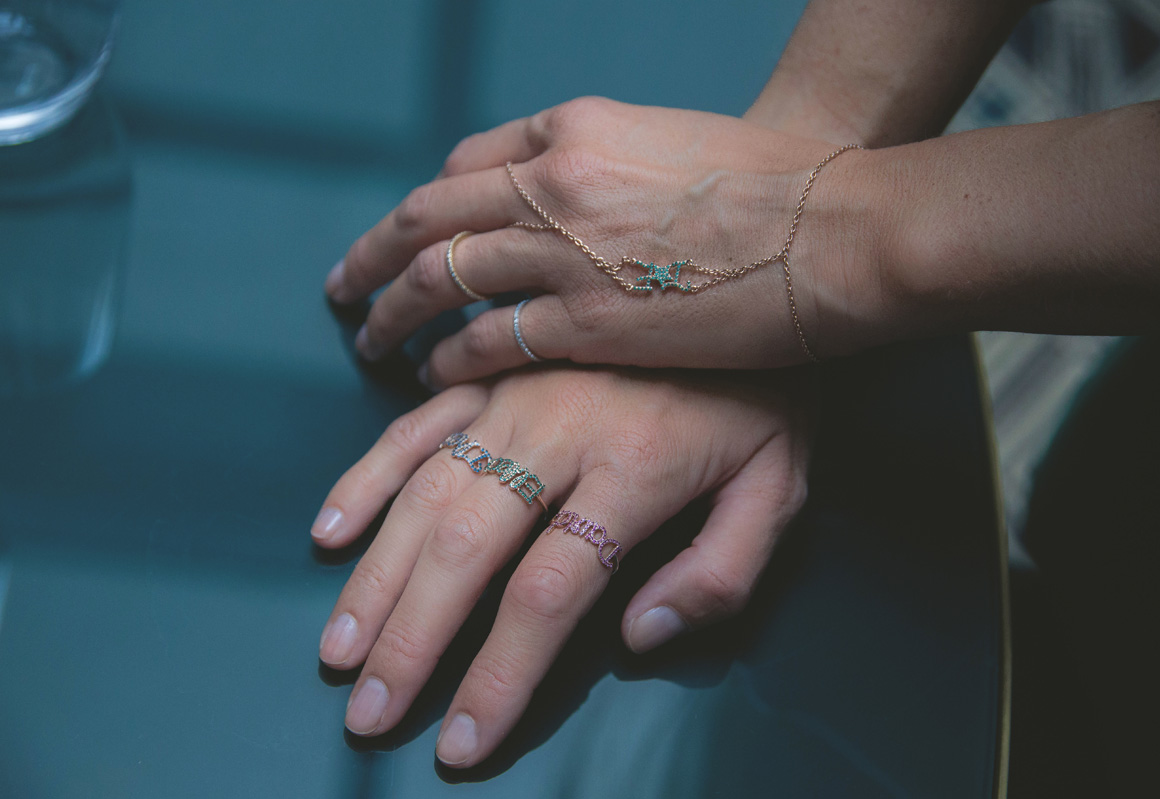 Emilie wore this ring set with diamonds, all her girl friends loved it and ordered custom-made jewellery with the name of their child, their lover, their favorite word. And that was the start of it.
Emilie says she was surprised by her success initially. But then she realised that this happy coincidence was probably the project she had been waiting for for so long, her own special project.
Prudently, she didn't give up her job at Mer du Nord, but she created her online shop, worked in the evenings to reply to customers, place the orders, and send the parcels. She also built up the company's reputation, contacted adoring fashion editors who wrote about her in the press, thus Thea Jewellery was launched in
Belgium.
It's funny how sometimes the biggest commercial successes often begin with something discovered by chance, working all hours nightly on the kitchen table and with unbelievable energy.
In short, success is there, but its not yet profitable. Emilie works her guts out, establishes her supplies to meet demand, registers her handwriting, refines her products, without suspecting that a magic wand would turn her idea of customised jewellery into a large scale success story.
The magical thing happened two and a half years ago.

Emilia picked up the phone, and it's the designer from Victoria's Secret, calling from the United States: "Hello, we love your jewellery, we'd like to order a necklace for every top model from the Victoria Secret's team." Bingo!
Emilie prepares the order of the century, sends it, and waits.
The day after they receive it, 7 supermodels from the team put their picture on Instagram with the necklace. Emilie tells me that during the night that followed, her phone vibrated non stop, panic-stricken by the thousands of likes on her Insta falling like raindrops on the rainforest.
When she opened her iPhone in the morning, Thea Jewellery had increased from 5,000 to over 100,000 subscribers. Thousands of small hearts full of love messages from around the world, all in 24 hours, if that's not a modern fairy tale, I hang up my Melusine jewellery apron …
Emilie has her head in the clouds, but her feet on the ground. As soon as she recovered from the tsunami, Emilie took a press officer in the US, dedicated herself 100% to her business, and organised herself to deliver faster and worldwide. The buzz continued, Rihanna and other celebrities commissioned a piece of jewellery from her, the demand was exponential, she admits with humility: "At this stage, it became almost easy! ".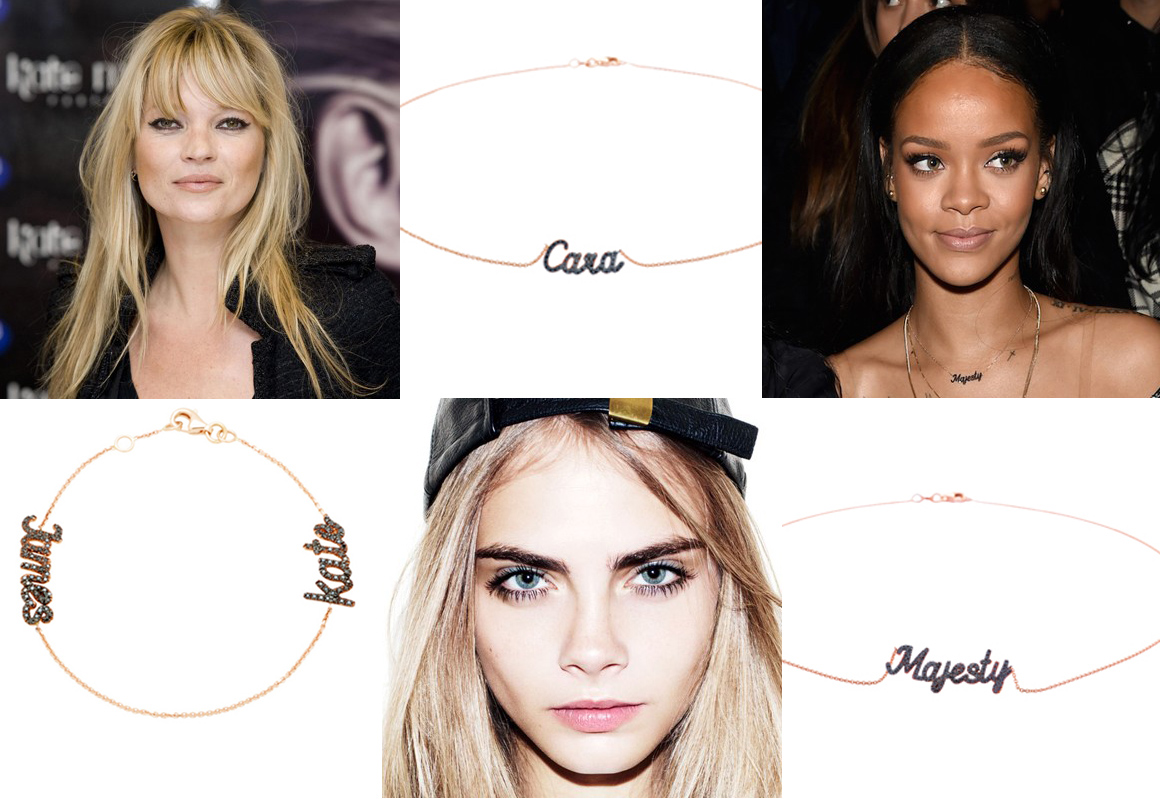 Her first step was to find a manufacturer able to produce quickly and efficiently her customised orders. She found it in Thailand, a workshop directed by a Frenchman, who understands her insistance on quality and supports her with the technical development. Together they would produce all the moulds of the letters and the links, which make for complex combinations, but guarantee identical reproduction of her writing.
This investment is key, enabling them to offer customers a very realistic view of the jewellery at the time of ordering.
Everything is locked in so that the client won't be disappointed by the product as she had imagined it, and she'll receive it at her home four weeks after ordering online, in a lovely jewellery box designed by Emilie.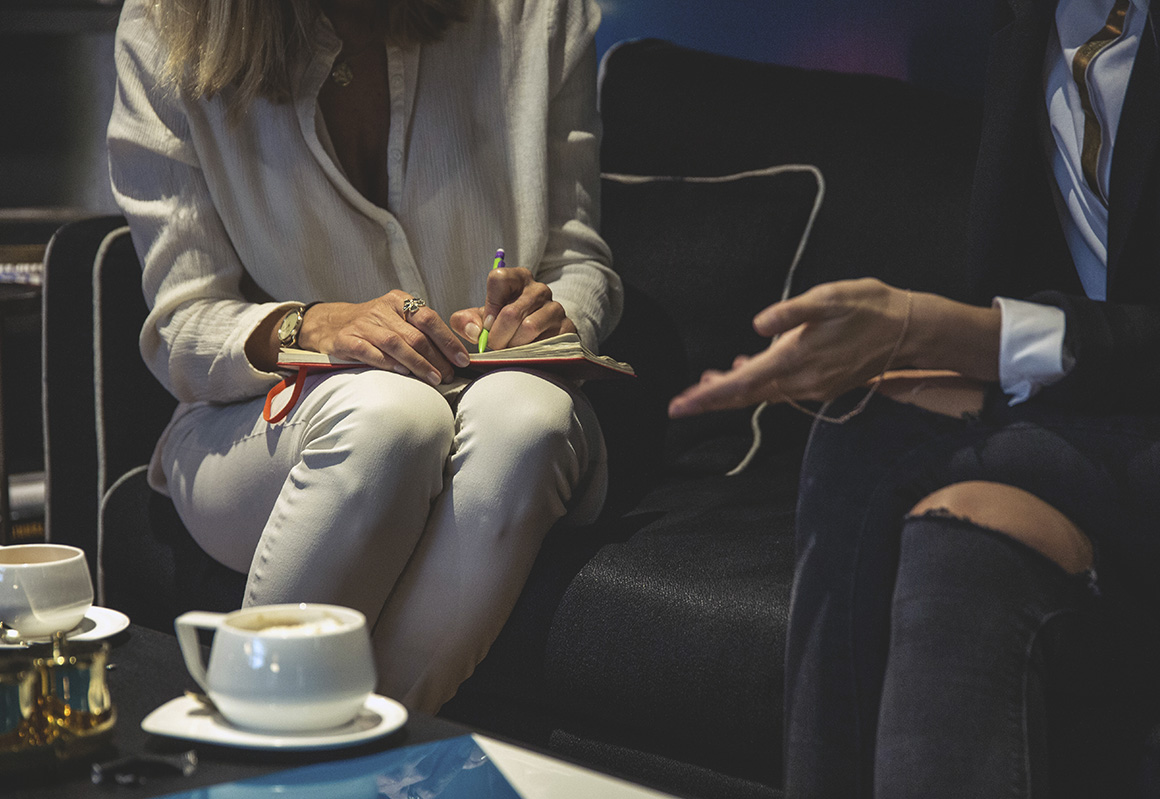 Little by little, as we were talking, Emilie's voice dropped, as if she was telling me some secrets.
Vincent no longer heard what we were talking about and remarked on it, insufficient decibels.
We replied jokingly that we're saying hyper-sensitive stuff. He pretends to get upset and goes off to visit the Spa pool. It's just the two of us, I start using the familiar 'tu" and Emilie continues telling me about how she operates.
What pleases her in this whole story is the adventure. She repeated to me several times that she is afraid of nothing, and that her father transmitted to her this love of risk, this desire to move forward on instinct. There is, in this young woman, something very sensitive and at the same time, sound common sense. She takes measured risks, her experience quickly overtakes her intuition, she knows where she's going. Like a mountaineer instinctively climbing every craggy mountain face with concentration and determination.
Her brand is at the heart of these interconnected stories: her own and that of the people she meets through her brand.
It often happens that a client tells her about her life, why she wants a ring with that name, what's the story behind the occasion to have a unique piece of jewellery. Recently, a young woman named Emilie, just like her, told her about her son with a severe genetic disease. In partnership with the young woman, she developed a ring named "Hope" in a limited series, with 20% of profits donated to a charity that funds research.
In Thailand, she met a gemologist, Chloe Sarasola, who had produced a line of aromatherapy which donates part of its profits to NGOs protecting children in Senegal and elephants in Thailand. She fell for for the young woman and her commitment, and Emilie has used her to source stones and guarantee their ethical origin.
These meetings are markers, stories that affect and direct her path, making her want to write words, to make them shine on a hand or an ear, souvenirs as precious as jewellery, as intimate as a tattoo.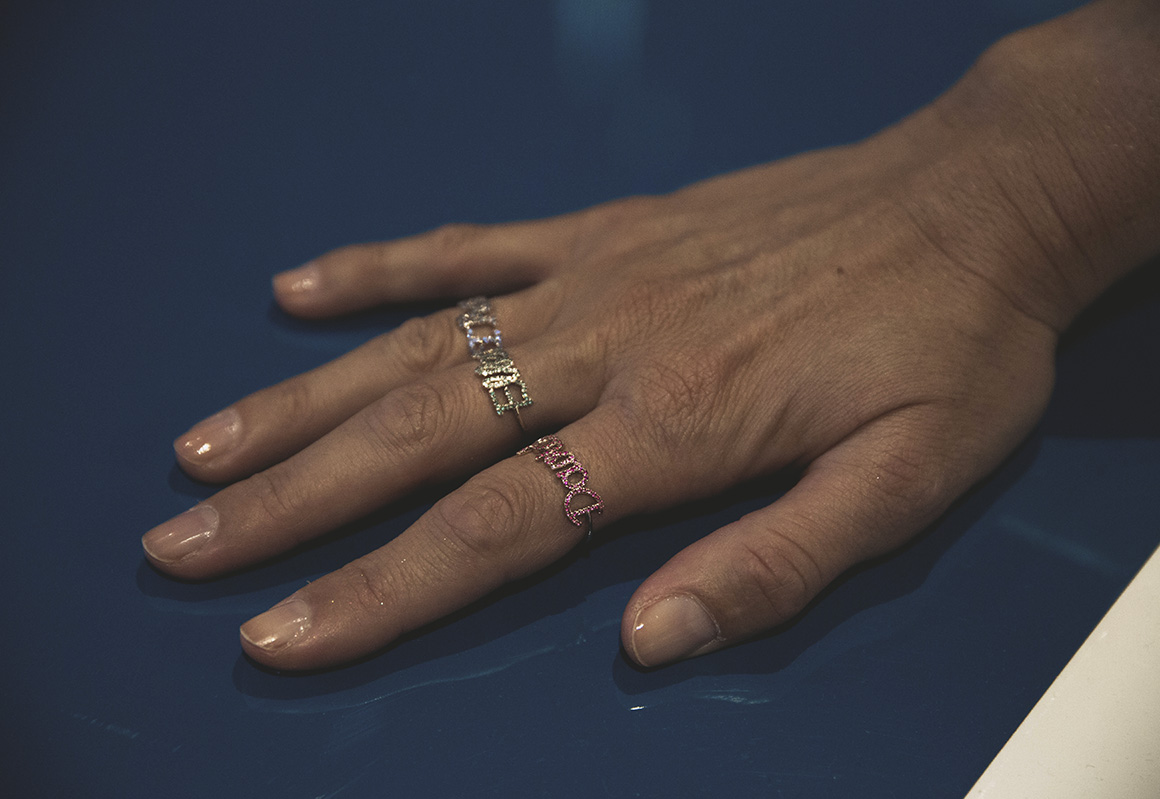 Emilie is modest, declaring that she's not a creator in the classic sense of the term. Moreover, her operation is unique, she doesn't have a collection, she works on demand, and if she turns a word into a piece of jewellery, it's only because it makes sense for her at that time.
She's part of a generation that has no problem building her business 100% on the web, with a tight infrastructure, with no shop or showroom, without stock or merchandising, just with the link she creates directly with her clients.
Her offer is based on what people like, she has no problem explaining to me that if she launches a model that doesn't work, she quickly removes it from her line. Conversely, if a model is a hit, she notices it at once, the feedback is immediate, for instance with a model she produced in silver and vermeil with coloured zircon, which allowed her to quickly reach a much younger clientele.
Vincent returned from the pool, which was great, obviously, and we thought it would be cool to take some pictures of us in this beautiful place. We tried with different lighting, the dining room with dim light, and under the skylight with its bright light shining right upon us. Emilie's cool, she plays the game, we continue discussing, talking about her recent meetings, opportunities, projects.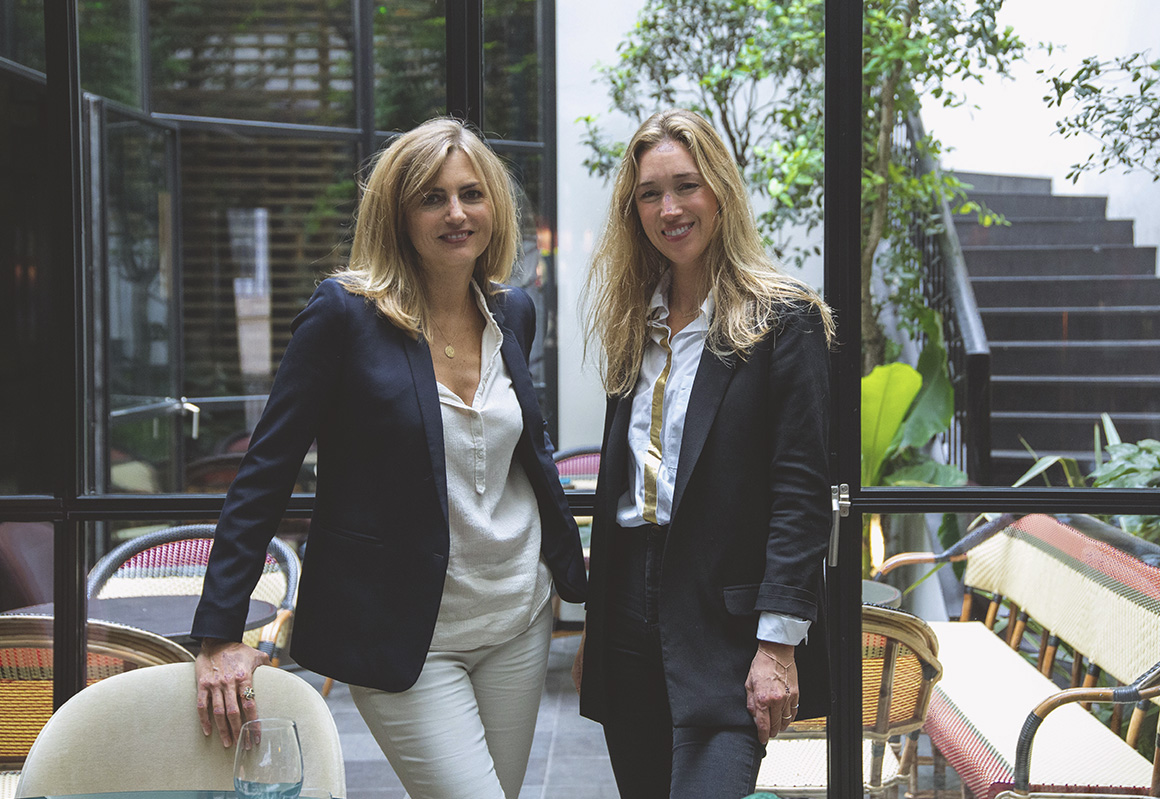 Emilie travels a lot, and is resolutely looking towards international expansion.She has signed to do a pop-up shop with a Japanese department store for a limited edition, she meets people, tests ideas and moves forward.
Her driving force is led by her appetite for this family adventure that advances her
way, with her strong business sense, and the boldness with which her creations mimic her own story, which turned miraculously into a contemporary fairy tale: with hashtags replacing stars; the followers, as kind fairy godmothers; and Hollywood stars as the princesses of the kingdom.
Noon approaches, and the next appointment for Emilie is looming. Vincent, as our efficient maestro of the day, gives us the time out sign.
I left Emilie, my heroine of this modern fairy tale, as one leaves a girlfriend with whom we already share a world: the stories, the memories, the magic words marking a unique moment, and I left the magical blue of Le Hotel Roch Spa telling myself that beauty, as so rightly says Stendhal, king of stories and words, is really a promise of happiness. For myself, continuing to wield an eraser and a pencil, I had the impression of making the link between two eras.
And suddenly I had the urge, an irrepressible fantasy that struck me like lightening, to create with Emilie my own magic word that characterizes me, which signifies what I like and who I am. But hush, that's another story. Coming soon !!!