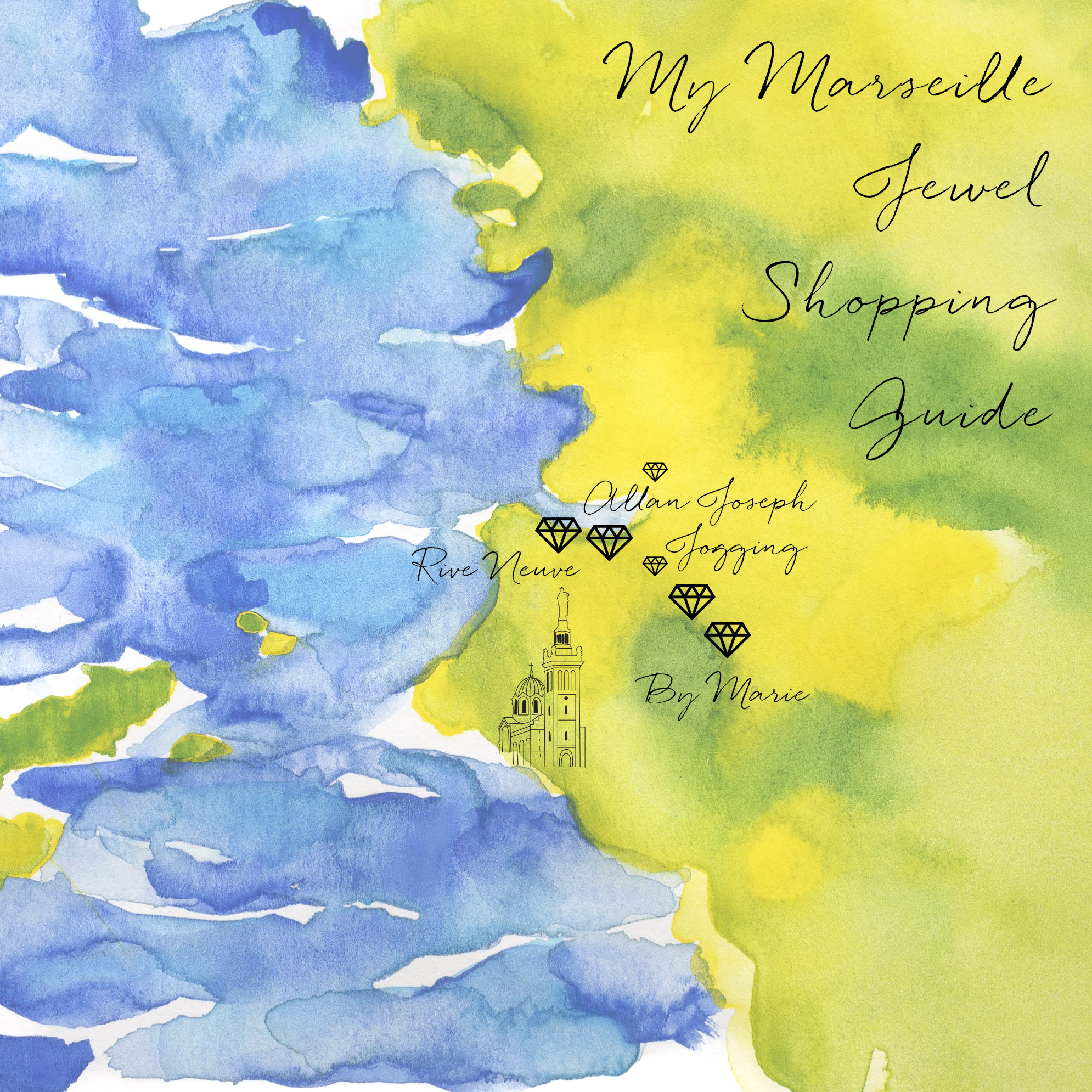 My Jewellery Shopping guide takes to the road, with my first stopover in Marseilles.
Why Marseille?
I could tell you it's simply because it is the second biggest city of France, but the real reason is simply that I looove Marseille!
Because at 3h15away from the Gare de Lyon (Paris), I always find the sun.
Because I love having aioli orgies.
Because we don't say "OK" but we sing "it's great" on two musical notes.
Because we don't say "Odile" but "Odjjile".
Because we don't say "Ticket" but "Tchicket".
Because when I'll buy my anchovy & onion pizza, they don't call me ma'am, but Sylvie.
Because it's the only place where I could consider being in Rehab, replacing my rosé with Orgeat-Perrier.
Because walking 2 hours to swim in the turquoise waters of Sormiou is total bliss.
Because dinner at Paul's on the port of Goudes, is a journey as much as a gastronomic moment.
Because when I arrive in Marseille I am no longer a city girl but a "Cagole".
Because it's the Mediterranean, and the Mediterranean is not just a sea, it's a country, where I feel at home.
In the same way that I have not made you a list of the brands on the Place Vendome in my Paris Shopping guide, I will not dwell on 2 Marseille institutions, Pellegrin and Frojo.
Well-known and celebrated, they have all the major brands of watches and jewellery. They are a safe bet. But as you know, it's the designers that interest me, those starting from nowhere, with just their talent and creativity, who seduce me with their unique jewellery and which have not yet become mainstream!
To render to Caesar what is Caesar's, I still have to point out the presence of the very desirable Greek designer Yannis Sergakis at Pellegrin, and the pretty Charlet brand launched by Frojo. A sign of openness from the institutions towards creation perhaps? Who knows?
So here is my guide to my favourite shops in Marseille, especially for jewellery, but also for clothes, decoration, atmosphere, cosiness, and last but not least, for having fun!
Enjoy my Marseille Jewellery Shopping guide :
By Marie : 108 rue Paradis, 13006 Marseille.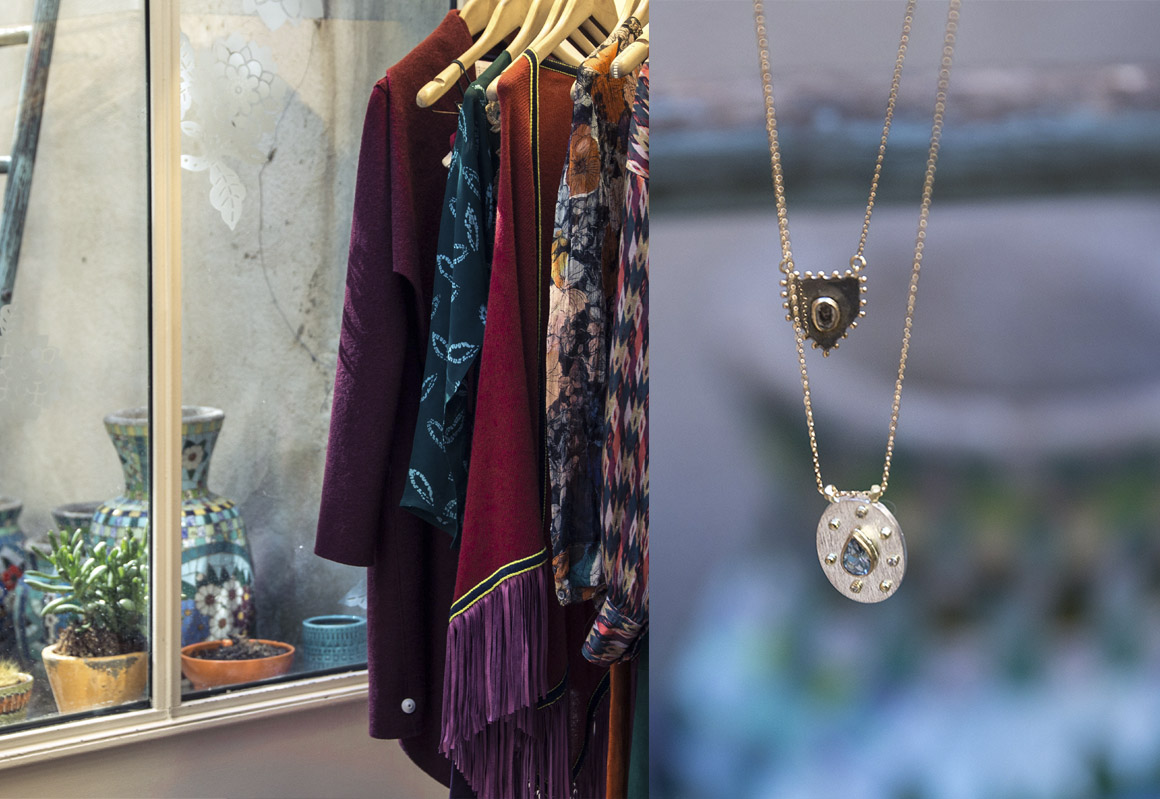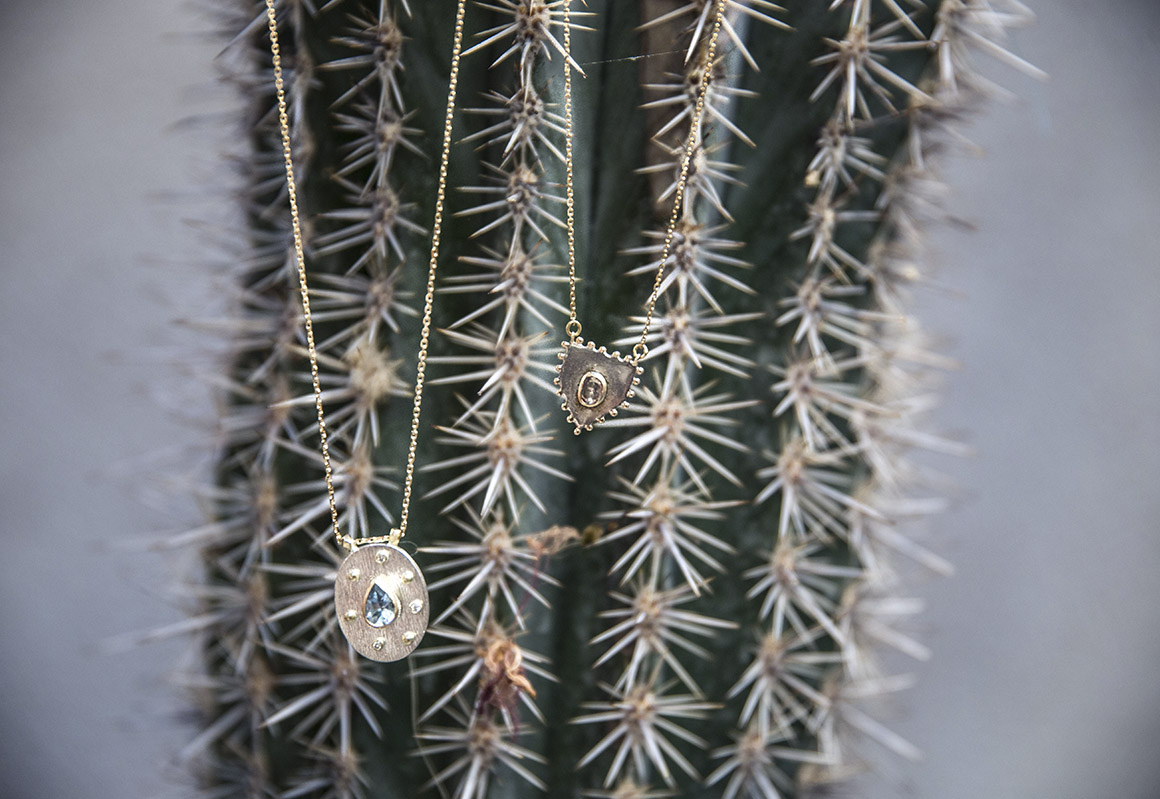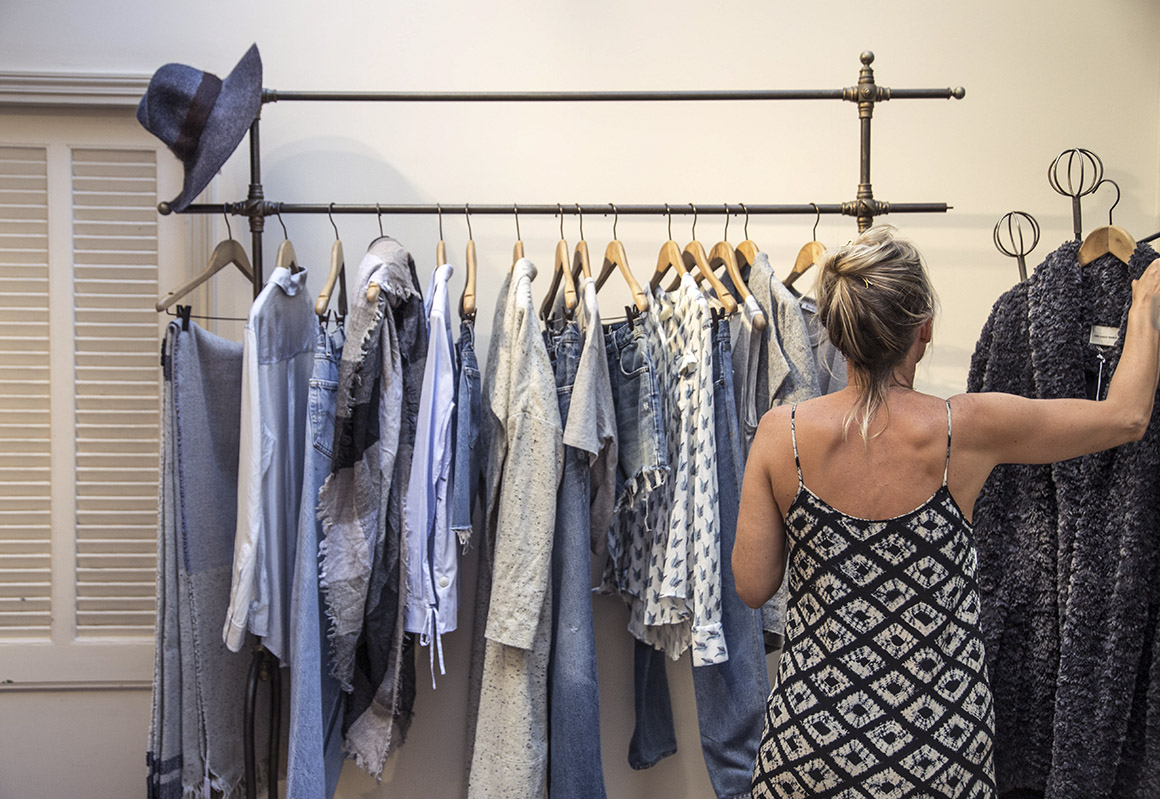 As I've already mentioned, in Paris or Marseille, I love everything at By Marie ! Its range of jewellery is amazing, with all the designers I cherish : Brooke Gregson, Daniela Villega, Jacquie Aiche, Dezso, Céline d'Aoust, la Marseillaise Abis or her precious jewellery, and Gas and Harpo for their fantasy.
A fashionable assortment of colours, where timeless pieces merge with more bohemian ones, and where the patterns are always a perfect match: from Forte Forte to Michel Klein, passing by Heartmade or Harris Warf London, and also the pretty colouredful tunics By Marie. Add to that the Delphine Delafon bags, the chic sneakers and Boots from Golden Goose, the bejewelled sandals from Rupert Sanderson… In other words, enough to make a chic bohemian wardrobe from A to Z.
By Marie is twinned with the Gas jewellery shop. The place is bright, warm, and feels as cosy as a family home. I could stay there the whole afternoon to try on everything!
Jogging : 103 rue Paradis, 13006 Marseille.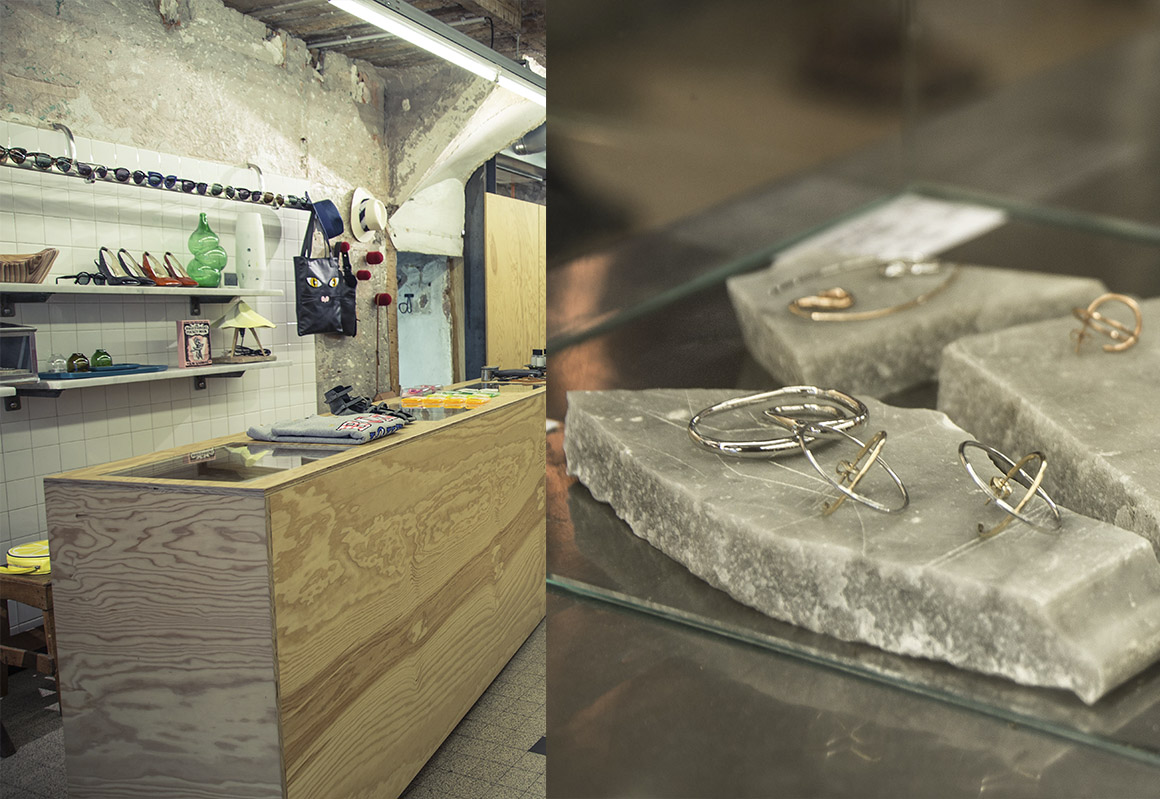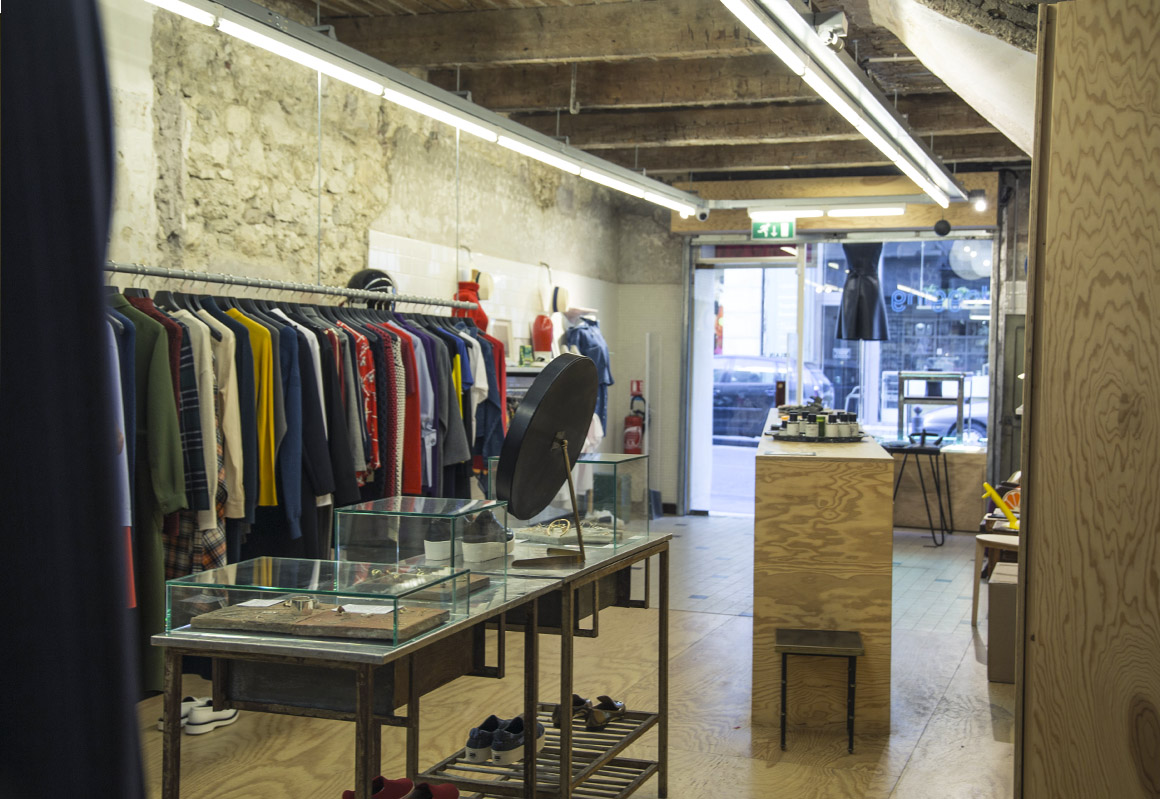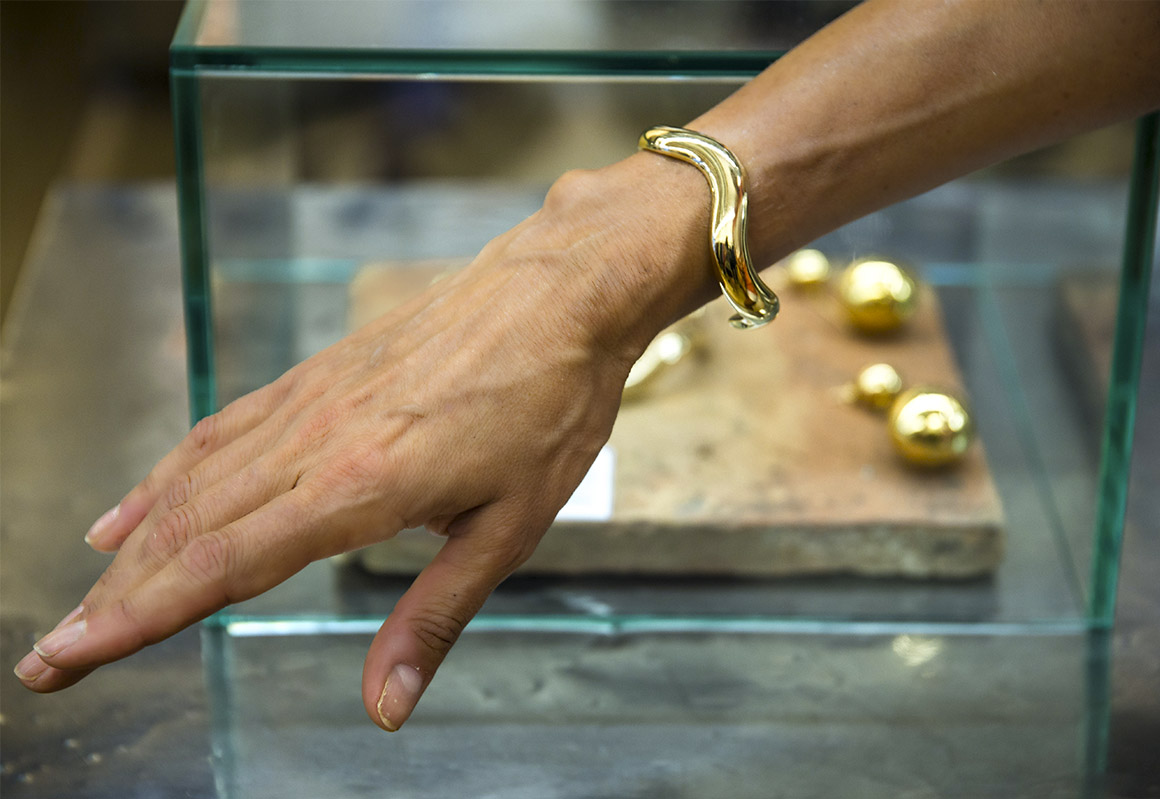 Almost opposite By Marie,is the concept store Jogging, whose unusual frontage inevitably attracts attention.
Located in a former butcher's shop, the boutique is very deep and you need to dare to push the door, to discover all the finest fashion brands and accessories of the selection (I must humbly confess that I only knew Christophe Lemaire, all the others were too flew too high for me …), and get to know 3 jewellery brands from new designers in Marseille: my darling Charlotte Chesnais whom I keep praising (yes I am biased, and I love it !!), The German Saskia Diez and the Irish JW Anderson. It's graphic, sleek, a bit rock, alternative and very intense. Some great, very original pieces.
The shop is extended by a room dedicated to the AESOP care brand, and a lovely garden, where you'll gladly stay a while to enjoy a drink.
Founded by Olivier Amsellem, passionate art photographer and Charlotte Brunet, former event planner, this shop in Marseille is comparable to what Colette in Paris must have been like in the beginning. Very "avant-garde", mixing fashion with lifestyle and contemporary art, a place that could become "The Place To Be" for the trendies of Marseille or elsewhere… "avant-garde" is international, no?
Allan Joseph : 21 rue Sainte, 13001 Marseille, 04 91 91 58 10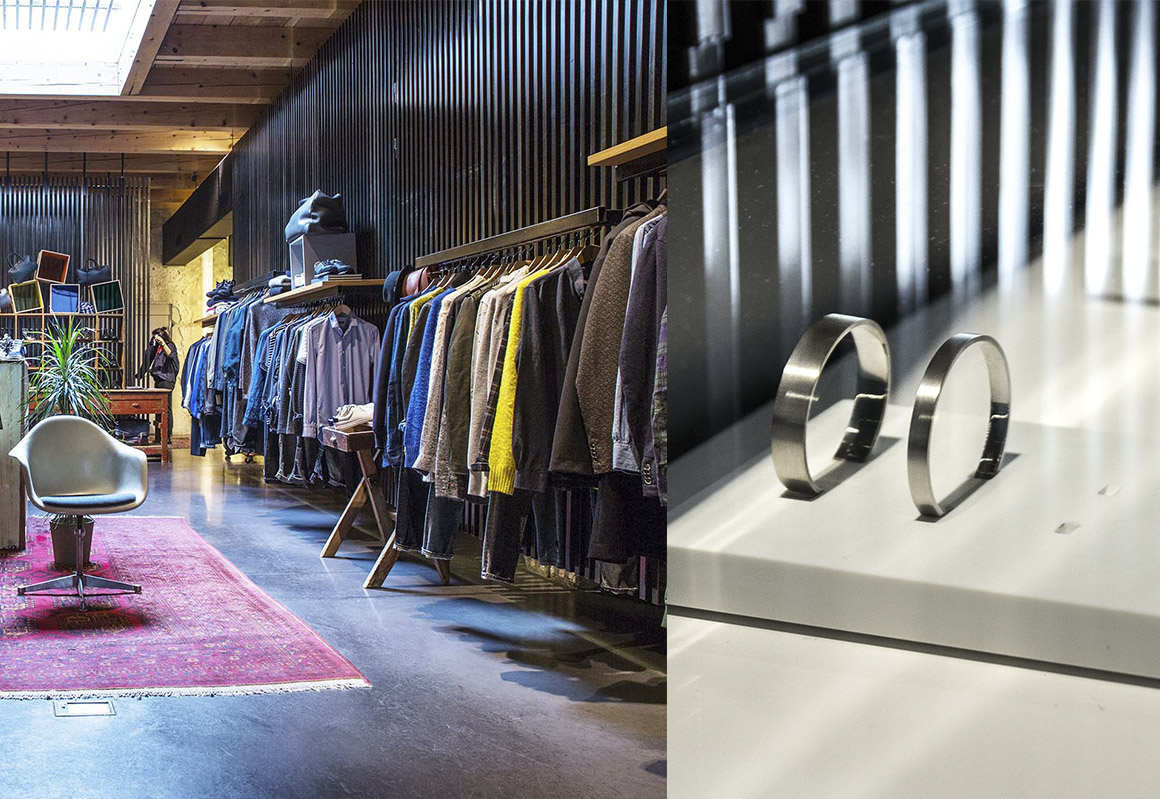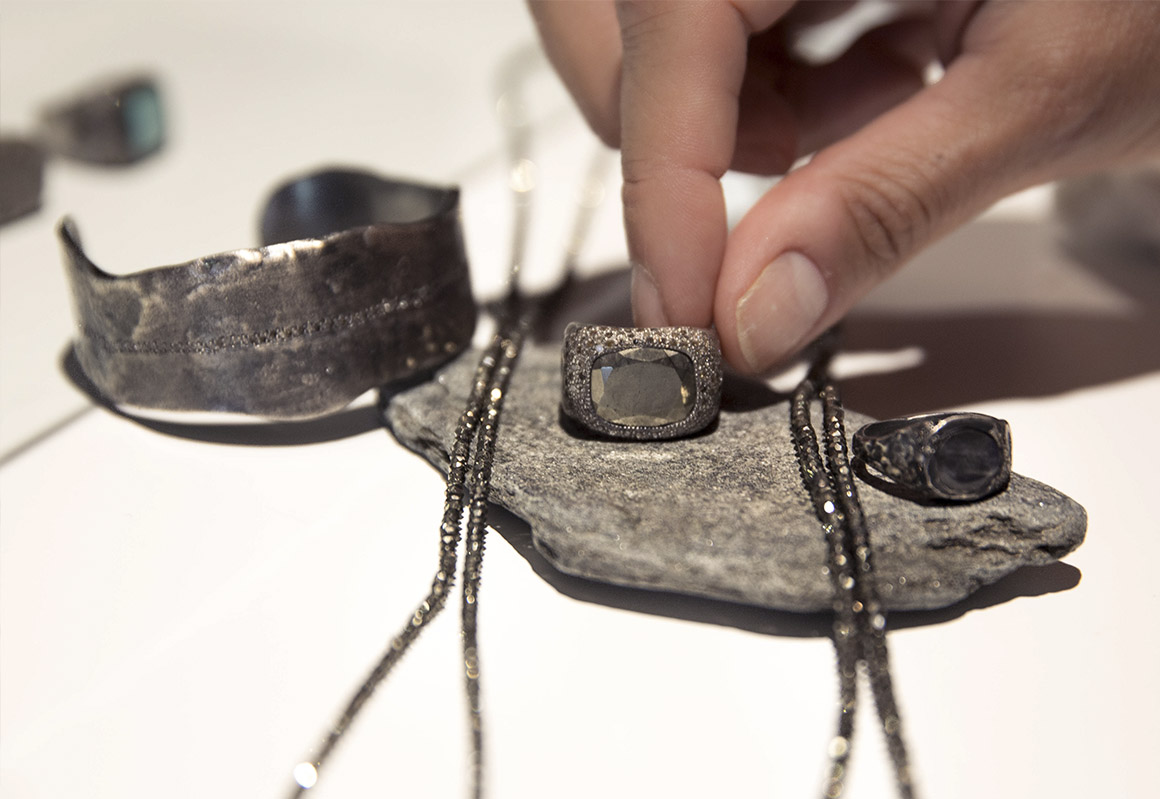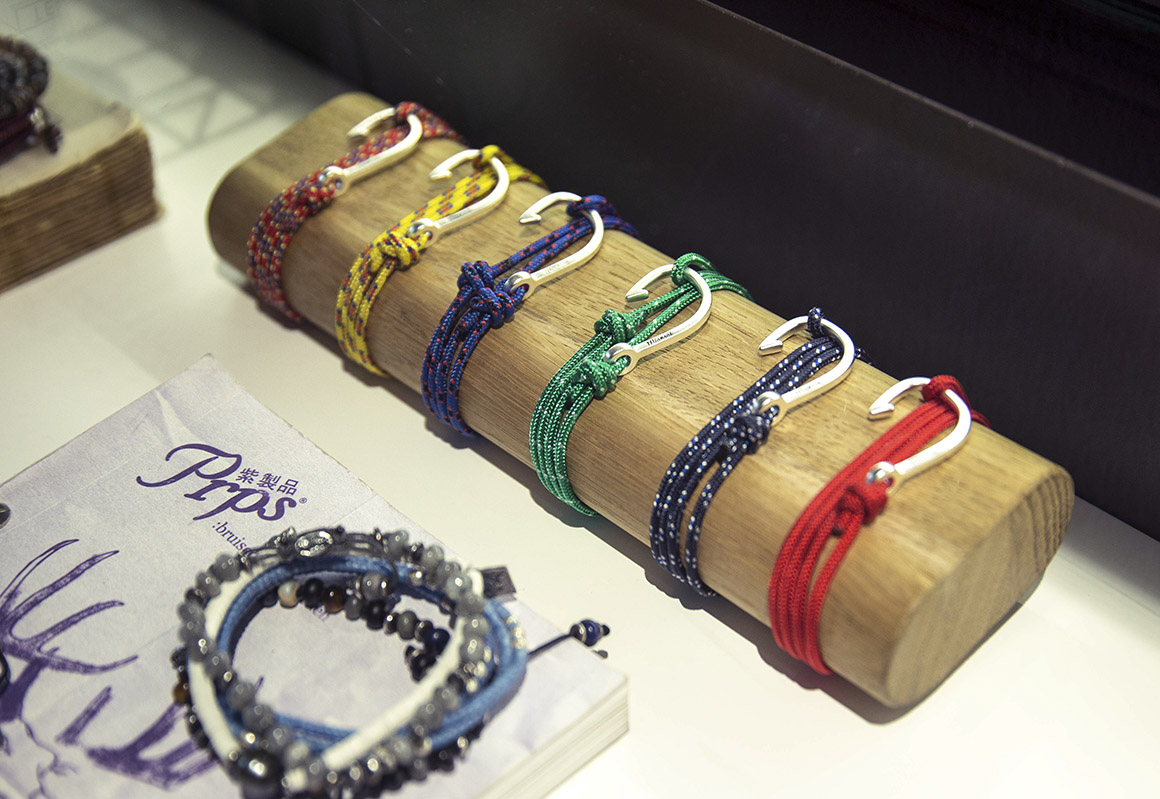 Closer to the old port, in the very charming rue Sainte, there is the beautiful concept store Allan Joseph created a few years ago by Alain.
The shop window is enormous and we get caught up by the industrial style and the perfect perspective that plunges towards the back of the store in an atmosphere of metallic chiaroscuro.
It's a bit masculine, but that's normal, Allan Joseph began by creating male fashion before expanding to women's. In Jewellery, it' is precisely mixed brands such as Le Gramme and Miansai that captured my attention, their sleek geometric looks incorporating perfectly with the atmosphere of the place. There is also the irresistible Pascale Monvoisin, the very poetic brand Aime with its gildedold plated jewellery, the pretty brand from Marseilles Charlet par Aime.
Of course at Allan Joseph there are also shoes, bags, cosmetics and fashion, it changes every season, but always stays super trendy, my favourites still areremaining Golden Goose and Acne Studio… I'm too fashion- incompetent to enjoy the rest atfor its real worthvalue!!
La maison marseillaise : 38 rue Francis Davso , 13001 Marseille, 04 91 55 54 43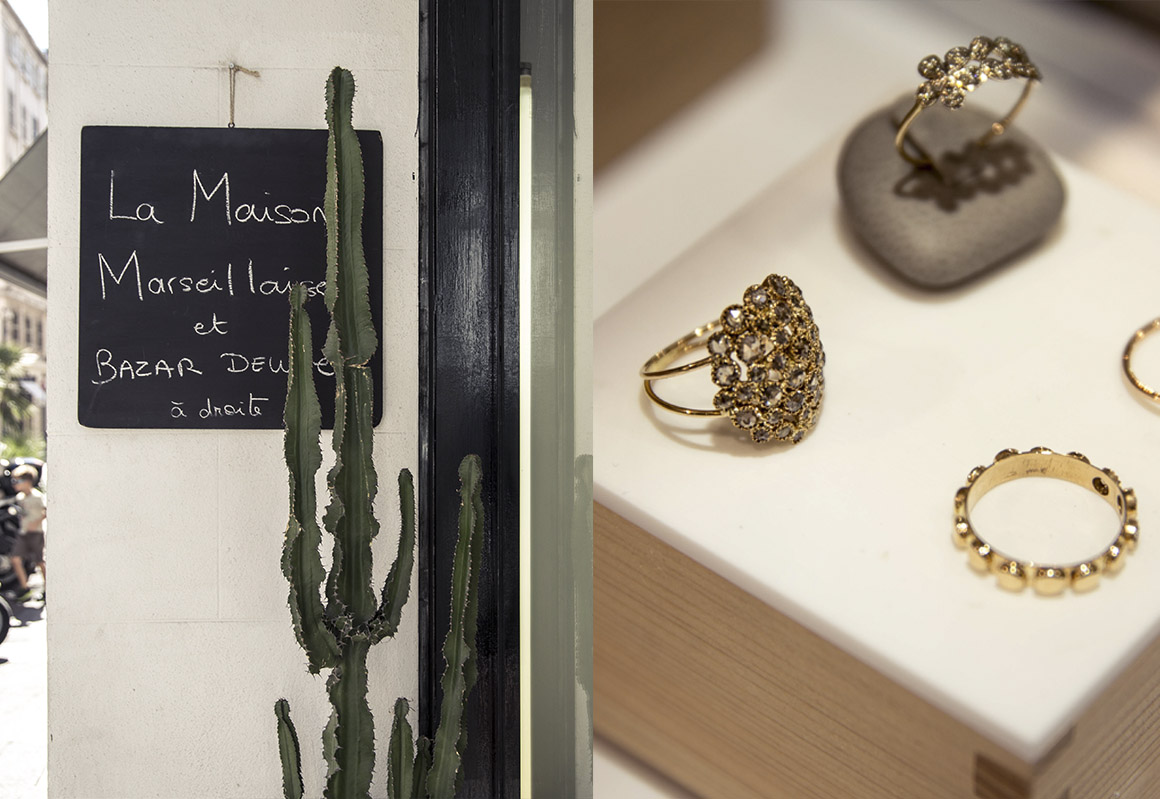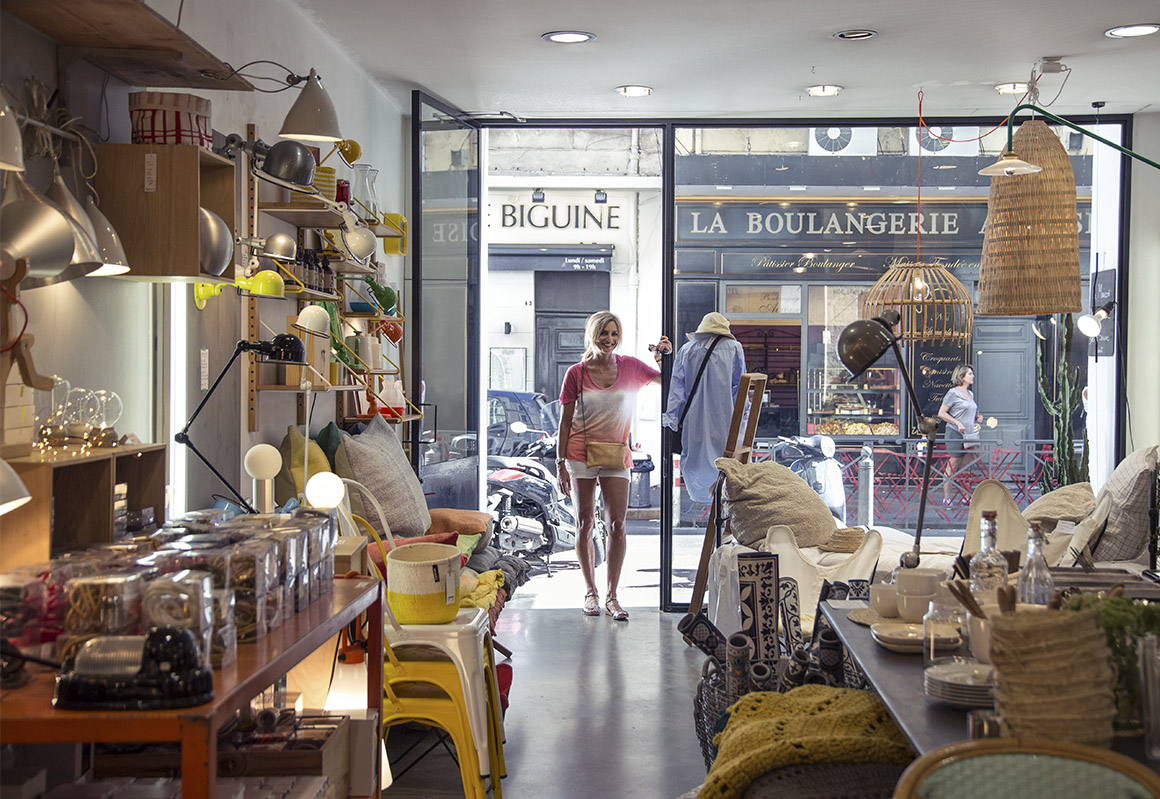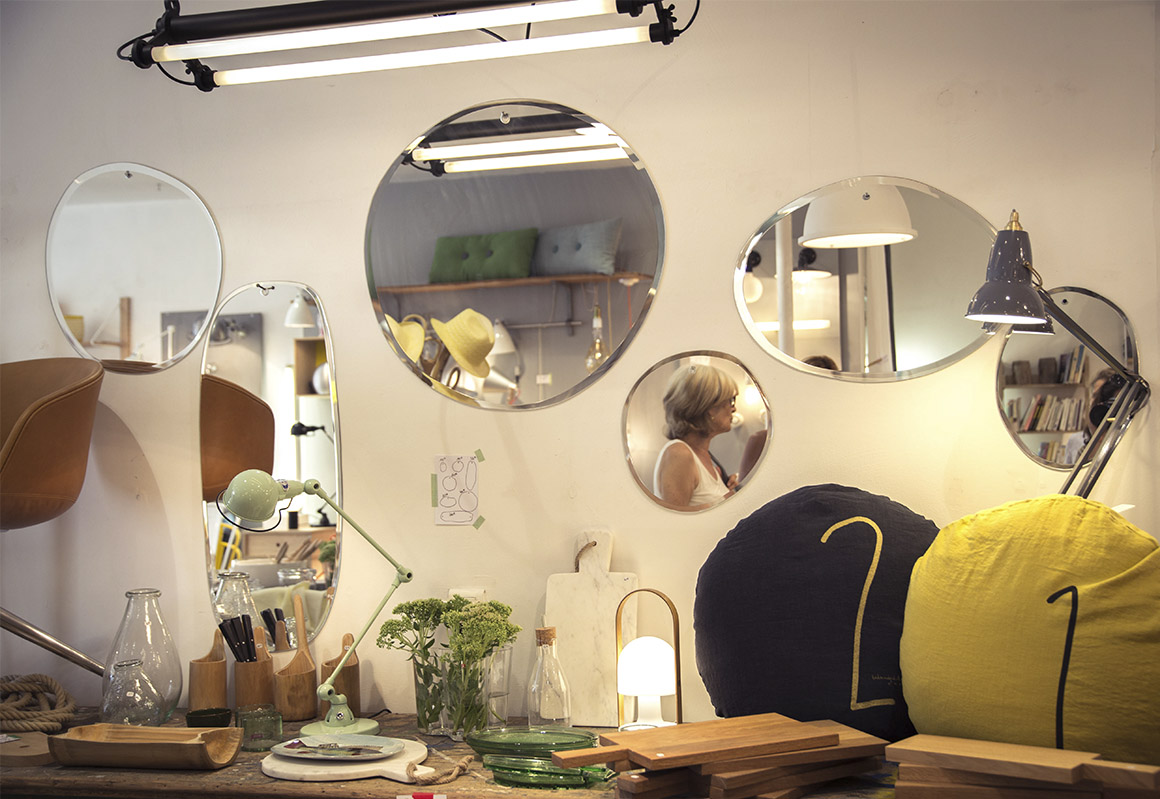 It's impossible not to notice this lovely store which essentially focuses on interior decoration, for everything there is so pretty, fresh, colourful and sunny.
I was there for the jewellery, but I would not have missed a stroll in La Maison Marseillaise for the world. Created by Delphine Gilles twenty years ago, this shop is a true inspiration to redecorate your house, terrace, balcony, but also to find cute accessories or jewellery. She has some Lise Guitton jewellery, which I've always loved, with champagne diamonds, gold stranded bracelets woven with your name from l'Atelier Paulin, the elegant brand Eikosi from Marseille which I discovered there, and Balinese amulets from Coopérative de création.
Delphine's universe is absolutely irresistible, and I fell in love with the Morning mirrors, absolute jewels made of light-reflecting-pebbles, which could decorate your wall beautifully. So you see, from decorative object to jewellery, there is only one step!
Lulli : 32 rue de Paradis, 13001 Marseilles, 04 91 33 10 61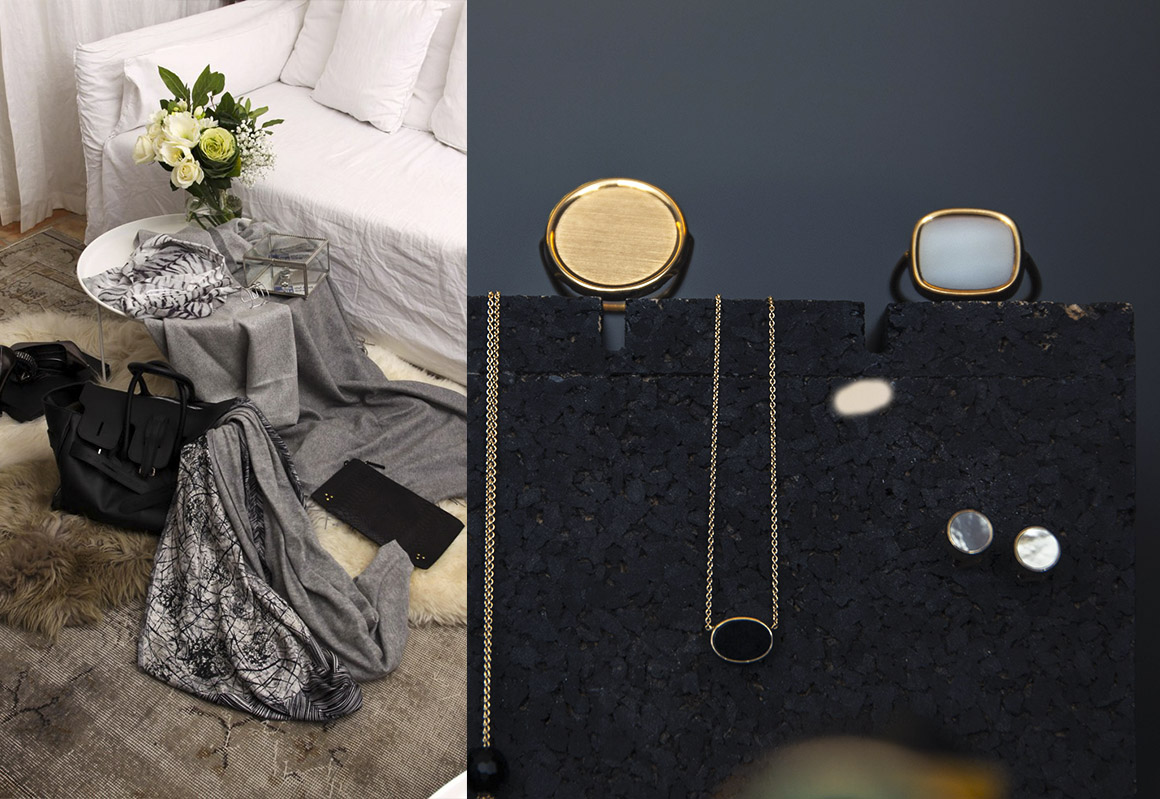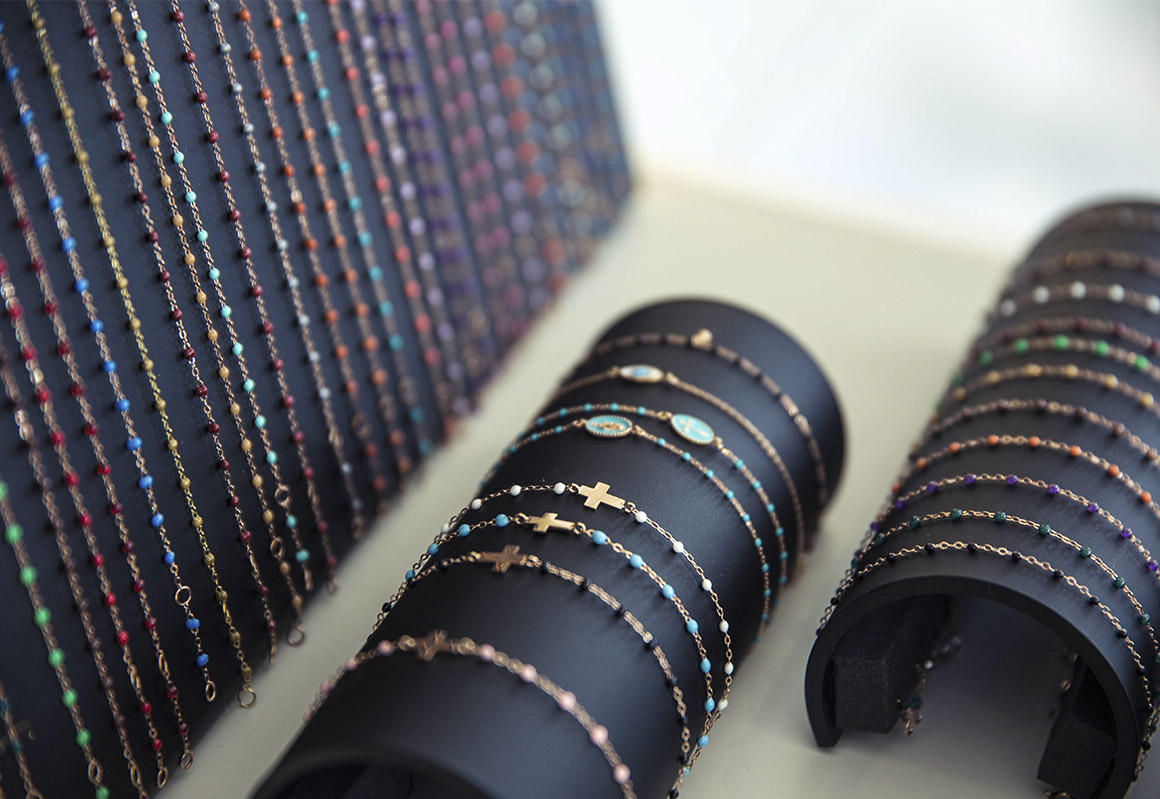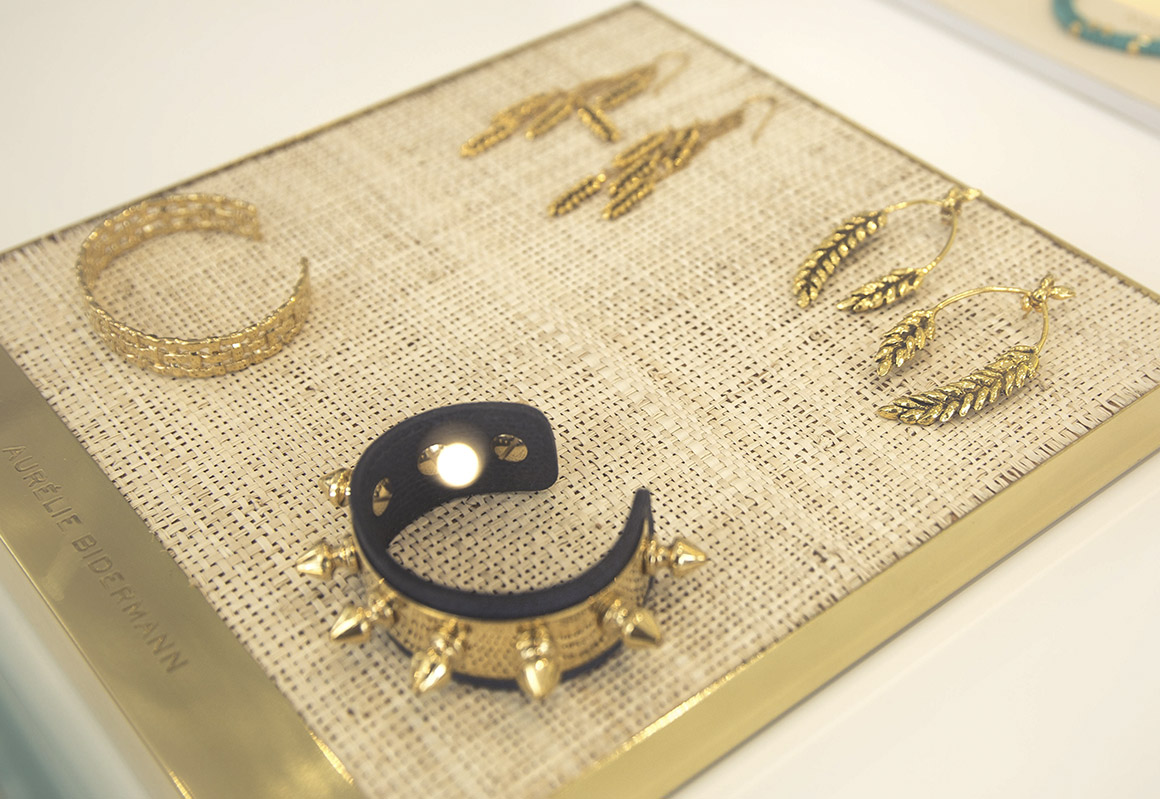 Close by, the store Lulli created by Anne Vouland, gathers a stylish compilation of jewellery, fashion and accessories. I already knew the website Lulli sur la toile, which is one of my favourites, for it references quite a few nice brands of jewellery designers.
I explored the Marseille shop, where I spotted leading brands by designers such as, Aurélie Biderman, Stone and Ginette NY, as well as the colourful rosaries from Gigi Clozeau, which many of my Parisian friends had discovered in her store in Cassis (she also has another one in Sanary). Her selection of jewellery is interesting as it includes a wide price range, so it is always possible to find a lovely and affordable gift. Lulli's real strength is her great online shop, a kind of "net à porter" French-style.
Rive Neuve : 30 cours d'Estienne D'Orves, 13001 Marseille, 04 96 11 01 01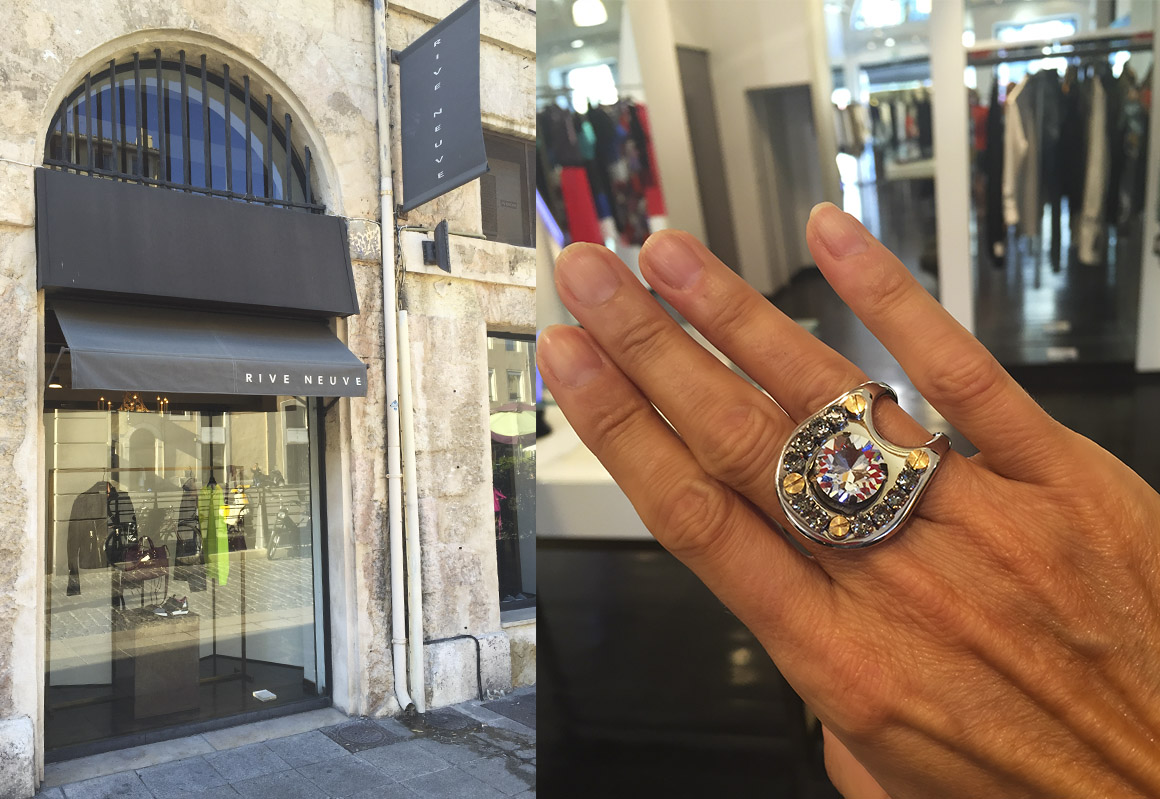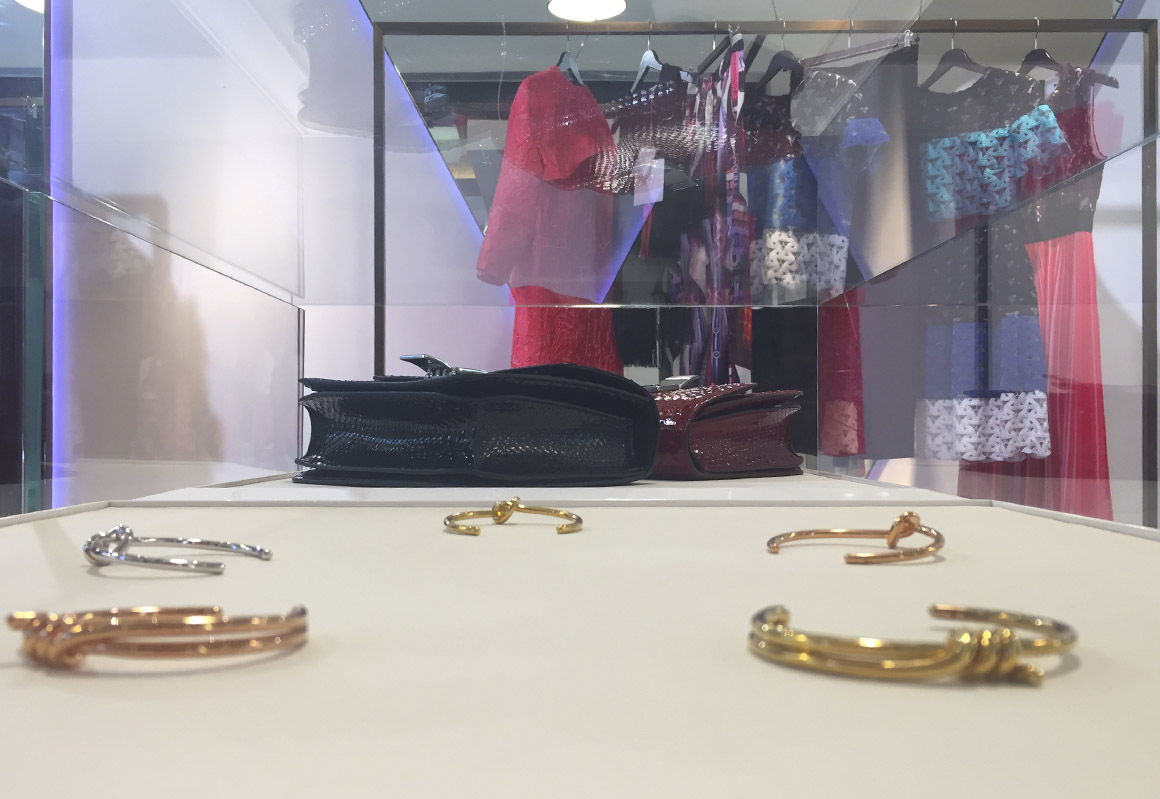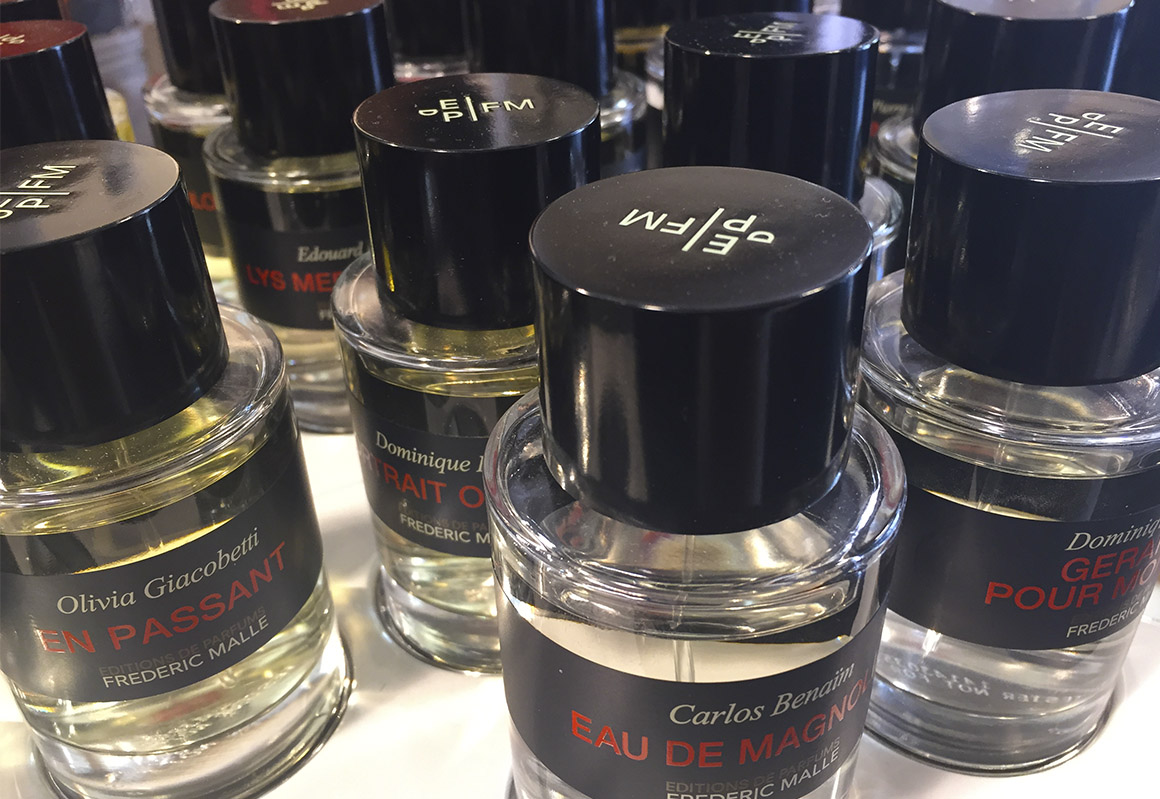 Rive Neuve, it's a little like the equivalent of the avenues Montaigne, but in Marseille. Only nice things, only prestigious brands, like Saint Laurent, Lanvin, Celine or Valentino.
You will find there the very best of fashion: any hit- bag, any haute couture basket you want, whatever is best from the greats in fashion. The store is vast and bright, and we are warmly greeted by Jessica, who didn't show any disdain for our "flip-flops & shorts" look, which is proof of a great welcome in a store of this quality. My friend Marion almost bough a fab Lanvin bag, before flashing on a sublime Maison Margiela jacket.
In the jewellery section, I particularly liked the sublime bangles from Céline, the beautiful collection of long necklaces in antique ged silver from Lanvin and a breath- taking ring of the same designer that I just had to try on. I left lusting after fragrances by Frédéric Malle, and I developped a weakness for the deliciously subtle essence "En Passant" from Olivia Giacobetti.
love with and that deserve to be mentioned:
There are certainlyis for sure many other nice shops that I have not yet discovered, but I'm counting on you guys to tell me aboutreport them to me for my next stay in Marseille!
I won't give you the guide to all the good restaurants in Marseille, there are tons of them. But for busy foodie girls doing their shopping in the 6th or 1st districts, there are two places that would satisfy your appetite tummies at any time:
Minofi Bakery :

104 rue de Paradis, 13006 Marseille +33(0)4 91 47 07 75 next to By Mariy and Jogging. Savoury & sweet food to die for (the carrot cake is a must, beyond yummy!)

Spok : 7 rue Lulli, 13001 Marseille +33(0)4 91 55 64, next to Allan Joseph, Lulli and La Maison Marseillaise. All good stuff, green and organic! The perfect lunch for a girls' shopping-break lunch.

Thank you to Sarah Clavelly for her beautiful photos, as usual!
Thank you to Nathalie Crousillat for her addresses, contacts and her contagious passion for her city, she's the brains behind this guide!