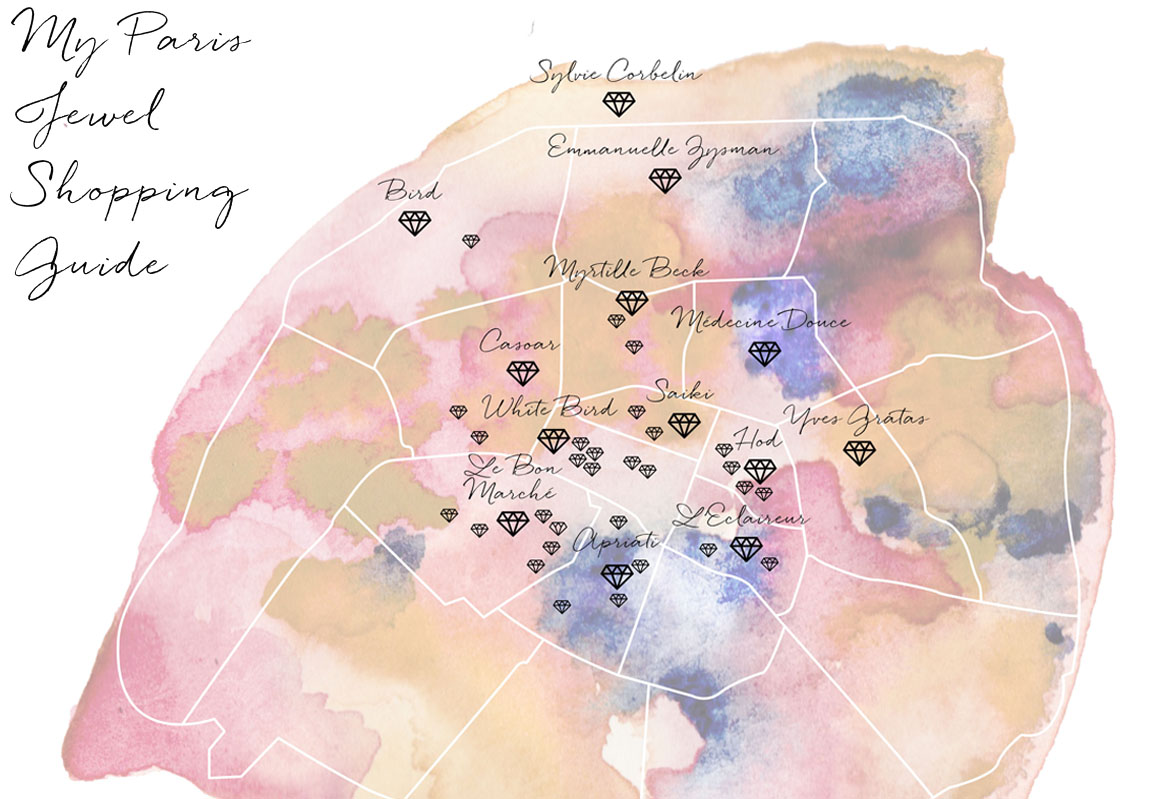 At last, I've finally updated my list of shopping addresses in Paris and, included plenty of new additions to my list!
My Paris Jewellery shopping guide will soon expand; rendezvous soon to discover my jewellery spots in Marseilles.
Some Parisian boutiques are well known, others less so, but I will only give you the names of jewellery shops where go knowing I will always find some jewellery I love, as well as creators of cute boutiques, who always love to chat for a bit if you come on behalf of the Précieuses. I won't insult you by giving you a list of the brands of the Place Vendome, you don't need me to check them out for you.
Here's my ranking by district, and please, if I haven't mentioned your favourite jewellery shop, do tell me! I'll be delighted to go and explore it.
1er arrondissement :
Apriati : 310 rue Saint Honoré, Paris 1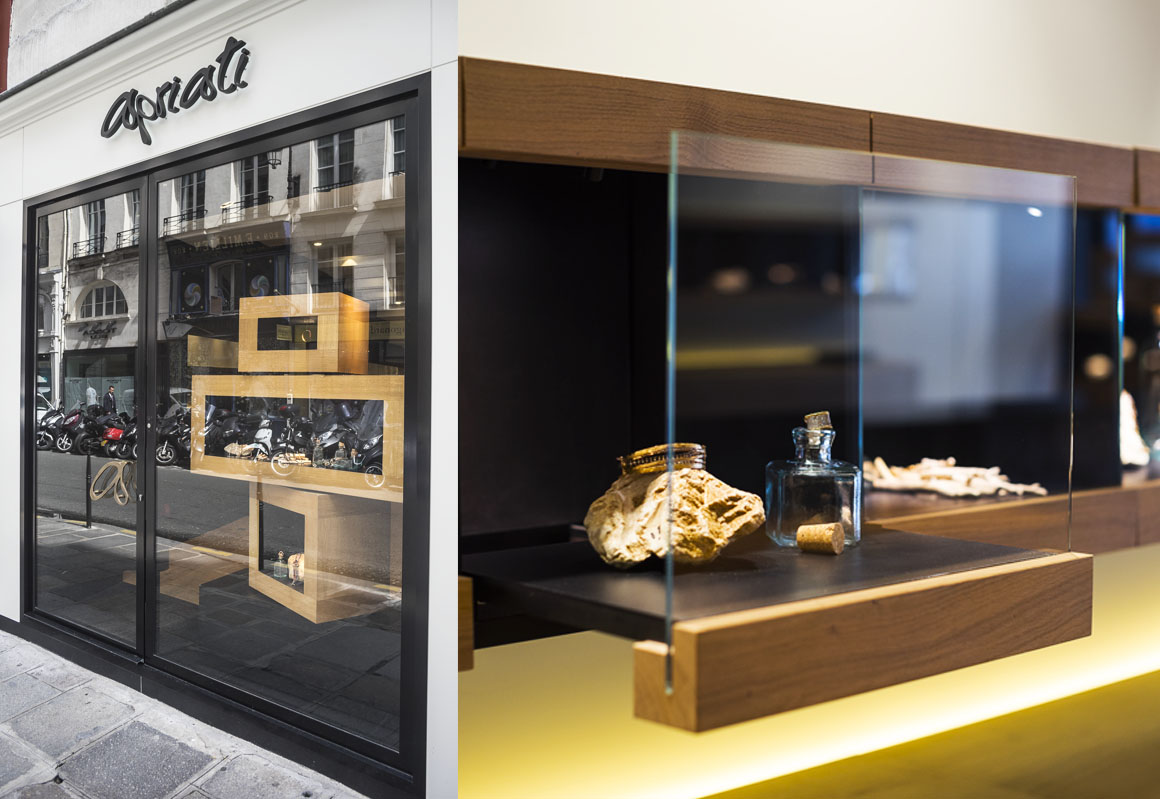 A New store for Apriati, my cherished Greek brand, managed in France by Martine Chelly's family. With its incredibly pure, sleek merchandising, with a magical store front, and a wall of drawers like a game to open one after the other to discover the amazing choice of bracelets adorned with a multitude of precious and refined things … Almost opposite Colette, in the triangle of trendiness and jewellery, an absolute must if you're going to the 1st district.
Colette : 213 rue Saint Honoré, Paris 1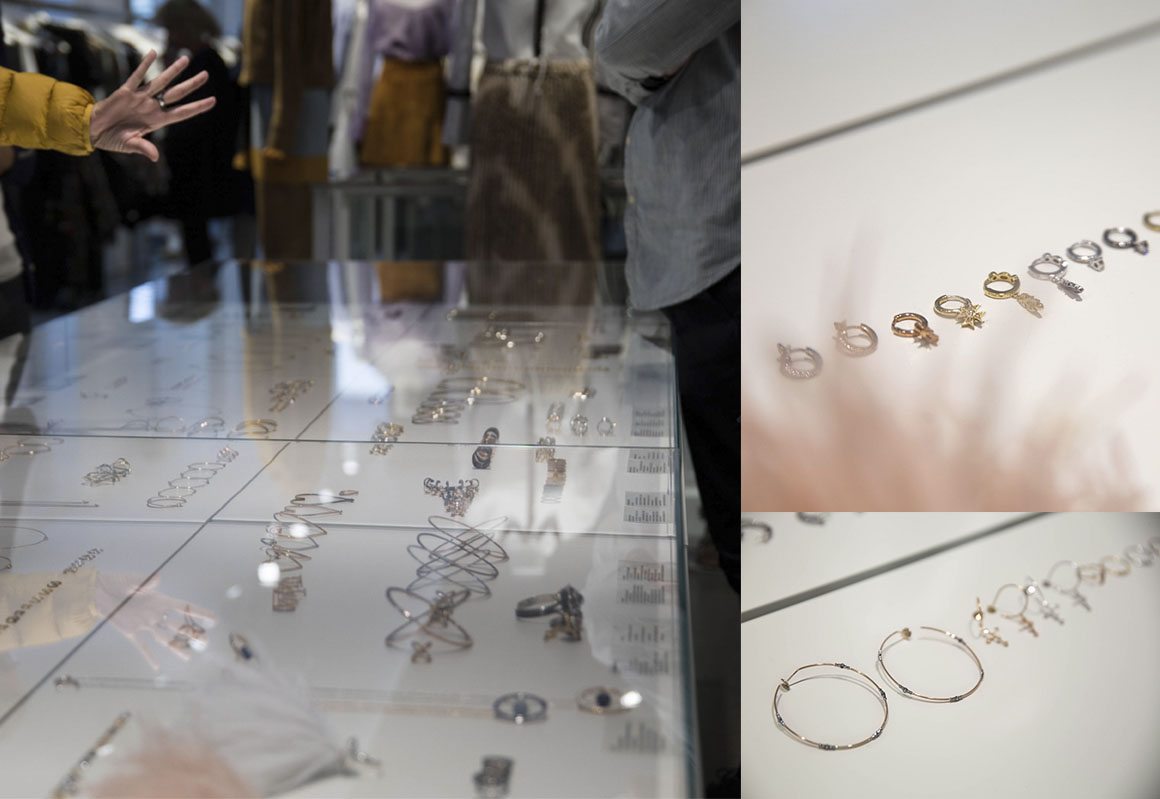 Let's be honest, who doesn't know Colette? The famous concept store in the rue Saint Honoré is also a trend setter when it comes to jewellery. Brands which are referenced there are undoubtedly the trendiest. I struggle to define Colette's 'style, for several coexist, you can even find some classic pieces from Marie-Hélène de Taillac! Anyway, you go there to be surprised and amazed, not to be reassured!
Dary's : 362 rue Saint Honoré, Paris 1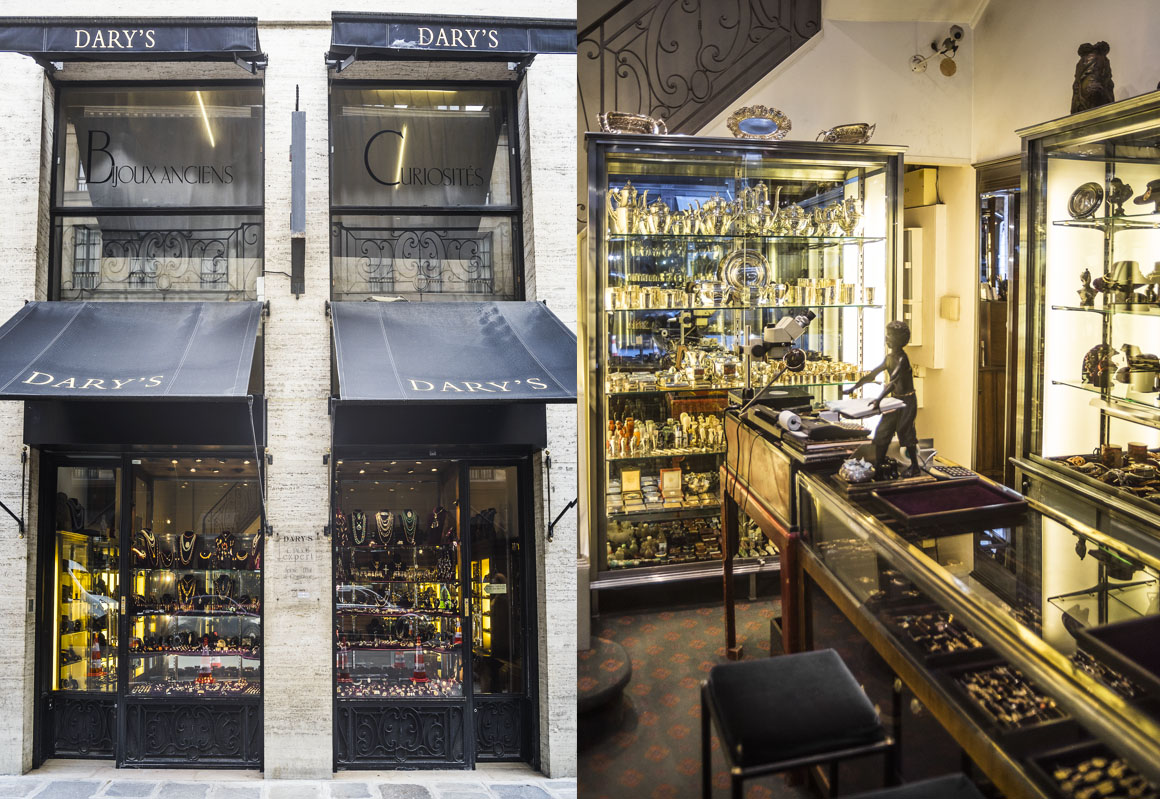 My favourite shop for antique jewellery, the kind of grandmother-ish treasures you dream of discovering in the secret drawer of an old cabinet. All eras coexist in fascinating profusion. The reception is a bit vintage too, but what wouldn't we do to get inspired by treasures from the past!
Mad Lords : 316 rue Saint Honoré, Paris 1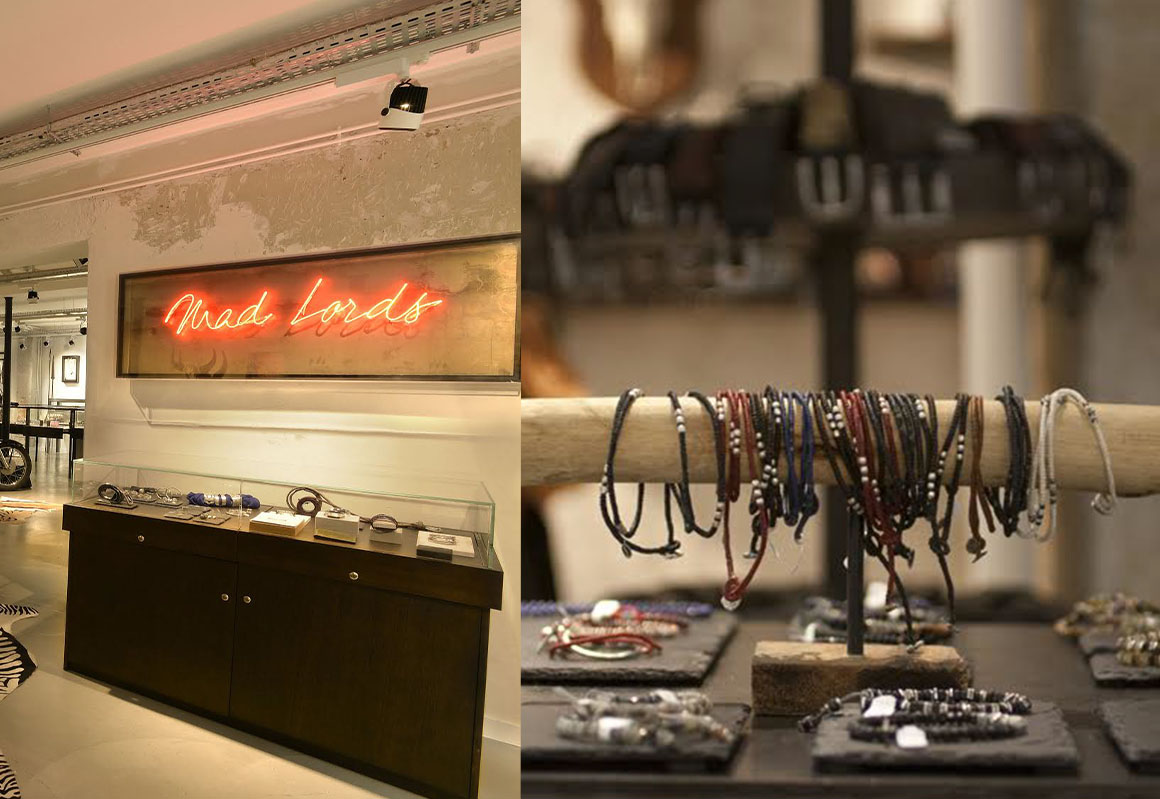 Created by a couple passionate about jewellery and men's accessories, this shop is a goldmine for guys who don't know where to find beautiful jewellery. The refined bracelets made using waxed rope by Maor Cohen, the carbon and diamond bangles from Airam, the silver rings from Tobias Wistisen and Alberto Gallinari, I wanted to nick all the jewellery made by these men. Theirre women'san selection is equally great, with Pascale Monvoisin and Claudia Oddi, among others. The store is right next to the Apriati shop, at the back of a courtyard. A place somewhat hidden, but full of ideas.
IBU Gallery, jardins du palais Royal, 166 galerie de Valois, Paris 1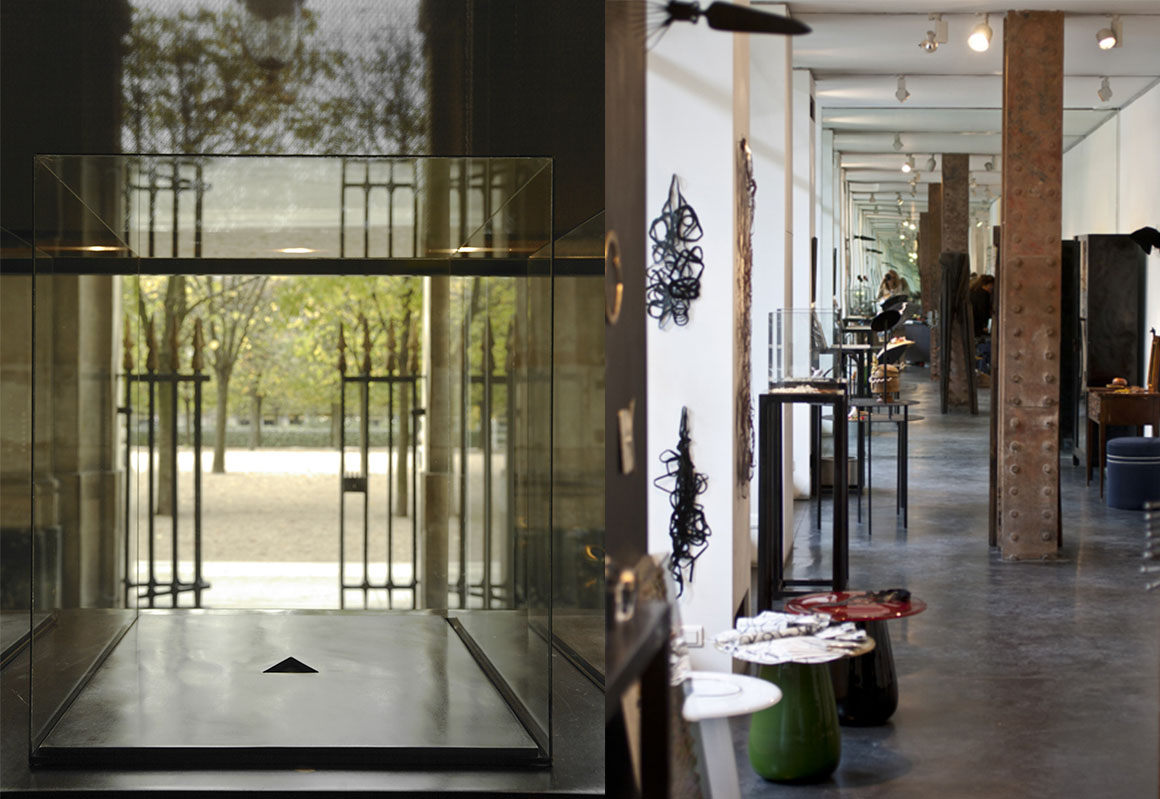 Gallery created by the American artist of Ukrainian origin IBU, this place brings together furniture, jewellery and other objects, which all adhere to the designer's concept. There are many unique pieces of jewellery, my favourites being those of Jean Grisoni, Ted Muehling, Jean Grisoni, Annick Tapernoux, Athéna U. Poilâne, as well as some re-editions, of course, from IBU and the sculptor Alina Alamoréan, who creates monumental pieces of jewellery. It's an eclectic and inspiring gallery,  where you are warmly welcomed by Cyril, the director.
Pellini : Jardins du Palais Royal, 30 Galerie Montpensier, Paris 1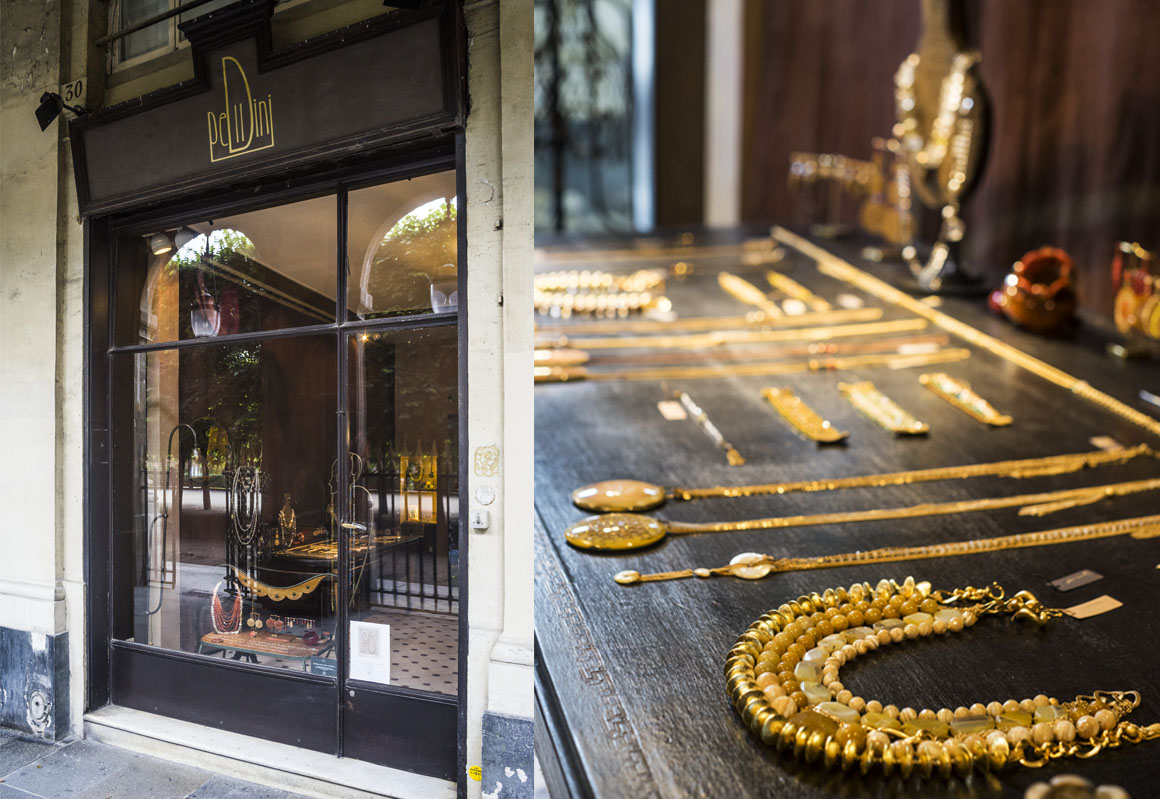 The gardens of the Palais Royal are magical, as if it was a place designed solely to fall in love, with a person, or, why not, a gem. Donatella Pellini's 'store is marvellous, decorated with the Italian designer's unique taste, and displays jewellery of infinite charm and poetry, made of glass, precious stones and resin. This brand has a story, passed on from grandmother to granddaughter, which transpires in even the finest details of the jewellery. Low prices for super high-end pieces: divine cuff bracelets, long necklaces which can be worn many different ways, earrings to die for…  a gem of a store, to explore absolutely!
White Bird : 38 rue du Mont Thabor, Paris 1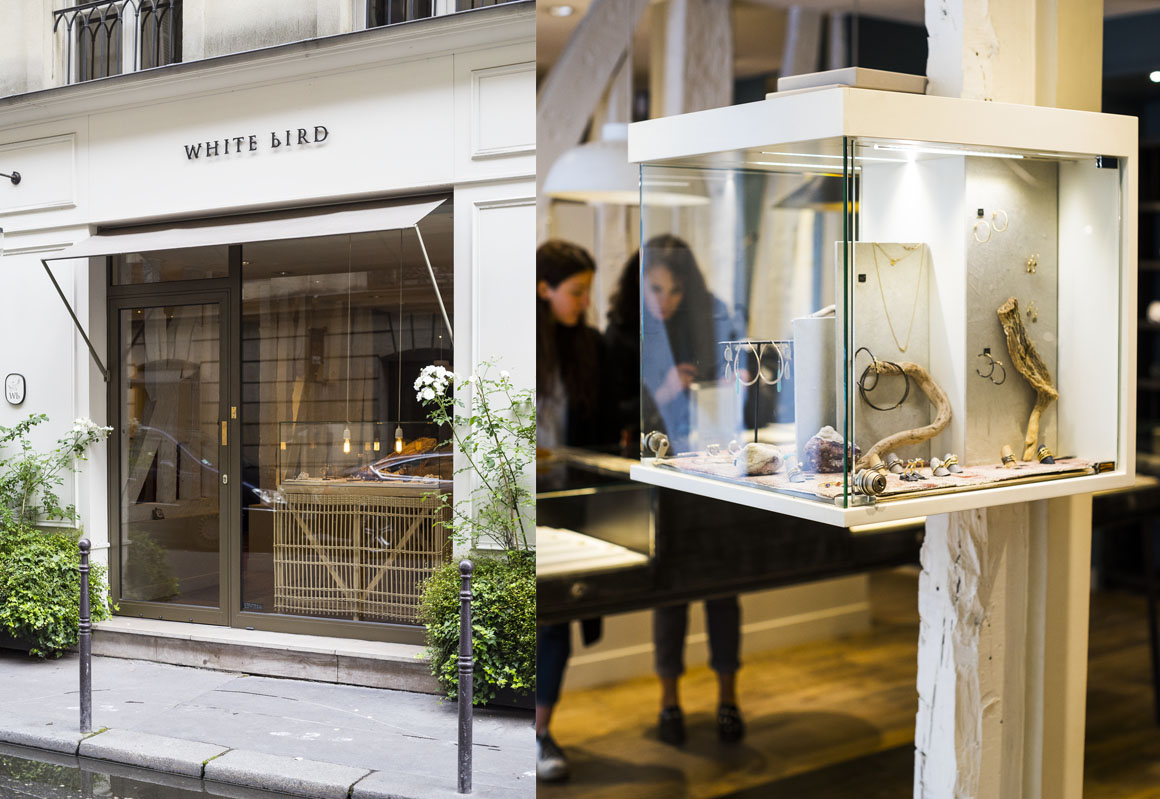 Created by Stéphanie Roger, who built her career in the world of jewellery, this shop is a goldmine if you want to discover new designers from around the world. Stéphanie has a real flair for spotting talent, and she was the one who introduced me to Brooke Gregson, Lito , Sia Taylor, Cathy Waterman …Two steps away from the Place Vendome, it's a stop to urgently add to your next jewellery shopping expedition. The perfect place for a great and original present (to yourself- why not?)
2ème arrondissement :
By Marie : 44 rue Etienne Marcel, Paris 2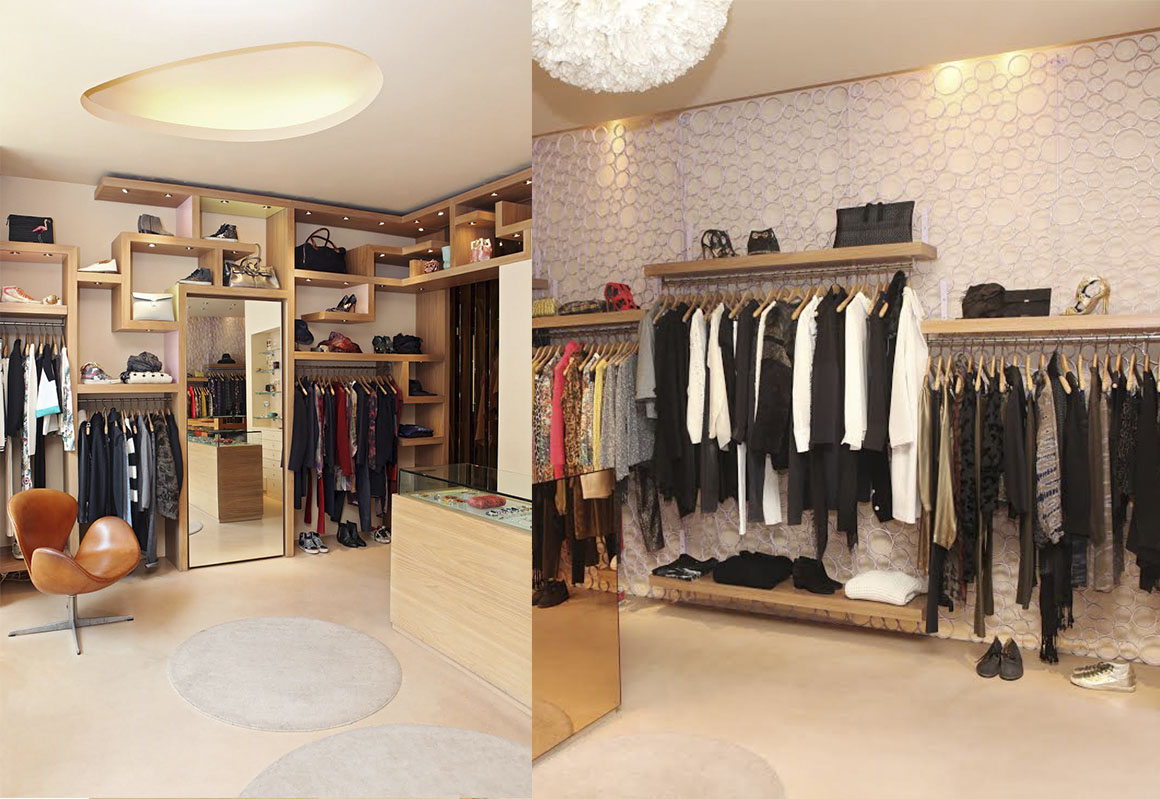 I long to meet Marie Gas, daughter of the famous creator of the GAS brand, who is at the origin of this beautiful store, situated in Paris at 2 locations, and also in Marseilles, the city whereof GAS was born. A compilation of chic and easy fashion, accessories and jewellery, a breath of sunshine and warm sand. There, you will find colourful GAS jewellery, or more precious brands selected by Marie. Stylish, fine, sleek, I love everything about it.
58m : 58 rue Montmartre, Paris 2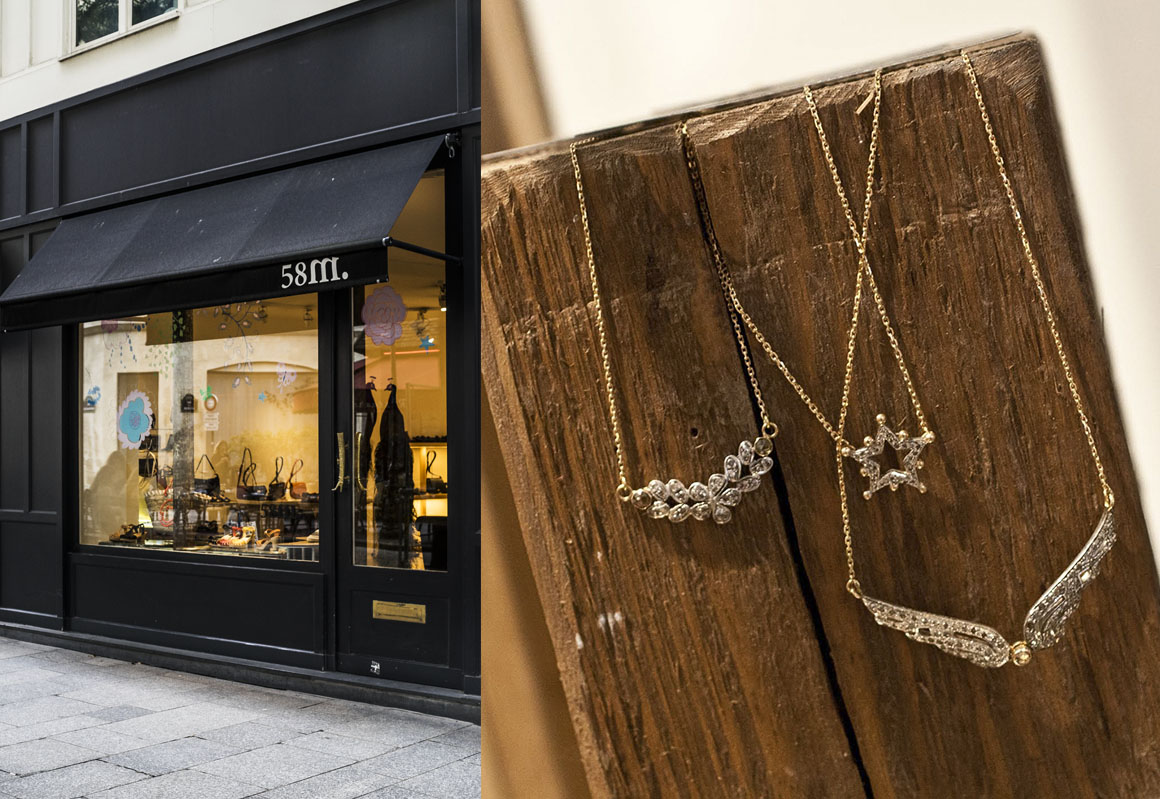 This is a charming concept store which mainly sells trendy bags and shoes, but near the entrance, three glass stands display the collections of two designers, Lara Melchior and Lise Guitton, and probably soon a third brand. I've always loved Lise's jewellery, particularly her line of champagne diamond clusters and her more recent multi-coloured sapphire clusters. It's worth popping in just to see her designs, and maybe also to fall in love with an April Gau bag or Michel Vivien boots!
Saïki : 32 rue Etienne Marcel, Paris 2
I noticed this little shop a while ago, because the store front is absolutely stunning, and really makess you want to pop in head. Nadia, the owner, is also a creator, and produces her own collection of precious jewellery, characterised by organic shapes and pretty coloured gemstones. She has a highly specialized selection of foreign designers such as Rusty Thoughts, Buja and Mallarino. A real goldmine!
3ème arrondissement :
Chance : 17 rue de Poitou, Paris 3
Sophie, a merchandising pro, opened up in this charming little boutique in the rue de Poitou in late 2015, and has tastefully re-decorated it, brilliantly managing to cram some very pretty jewellery brands into this small space: Marie-Laure Chamorel, 5 Octobre, Agnès de Verneuil, Camille Enrico, Myriam Balaÿ and Sicyone among others. Rue de Poitou is worth the visit, this street is great, one of my favourites in Paris!
Hod : 104 rue Vieille du Temple, Paris 3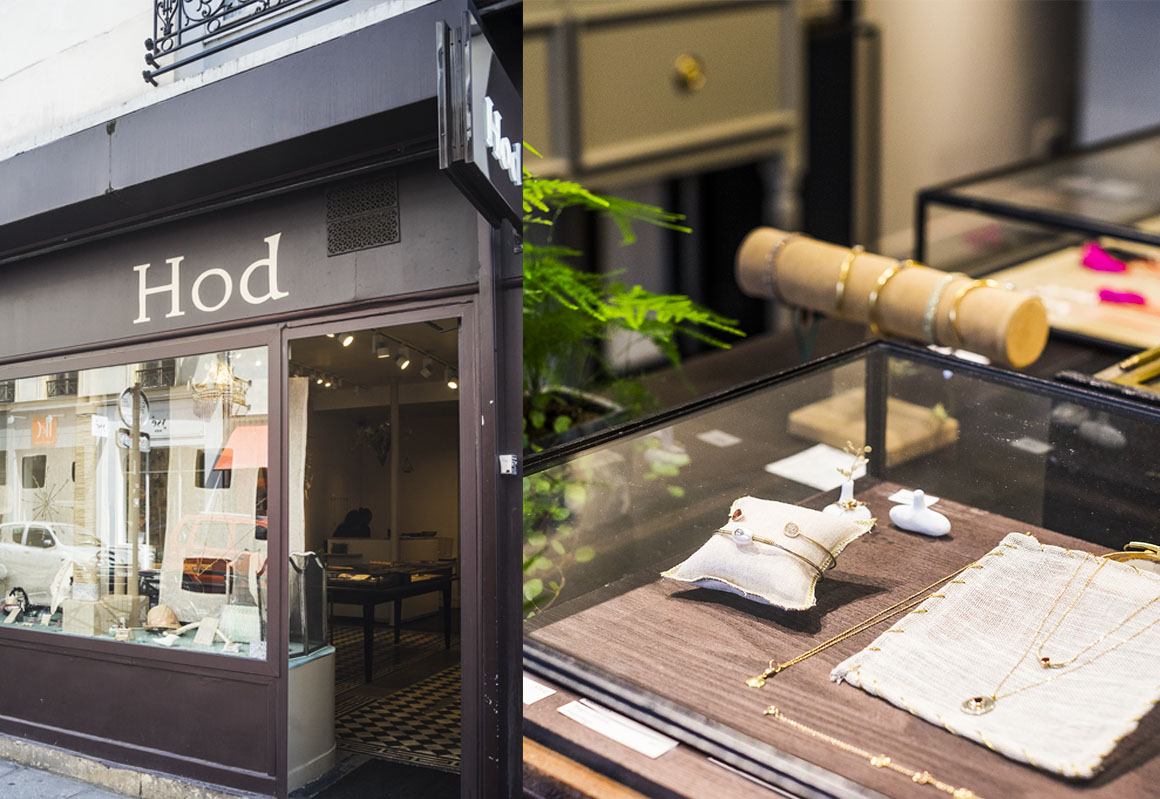 This boutique, created by Valérie Hajage 4 years ago, has become a benchmark of the upper Marais. Valérie travels a lot, and she always returns from India or America with handmade, ethnic or , vintage, jewellery, some very unusual pieces. Among others, she has brought to France the Jacquie Aiche, pieces, stocks the Pamela Love, rock jewellery, the coloured gemstones from Dorette,  and last but not least, the new brand, WWake. Her shop is an exotic and inspiring place, where you can find both easy to wear costume jewellery and also more precious pieces.
Matière à Réflexion : 19 rue de Poitou, Paris 3
Laetitia and Cyrille created this shop several years ago around their own brand of bags, manufactured with leather and vintage decorations. They created a universe of very stylish accessories, with beautiful companies such as Vanrycke, Ginette NY, Adeline Cacheux and her graphic silver and vermeil designs, and Louise Hendricks with her bohemian chic style. A shop with modern and unusual ideas, where you can also find men's jewellery.
merci : 111 bd Beaumarchais, Paris 3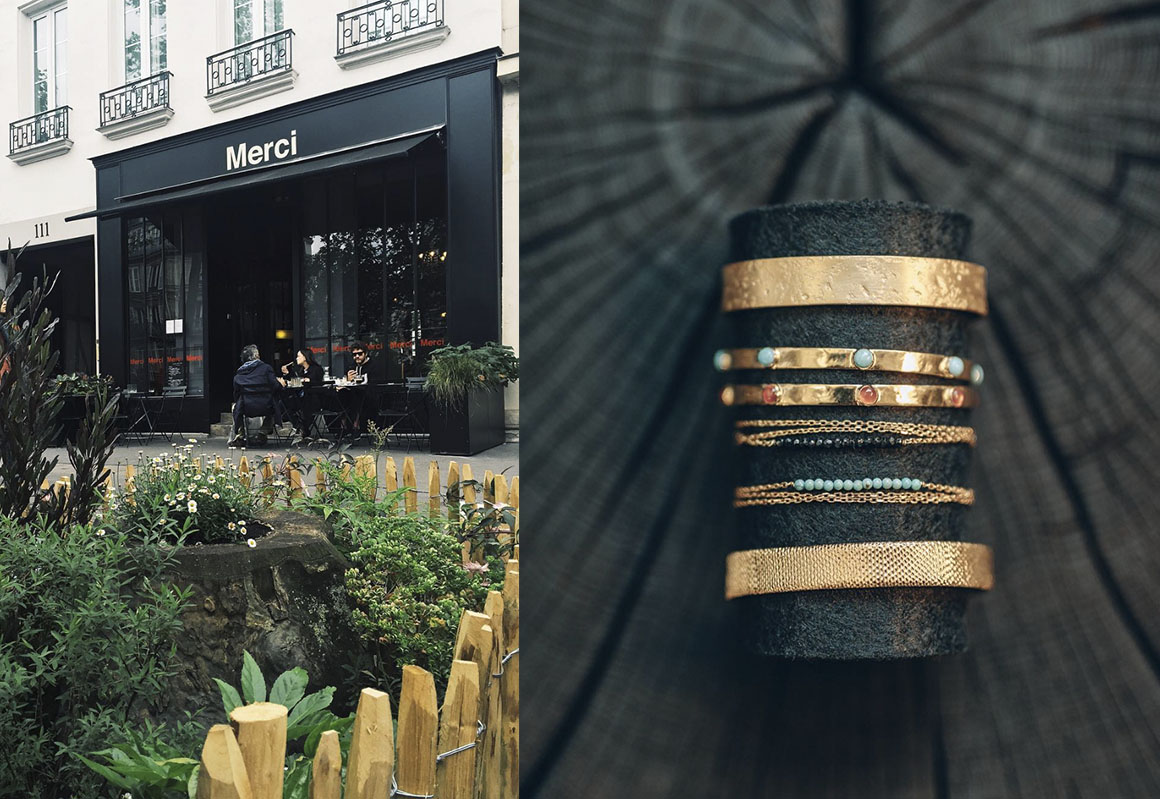 For me, it's THE temple of bohemiana in the haut-Marais. The industrial-loft atmosphere at the back of the courtyard, the mix of lifestyles – humanitarian – decoration – fashion – accessories, the tea room with its homemade cakes to die for, and the selection of designers who just blend into the surroundings. This boutique is a reference when it comes to bobo-jewels: modernized ethnic-vintage, artisanal and not ostentatious, presented in pretty vintage glass displays. There are brands like Aime, 5 Octobre and Alexandra Margnat, as well as fashion jewellery brands. Perfect for a little lunch (or tea) in the upperhigh Marais.
Monsieur : 53 rue Charlot , Paris 3
Cute little workshop cum boutique where the gold jewellery (contrary to what the name indicates, for Madame, not Monsieur) is made on the spot. Lots of very fine and charming things, with or without stones. To self-indulge in gold, silver or vermeil without ruining yourself.
 White Bird :  bd des Filles du Calvaire, Paris 3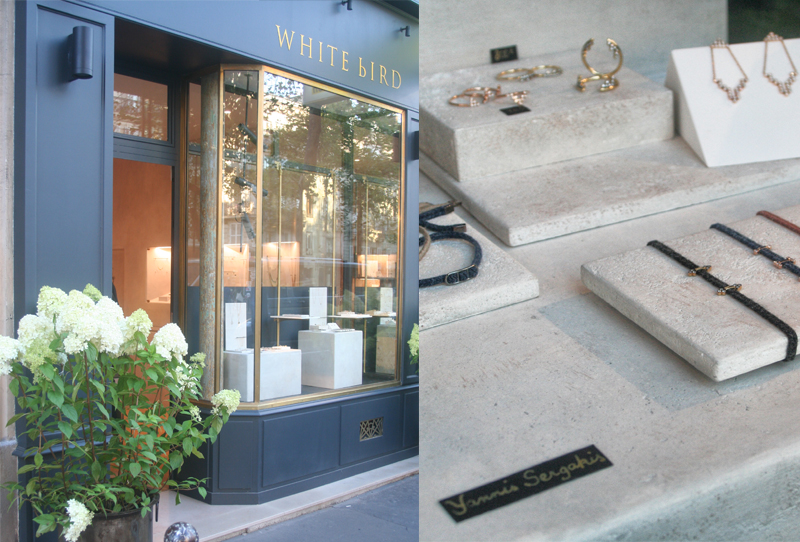 On this famous boulevard which has become so hip since the installation of MERCI, Stéphanie Roger invites us to her new White Bird boutique, which relays into the Marais her choices of poetic jewellery, designed by creators from all over the world. A refined boutique, in a great neighbourhood, a must if you're passing in the 3rd district.
4ème arrondissement :
Birdy : 5 rue des Lombards, Paris 4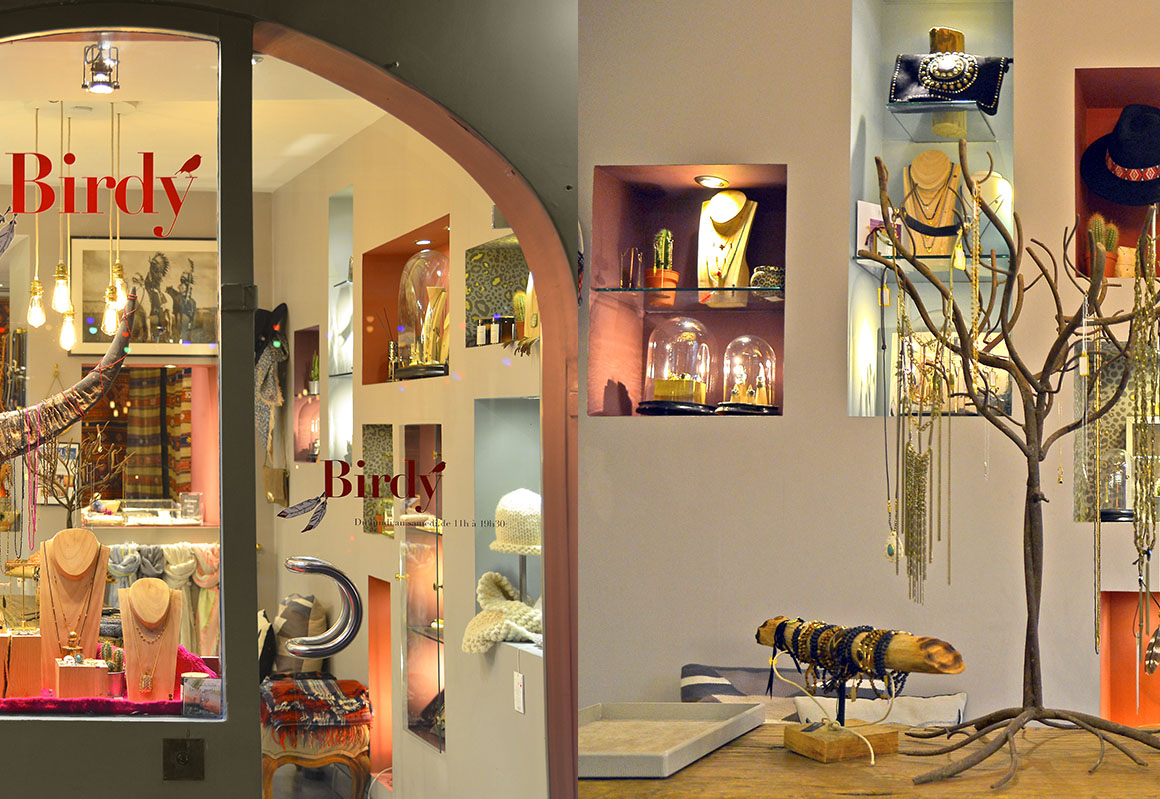 A lovely shop with soft colours created by Alexandra, a refined atmosphere with vintage showcases and cloches found in flea markets, small wooden lockers which serve as displays for the handmade bracelets, and costume jewellery treasures at low prices, with a particular mention for the old patina jewellery by Marie-Laure Chamorel and rosaries in natural stones made by Gachon Potier.
Gag et Lou : 30 rue de Sévigné, Paris 4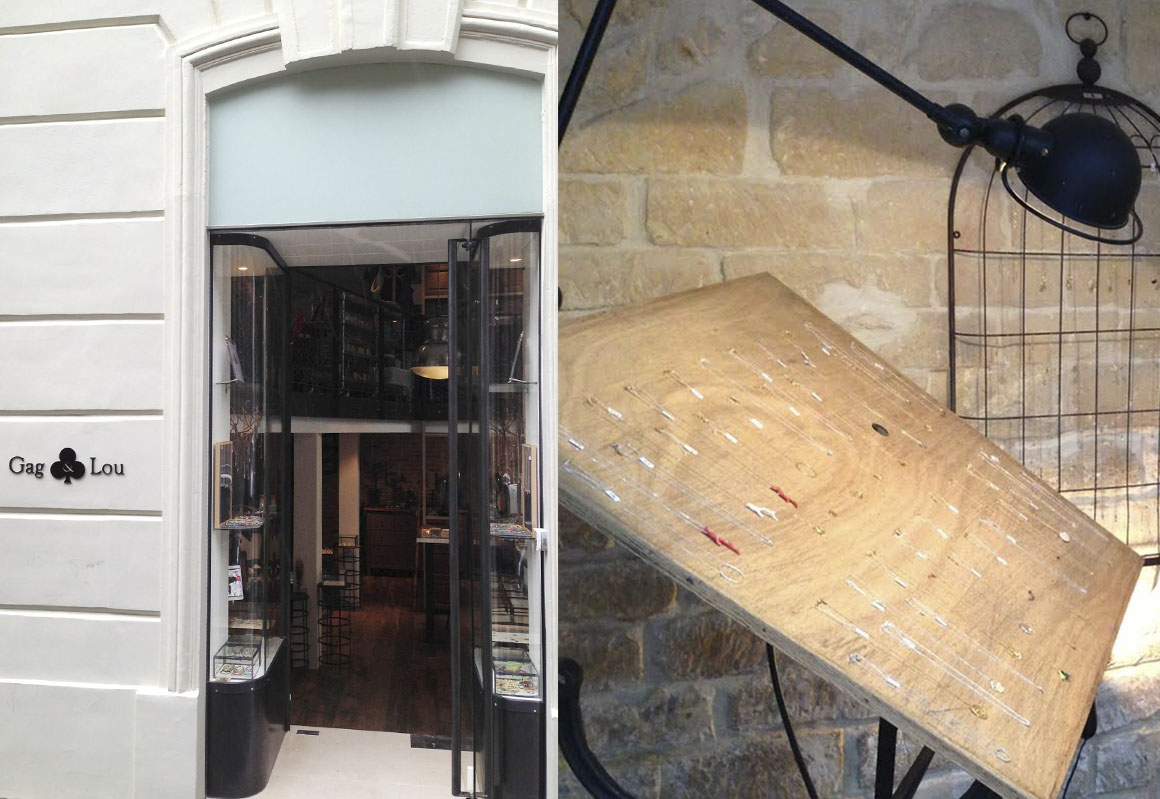 I have known Gag & Lou for eternities, a super easy, bright and charming brand, full of bracelets with multi-coloured ties, charms of all shapes, super cute small sachets to offer… very moreish jewellery you'd want to collecttion to infinity. Made from silver or golden brass, they are also very affordable. The workshop rue de Sévigné, next door to l'Eclaireur, is nice and welcoming. An excellent reason to pass by rue de Sévigné, one of the prettiest streets in the Marais, quieter than the adjacent Rue des Francs Bourgeois.
L'Eclaireur : 40 rue de Sévigné, Paris 4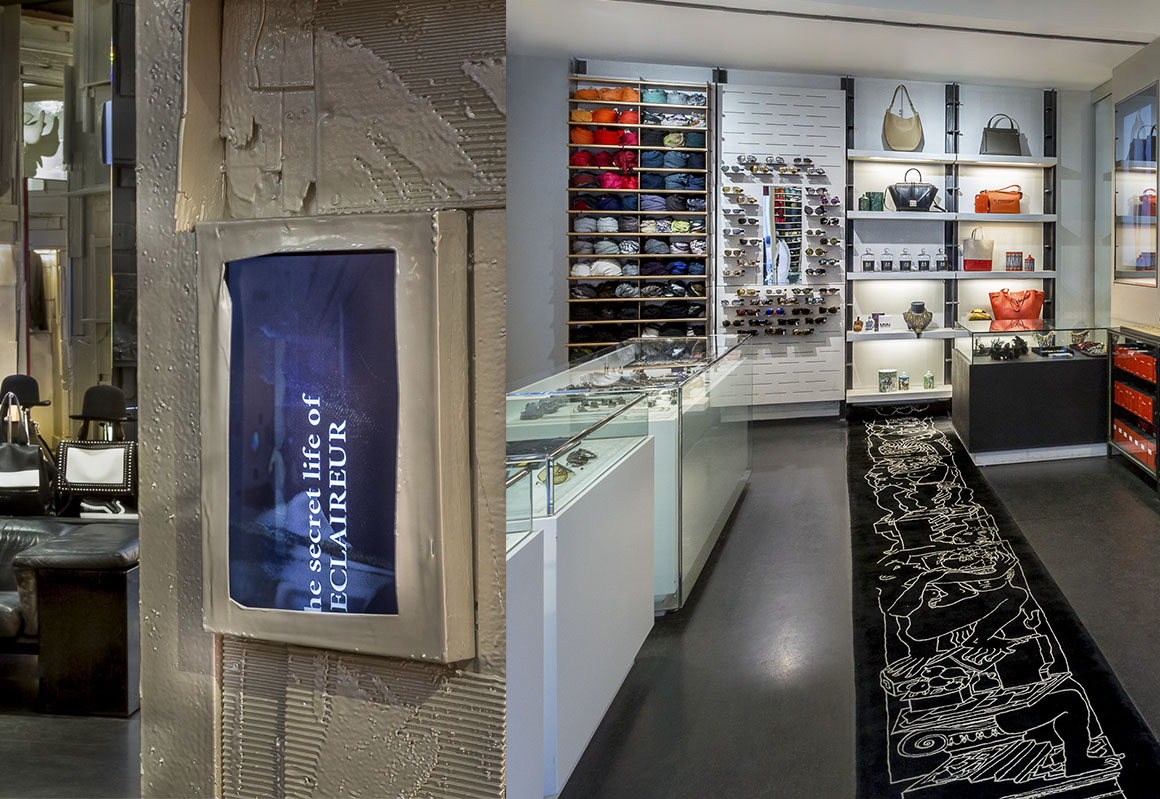 L'Eclaireur has been an avant garde concept store since its creation, which is quite a performance. Don't be intimidated, push the door and make your way to the back of the shop, just like a modernised cave, where you will be amazed by a stunning scenography, sculptures made of metal plank and digital screens. You will be greeted by Goce the manager's team, who will guide you around this lair of stylish fashion. The jewellery selection of Armand and Martine Hadida, who are also the creators of the Tranoi show, is exclusive. From costume to precious jewellery, you will find there brands with strong identities: the precious and refined pearls of Samira 13, the sublime organic silver jewellery of the Lebanese Rosa Maria , and my favourites, the rosary bracelets of Catherine Michiel.
6ème arrondissement :
Anais Rheiner : 6 rue cardinale, Paris 6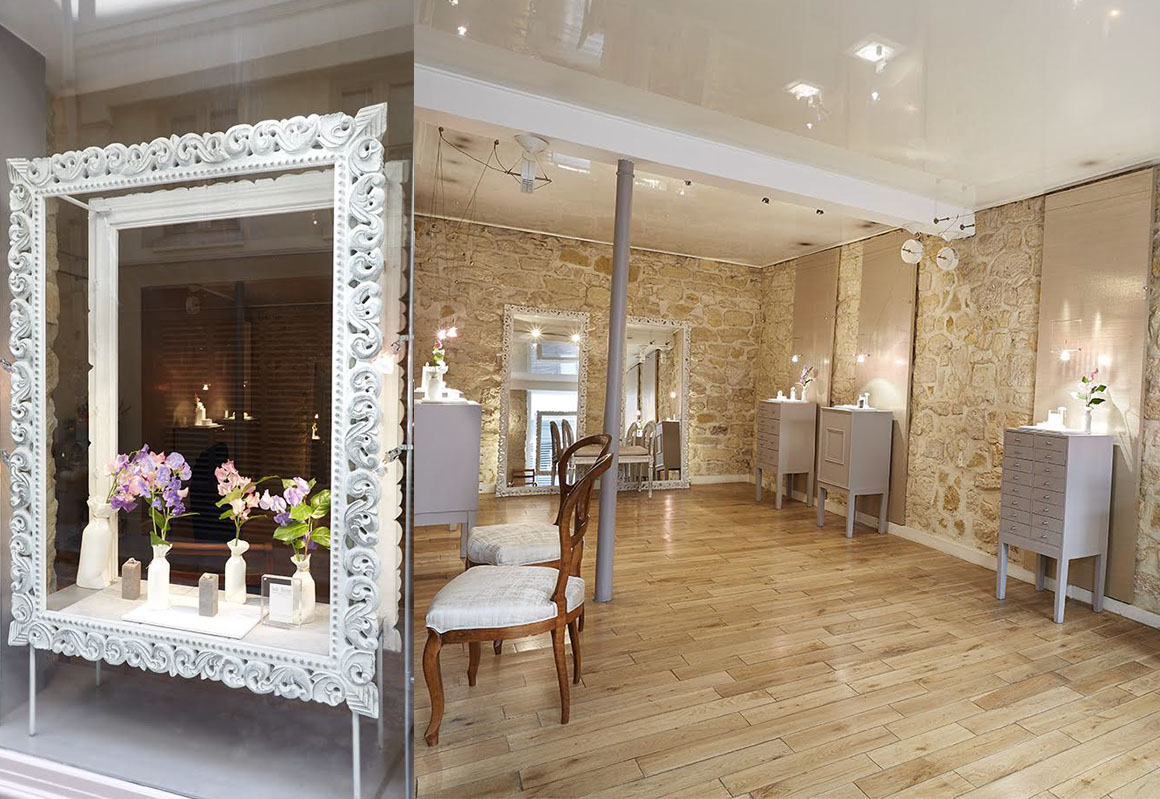 If you are in the area of the sumptuous place Furstenberg, you must visit Anais. She creates her own poetic gold jewellery, often inspired by nature and flowers, in her workshop. She is as charming as her jewellery, and time flies when you're trying on her new collection and chatting with her… a real moment of joy!
Apriati : 54 rue Dufour, Paris 6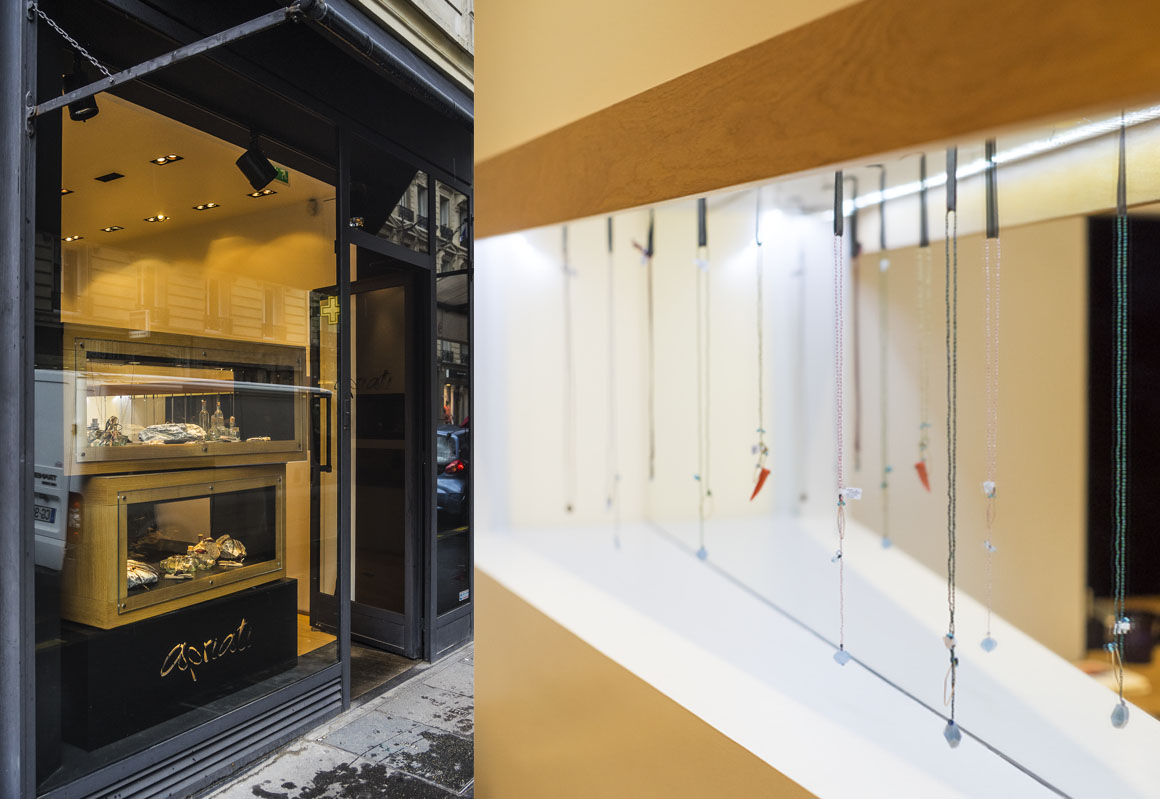 First Apriati boutique in Paris. Please refer to my description for the one in Rue Saint Honoré.
Birdy : 12 rue saint Placide, Paris 6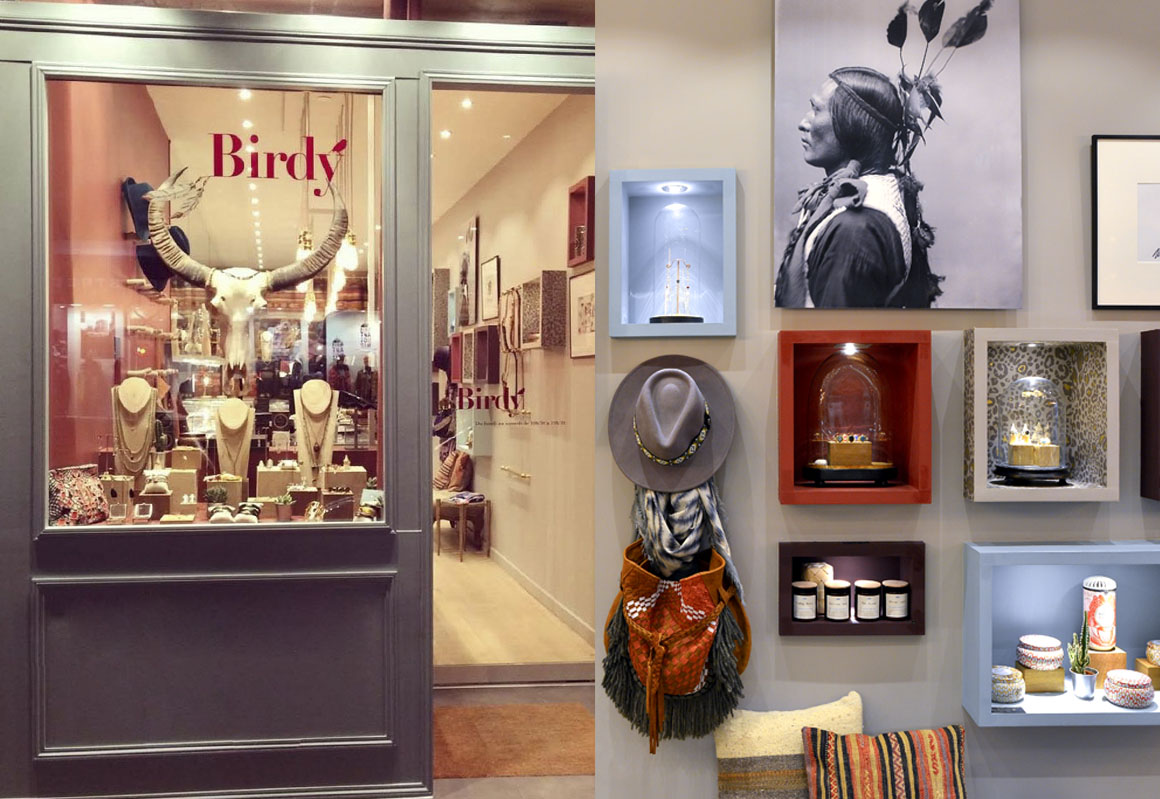 Same concept as the one in Rue des Lombards in the 3rd district, but 2 steps away from the Bon Marché.
Marie Hélène de Taillac : 8 rue de Tournon, Paris 6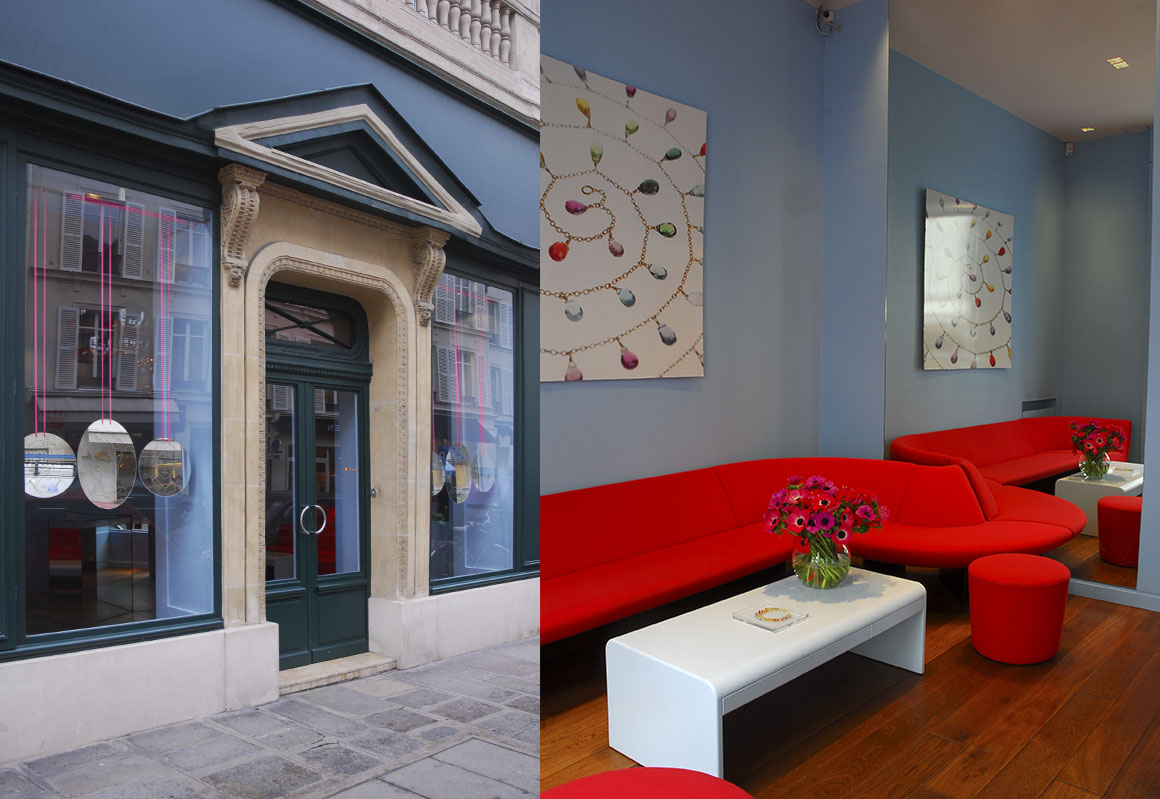 Marie Hélène is everybody's, a little mother (I do not know if she will appreciate the compliment …!), She is, in my eyes, the one who introduced the concept of informal jewellery. A great traveller, in love with Jaïpur, she set up her workshop there, right inside of famous Gem Palace, where she designs and produces all her collections. Equipped with an unequalled sense offor colours, her creations, even in their utmost simplicity, have been unanimously loved for almost… 20 years. Her shop in the Rue de Tournon is unique, aristocratic, and precious, just like her. To self-indulge in the finest coloured gemstones, jewellery which will last forever!
Soandso: 12 rue de l'Échaudé, Paris 6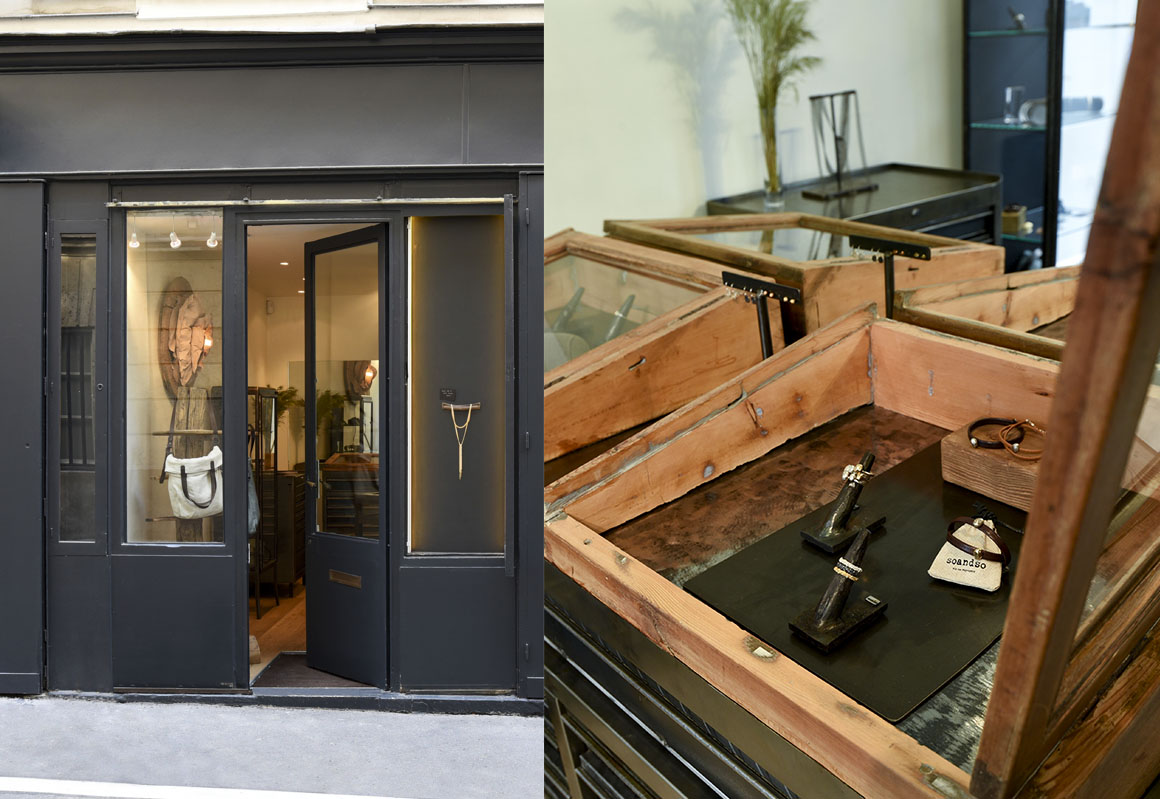 I discovered this boutique by chance on my way back from rue Jacob where I love to hang out (because of the gorgeous Jérome Dreyfuss bags and the boutique Caravane, where I can spend hours choosing a cushion, a sofa, a lamp or a fork). Soandso is the kind of shop which is so lovely you just have to walk in. It' is a brand that comes from Aix en Provence, and you can feel it! Full of  sunshine and the natural and exotic shapes that the designer, Sophie Pignodel, brings back from her travels, it exhales the southern spirit. Her work is beautiful, artisanal, refined, and accessible, being essentially made with silver and vermeil, as well as a small collection in gold. 
7ème arrondissement :
Aurélie Biderman : 55 bis rue des Saint Pères, Paris 7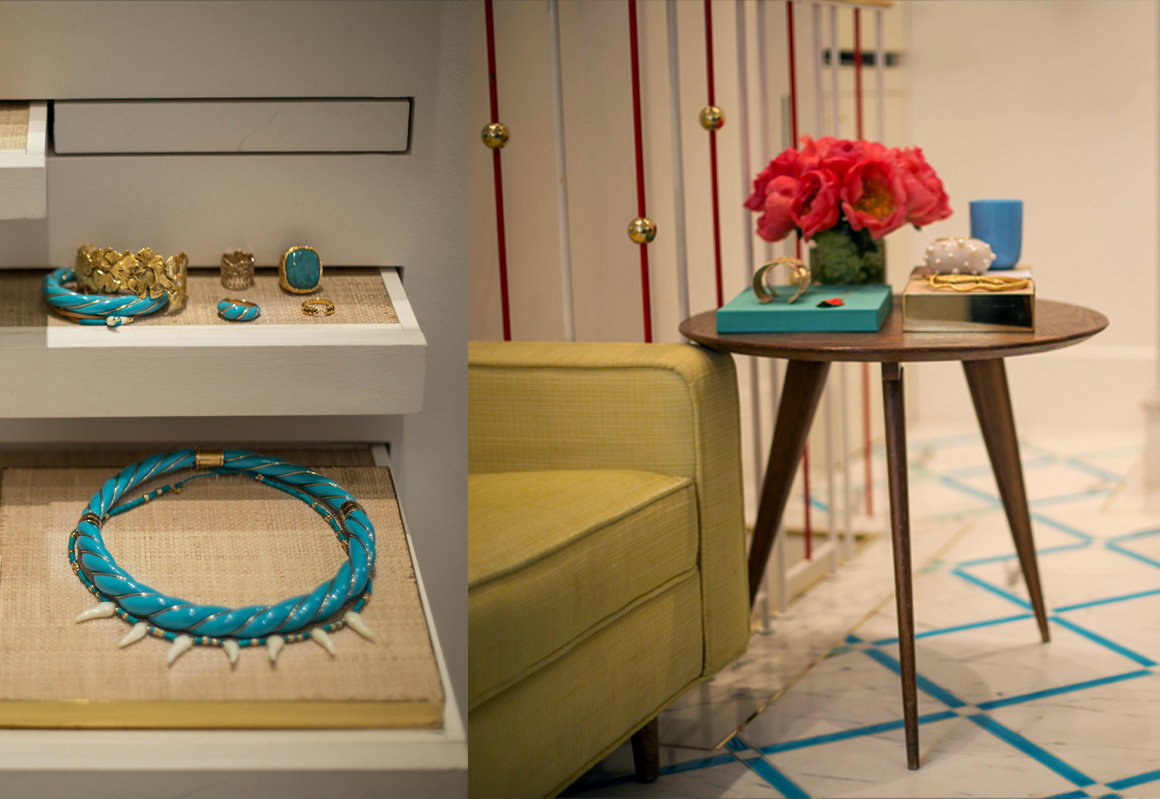 Aurélie is very well known, her brand is a real success, and honestly, she deserveses it. She is constantly reinventing herself, her jewellery is cheerful, colourful, lively, inspired by her many travels, and they are real fashion accessories. She has unique taste, the decoration of her store is inspired by the hues of the Amalfi Coast, it smells like her own Positano, and the floor also is a real jewel… You'll fall in love with everything in this bright and colourful universe. From costume pieces like her gorgeous cuffs, spectacular earrings and antique necklaces, to her more precious pieces, multi-coloured and tasteful. I tell you, it's Capri in Paris –
Baby Buddha : 68 rue des Saint-Pères, Paris 7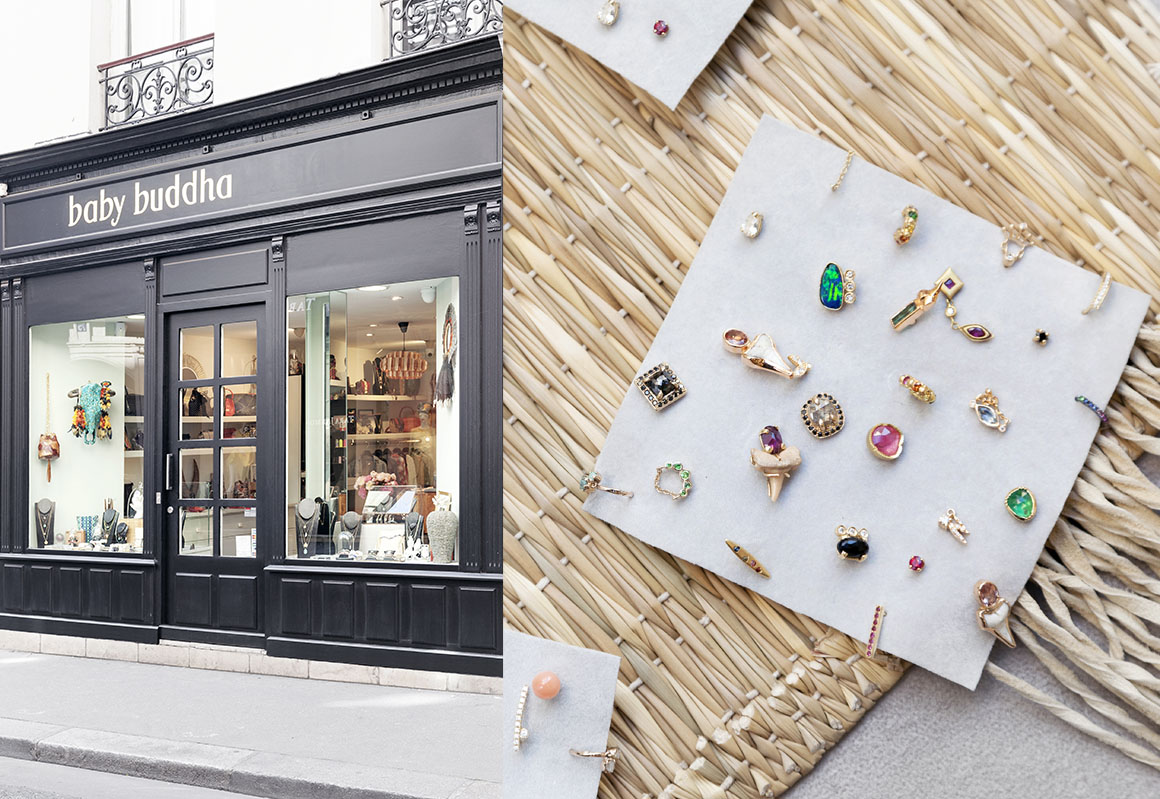 Karine inherited the jewellery gene. When she created Baby Buddha a few years ago, she was a bit of a precursor, and her cosy, exotic boudoir on the Rue des Saints-Pères was an immediate success. She travels a lot and brings back brands from all over the world. I especially love the Mexican brand Dezso. I like the variety of prices she offers, and have to mention her extensive selection of ear studs, where one can choose a single stud. She has some fairly spectacular pieces of jewellery, but also plenty of original and accessible stuff, as well as Delphine Delafon jewellery bags.
Galerie Elsa Vanier : 7 rue du Pré au Clercs, Paris 7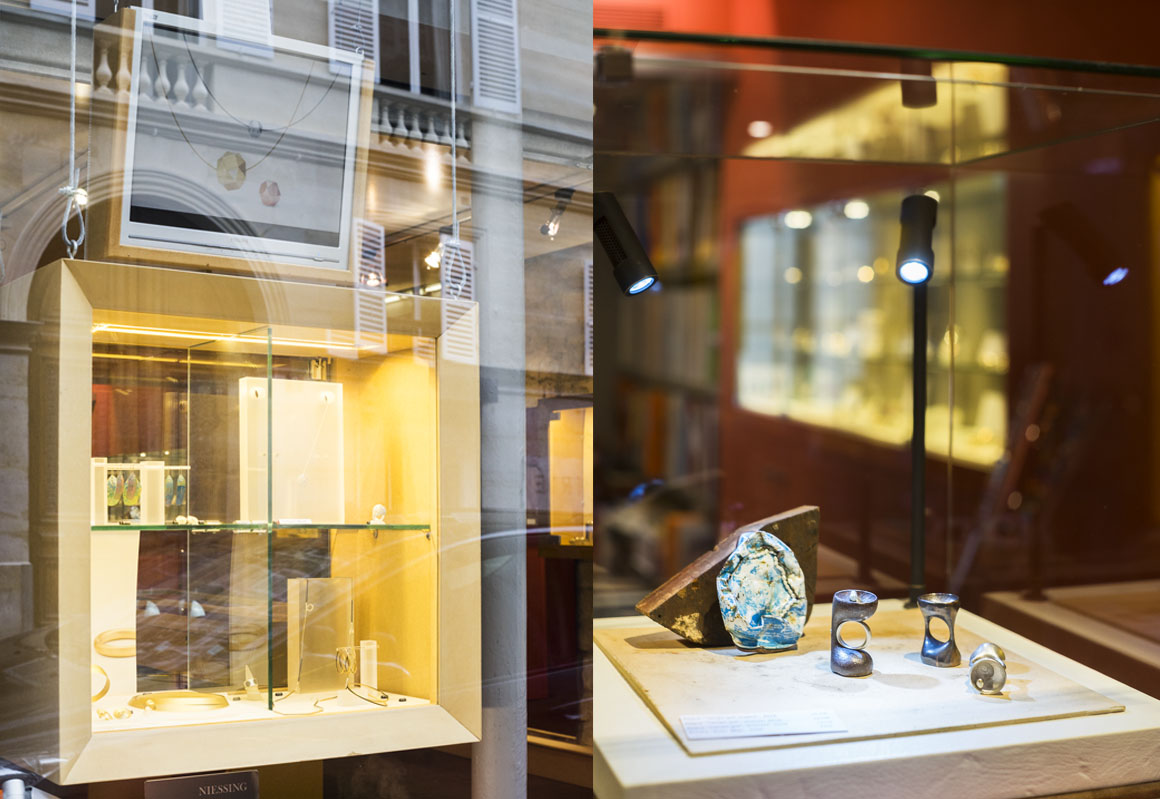 Elsa Vanier is passionate about jewellery creation, and when she talks about her creators, it's with all the love of a mother! At her gallery, you will discover pieces which are also sculptures, fun things, lucky charms, amulets, and experiments. Truly the place to find something unusual in the jewellery line. My personal favourite is the revolution ring of Agathe Saint Girons a ring that makes stones dance around the finger with a pretty tinkle.  Elsa's gallery is moving this summer for a busier street, it's just next door, but for now it's a secret, I'll tell you when I know!
Le Bon Marché : 24 rue de Sèvre, Paris 7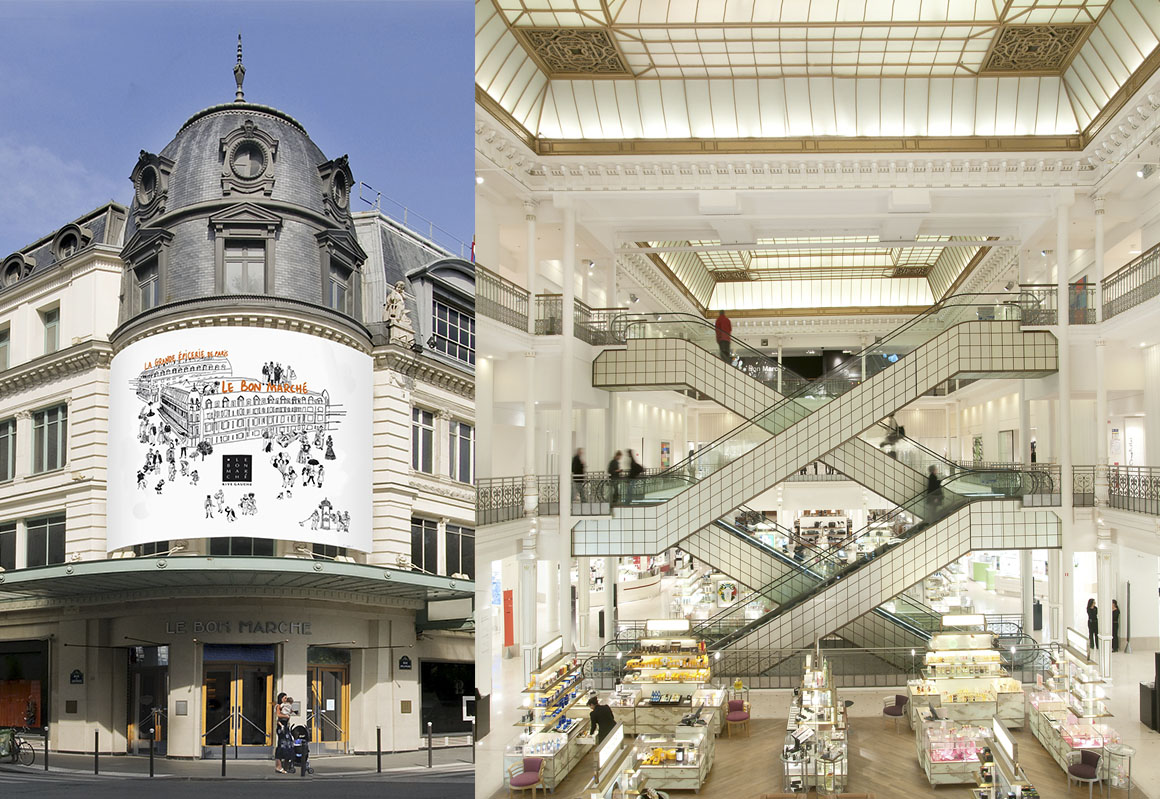 I won't elaborate, but for me, it's The department store, and without doubtthe most beautiful jewellery space in Paris. A space for fashion, fantasy and precious jewellery, a selection that covers both the well-known brands of the Place Vendôme as well as designer brands,gorgeous and clear merchandising, and nice advisors. The top!
Naïla de Monbrison : 6 rue de Bourgogne, Paris 7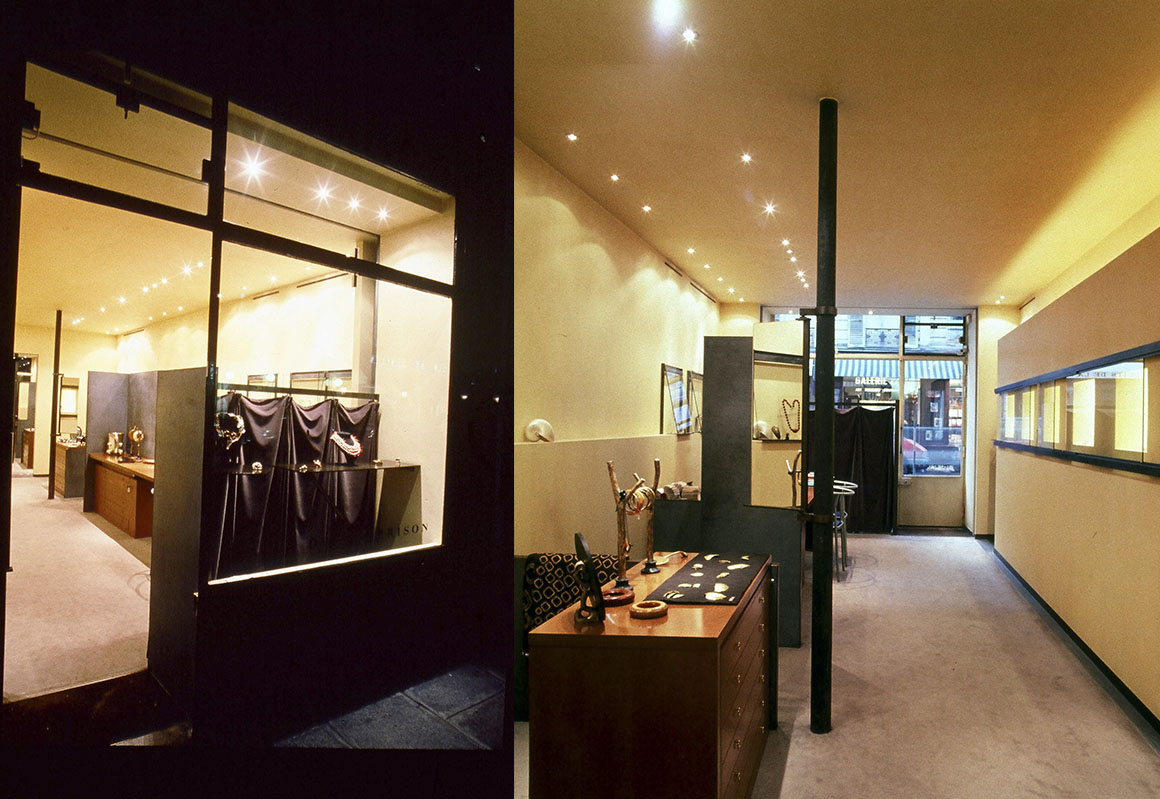 Naïla de Monbrison is to designer jewellery what Chanel is to the Place Vendome: an institution. She created her gallery in 1987 in the unique Rue de Bourgogne, with the ambition to sell jewellery made by artists, one-of-a kind work intended for a clientele in love with contemporary art. It was she who made me discover Taher Chemirik, an artist whose pieces are all absolutely gorgeous.
Galerie miniMasterPiece : 16 rue des Saint Pères, Paris 7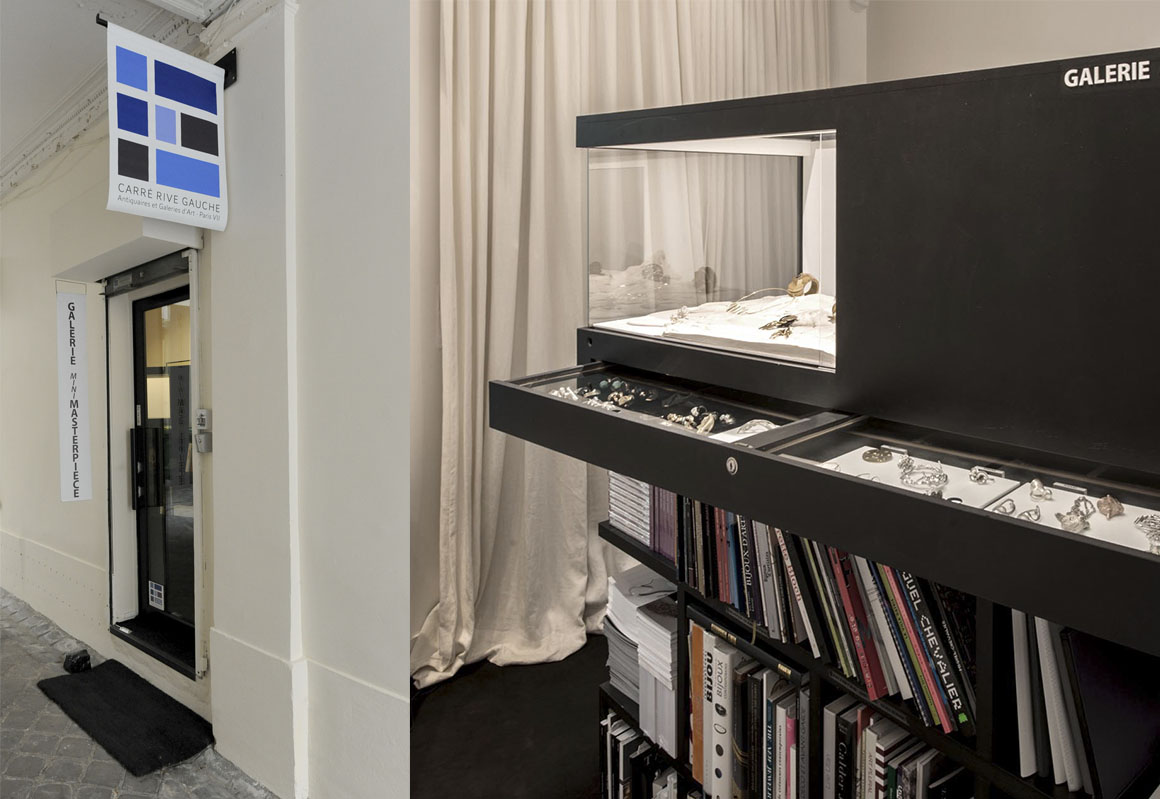 Hidden at the back of a paved, green courtyard, the gallery of Esther de Beaucé has the imaginative name of miniMasterPiece. And that name means everything. The place is tiny, the artists' pieces she exposes there are immense, unique, masterful. Esther has inherited the jewellery gene from her mother, a great collector, and she produces jewellery in editions created by artists, whom she chooses based on her attraction to their monumental works. She asks the artist to convert their work into jewellery, and she is present every step of the development process. For art enthusiasts, you must go and ask her to open her drawers, they are filled with incredible, very special jewellery!
Stone : 60 rue des Saint Pères, Paris 7 
Delightful earrings, tiny hoops and sleepers, crosses, modern jewellery created using ancient techniques… this is the dreamlike world of Marie Poniatowski. For lovers of diamond jewellery, available in three shades of gold. A lovely little store run by Fanny, friendly and smiling…because it's always better to buy diamonds in a cool and relaaaxed atmosphere!
8ème arrondissement :
By Marie : 8 avenue Georges V, Paris 8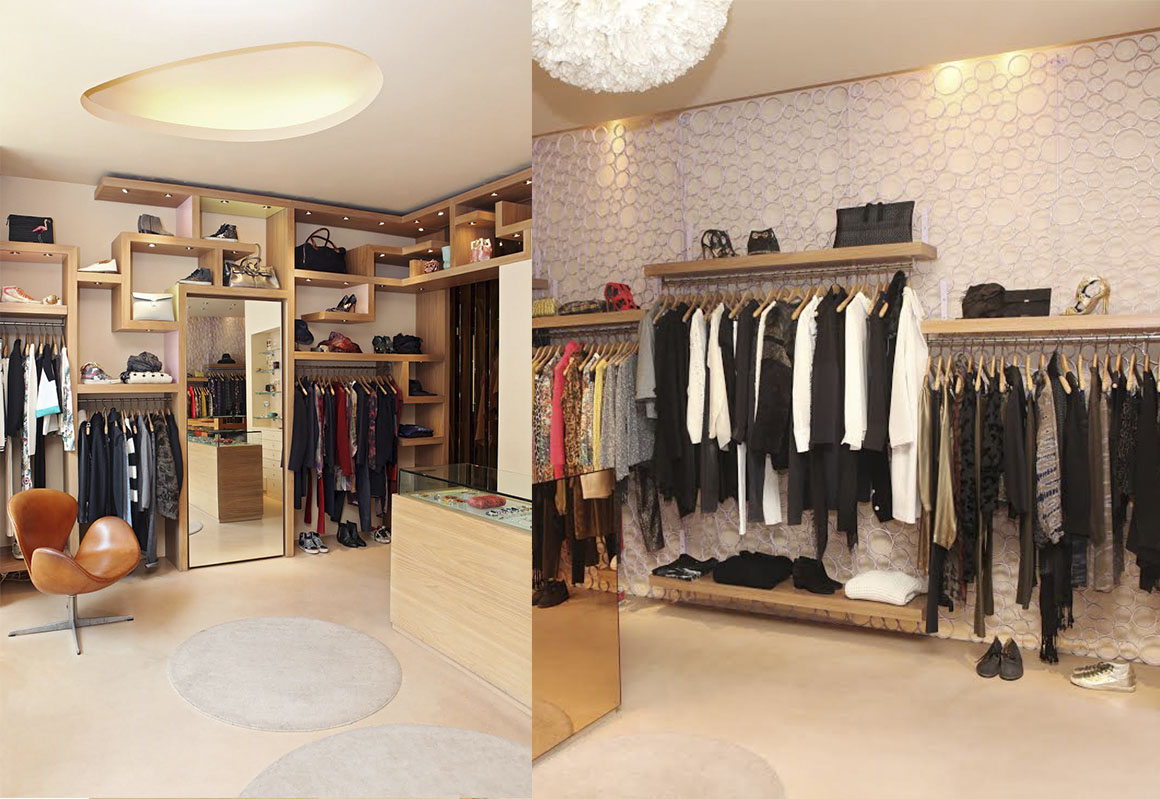 Same concept as the one on Rue Etienne Marcel. I always stop to look at the storefront on avenue Georges V, their selection is top, and the storefront is lovely
Casoar : 15 rue Boissy d'Anglas, Paris 8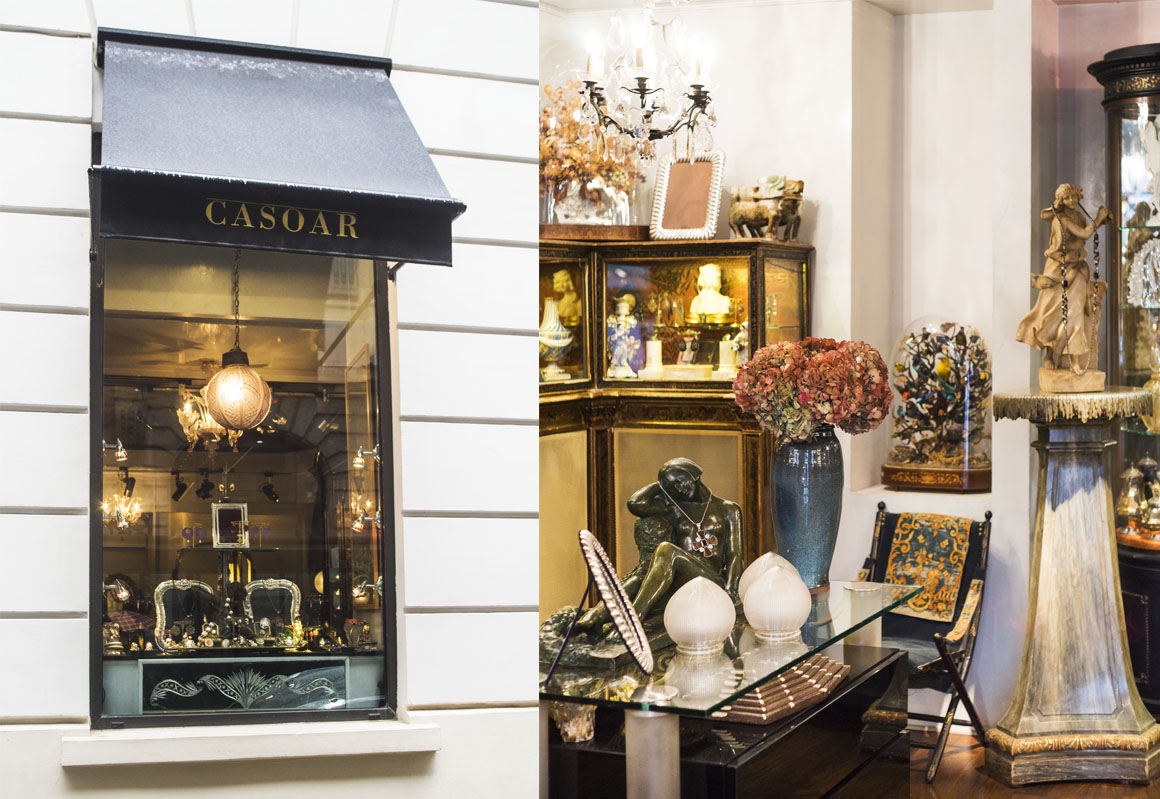 A boutique where I've been hanging out forever. One doesn't go there by chance, it's a special place, somewhere between a cabinet of curiosities and a vintage shop. In fact, the jewels are created there by the lady of the  place, and are often renewed reproductions of antique jewellery. Very beautiful pieces, a lot of silver, and during all those years, the place hasn't aged a bit!
Montaigne Market : 57 avenue Montaigne, Paris 8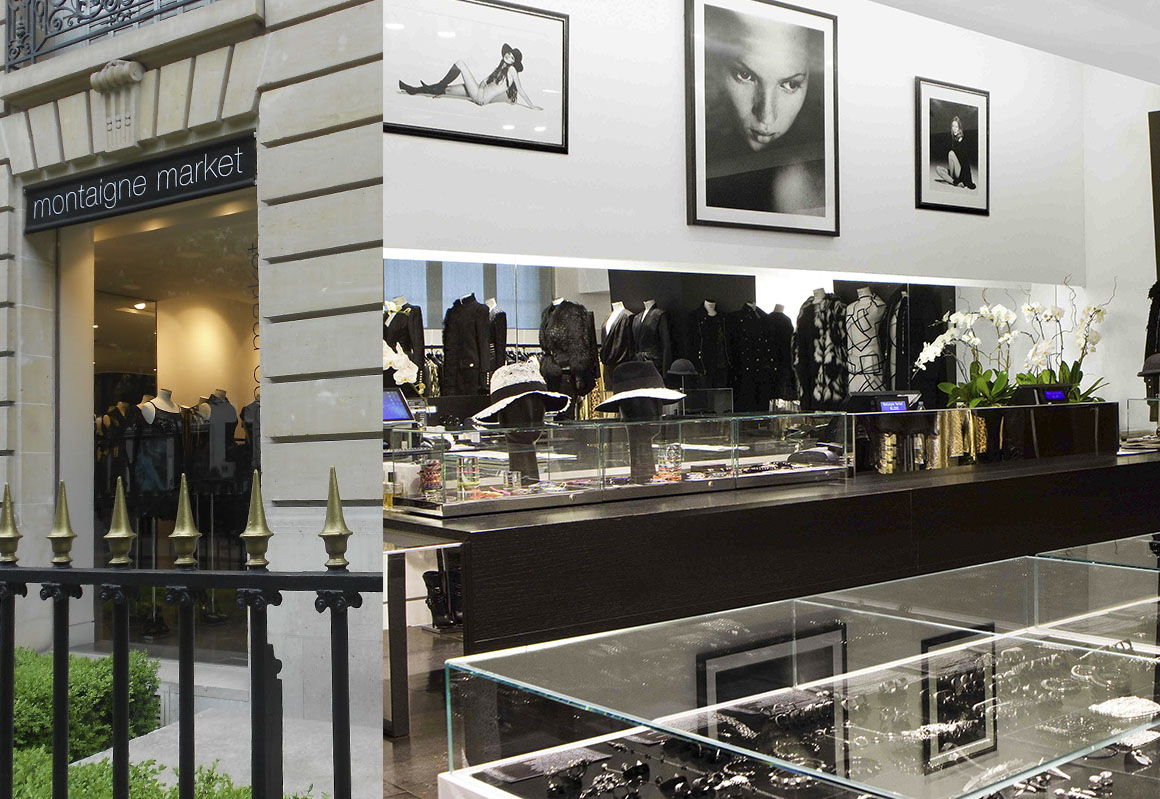 Ok, This is the temple of fashion in the 8th district, Liliane Jossua is the high priestess of style, but the place is a little cold, not really for "normal" people (in the real sense of the word!). A very stylish selection with a rock influence, huge tables presenting different brands, lots of white and black gold. Not really my cup of tea, but I must admit that I love the brands Stone and Yvonne Léon presented there.
9ème arrondissement :
Marion Vidal : 13 Avenue Trudaine, Paris 9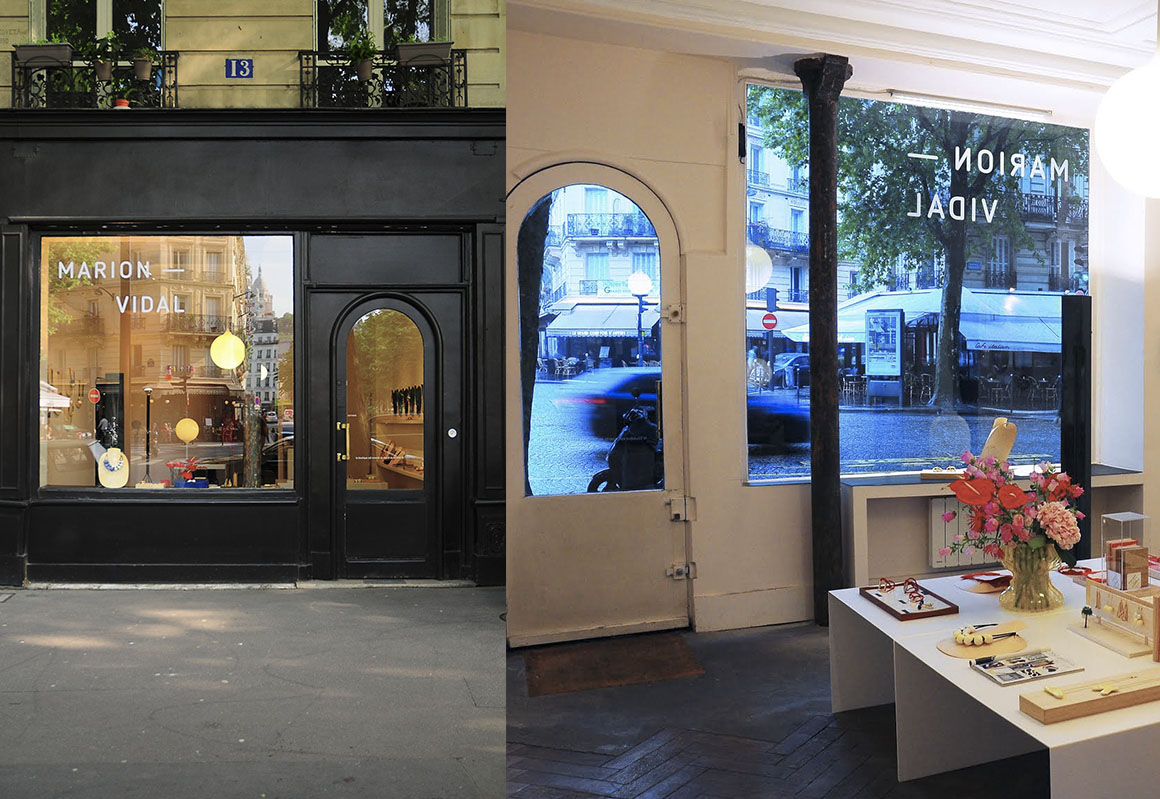 Marion is a unique creator, her jewels are pure and architectural, the materials are noble without being precious, and her famous plastron of ceramic balls entangled in a silk ribbon is always a best seller. Her jewels create a unique style, you have to try them on in her lovely shop on Avenue Trudaine, opposite Montmartre, a small hike to the north of Paris, to be done without fail.
Myrtille Beck : 30 rue Henry Monnier, Paris 9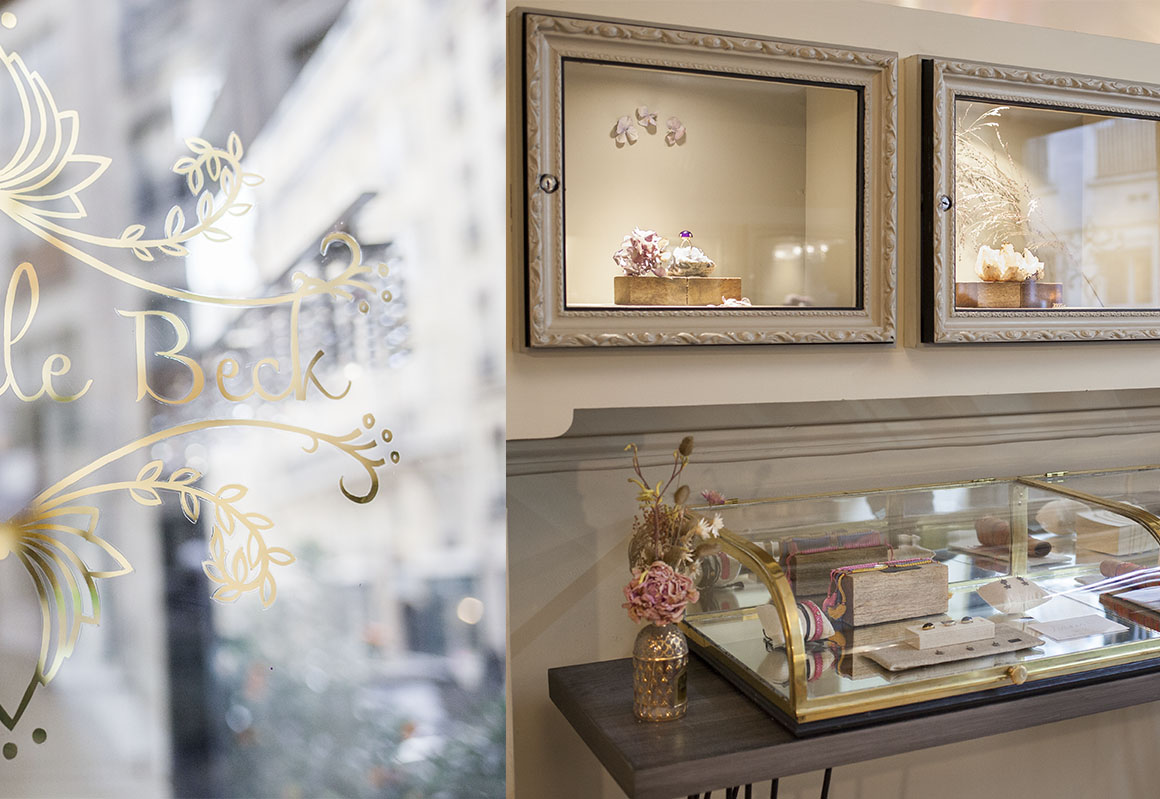 Myrtille is another one of my darlings, a bit like Anaïs. I like these designers who do everything themselves, I find them talented, courageous and they both have a feel-good place for themselves. At Myrtille's, there are of coloured stones and diamonds mounted in the old-fashioned way, with millegrain crimps inspired by antique jewellery. She also distributes other cute and accessible brands. Try to find out her opening hours before dropping in, as running the whole thing alone, she isn't always there.
Oradena : 19 rue des Martyrs, Paris 9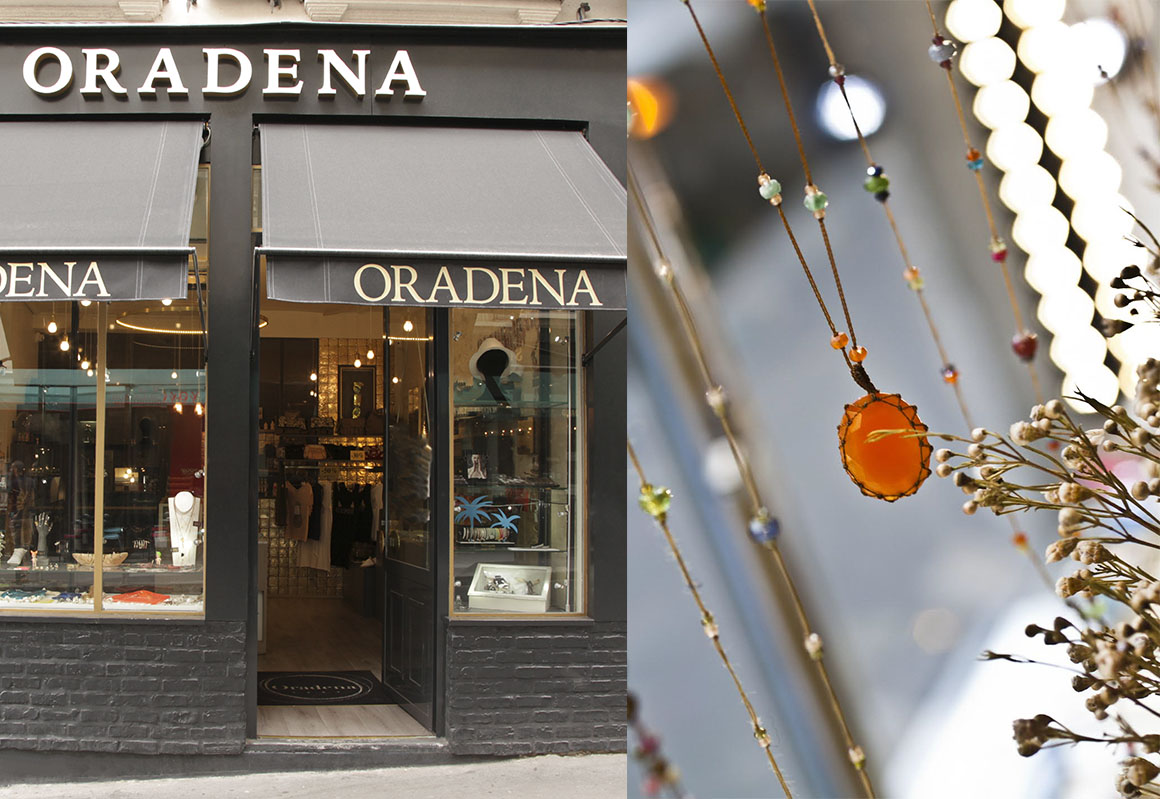 Strolling up the Rue des Martyrs towards Montmartre, you'll discover plenty of cute fashion, flower and (especially) jewellery shops. Oradena is a multibrand boutique created by Ruth almost 2 years ago. After being a part of the world of fashion and make-up, Ruth had 4 daughters and, a big professional break for 10 years, but then returned to her primary passion, jewellery. Her first shop Oradena opened in St Germain en Laye, then a second one on rue des Martyrs, and she loves the neighbourhood. Full of pretty designer brands Ginette NY, Jacquie Aiche, Yannis Sergakis in gold, as well as Aurélie Biderman and Sharing plus a few of her own creations, which she has recently started making (but she doesn't dare to talk about it too much yet)! A great choice, to splurge on a designer piece at an affordable price. 
10ème arrondissement :
Medecine Douce : 10 rue de Marseille, Paris 10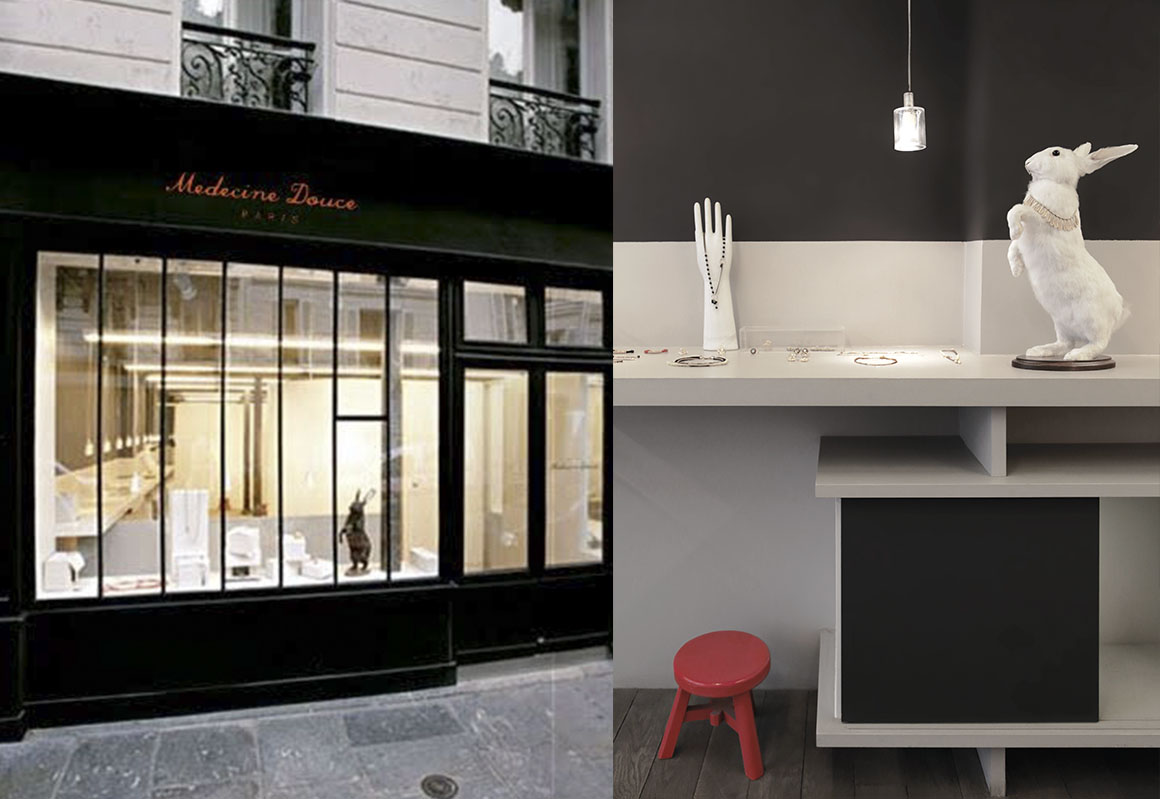 I love this brand of jewellery, it's poetic and full of charm, like the shells you bring back from the beach, the multi-coloured pompoms you bought in a market in Mexico, or the fine gemstones from a faraway country. It's a "feel good brand", its jewels are bountiful amulets, and her pretty boutique on Rue de Marseilles is peaceful and relaxing, just like a healing medicine…
11ème arrondissement :
Yves Gratas : 9 rue Oberkampf, Paris 11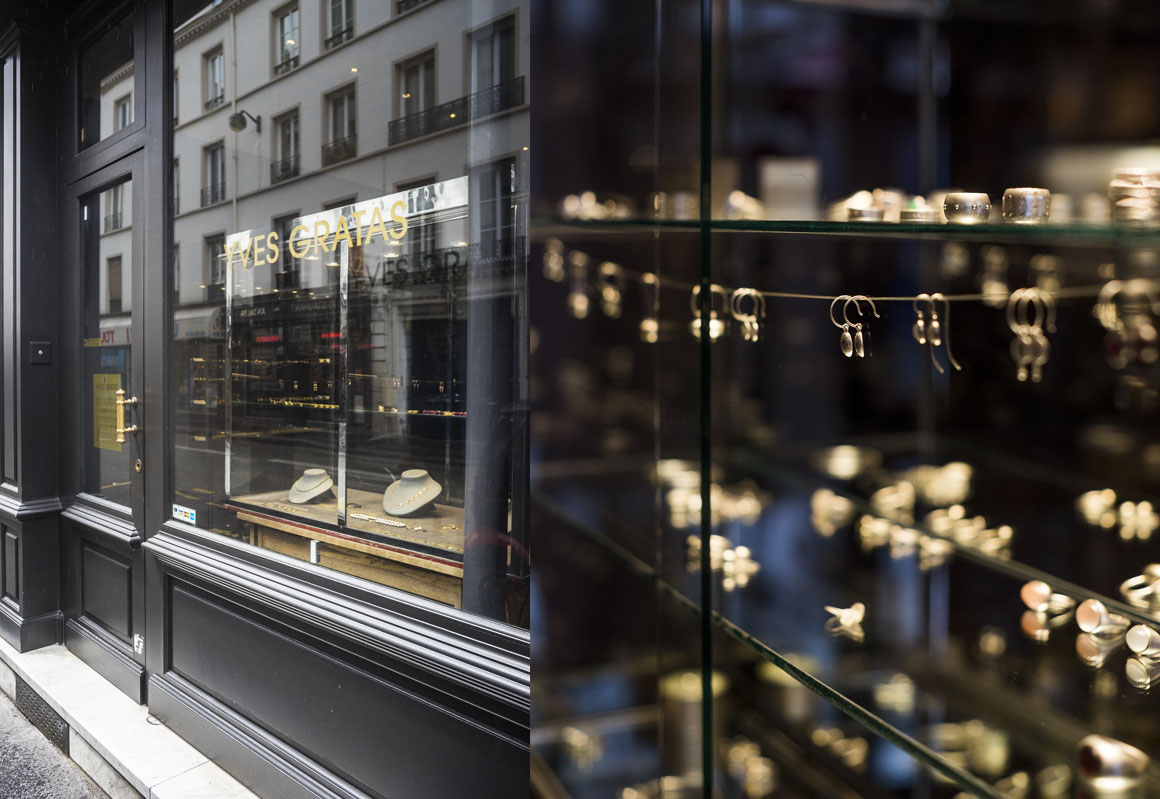 It's been really ages since Yves, a goldsmith who does everything himself, set up his workshop in the Rue Oberkampf, and he is known in the area for his talent at finding unique stones, cabochons with pure colours or rough diamonds, and for his great workmanship that can magnifying each stone into an antique or , sober shape. I especially love his chiselled gold rings that can be stacked as one desires. His work is simple, noble and absolutely timeless.
17ème arrondissement :
Birdy : 35 rue des Batignolles, Paris 17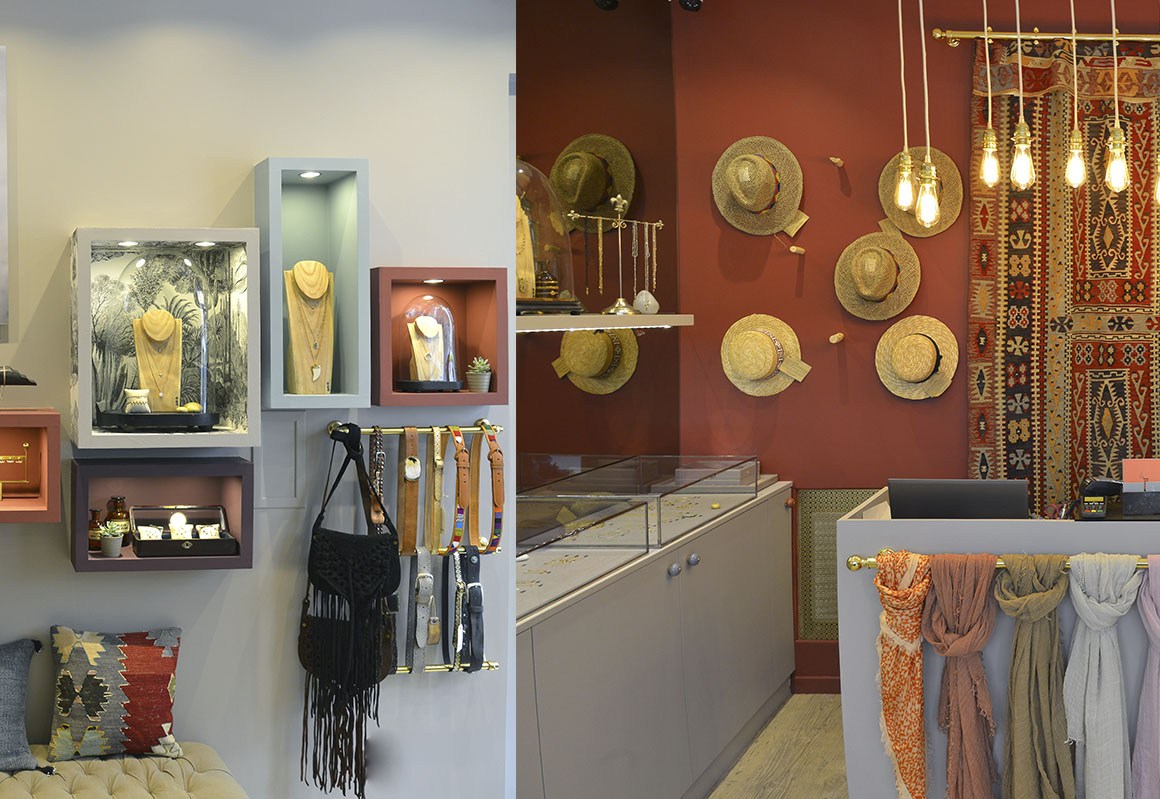 Same concept of trendy multi-brand jewellery as the stores in the rue des Lombards and the rue St Placide.
Iodé : 73 place du docteur Félix Lobligeois, Paris 17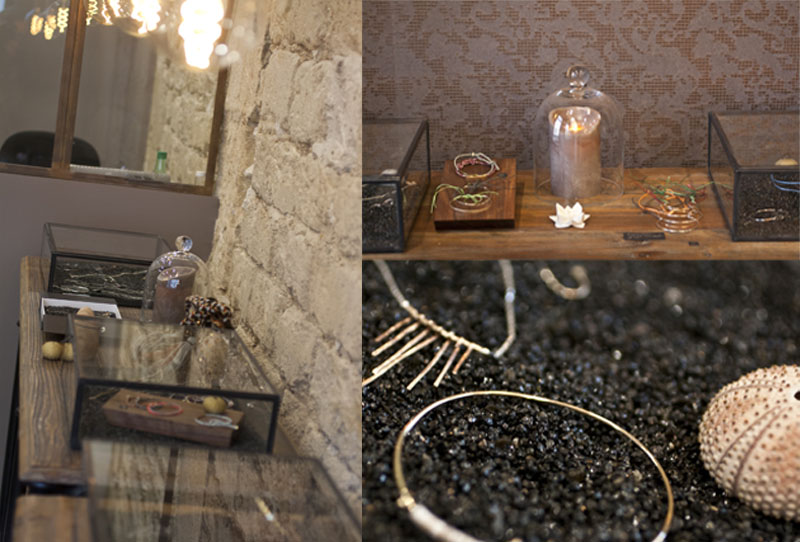 Virginie is a fan of jewellery, so those of you living oin the north side of the 17th district, you're in luck! She set up her boutique in her lovely, super bobo neighbourhood, at number 73 place Doctor Felix Lobligeois, right next to the APC store (is that not proof of trendiness!). She exercises different techniques, and creates super cute, accessible fine gold and silver jewellery in her workshop-boutique. To offer more choice, she has also made a small selection of brands that she likes, among which are Scosha bracelets and the fine pieces of Gilbert Gilbert. Another nice designer shop with low prices.
18ème arrondissement :
Emmanuelle Zysman : 81 rue des Martyrs, Paris 18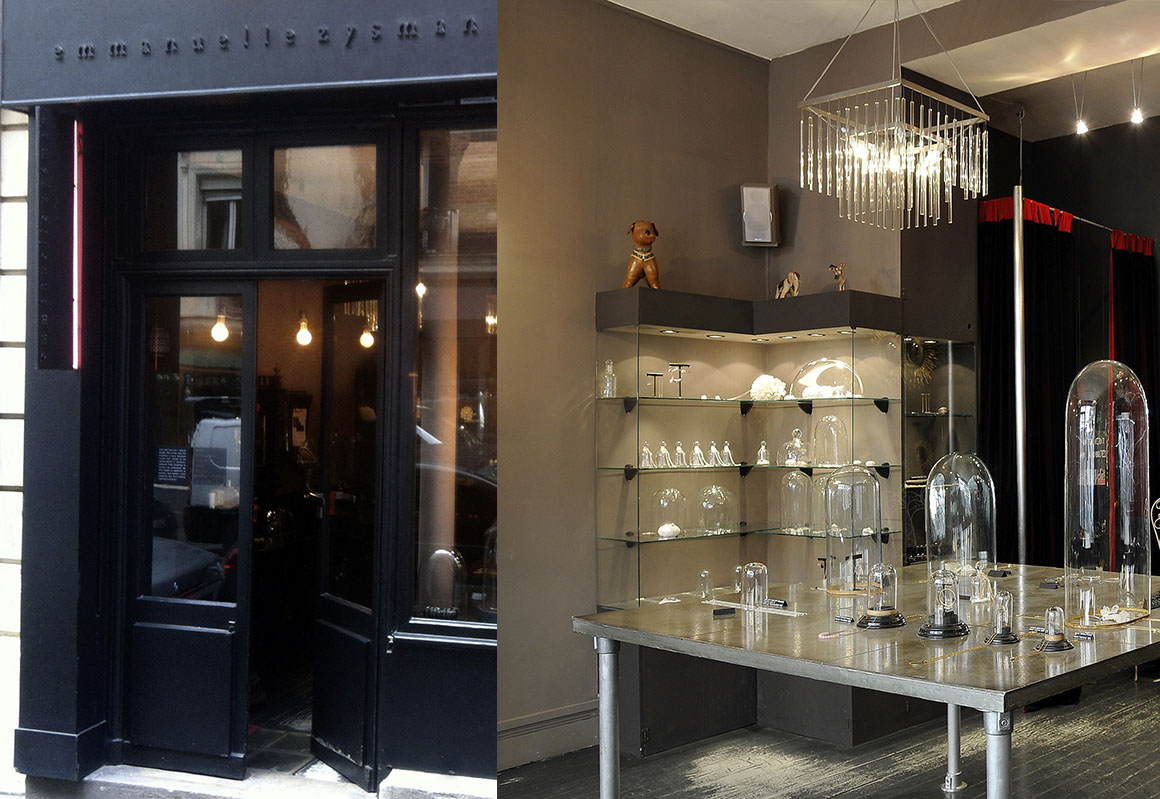 I love the universe of Emmanuelle Zysman, the silver, vermeil and gold jewellery, of which the light patina is reminiscent of antique jewellery, with little irregularities- like hand- made pieces, and a multitude of colourful stones making one want to collect lots of them. A very nice shop with its windows always perfectly dressed. I especially like gilded bangles, adorned with multi-coloured stones.
Sylvie Corbelin : Marché aux puces de Saint Ouen, Marché Paul Bert, stand 291, Paris 18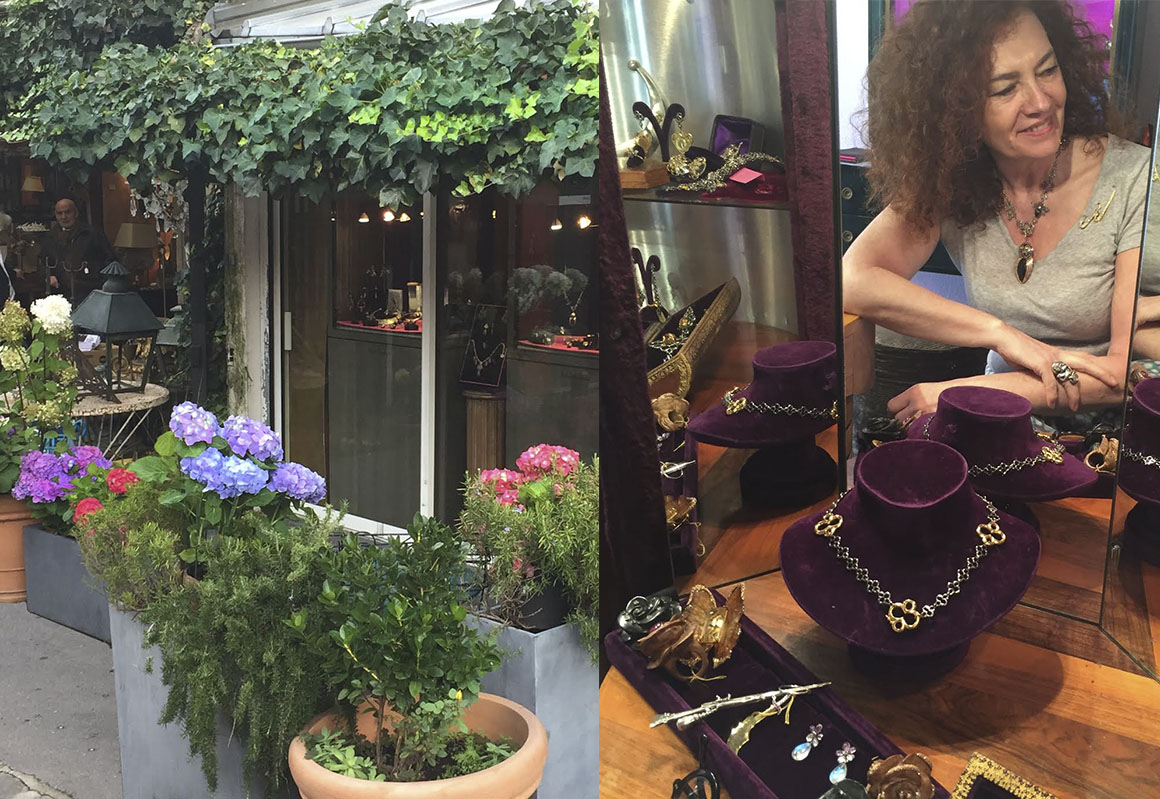 Sylvie Corbelin is a fairy who brings back to life the most beautiful traditions of jewellery-making through her dream-like creations. Her jewels are opulent, vintage, shimmering, full of history, and the stones she uses are treasures that she has accumulated for years like multiple crushes. She is a collector, artist, creator, vintage hunter. You must visit her at her stand at the Paul Bert market on weekends, she will tell you a thousand stories about her wonderful jewellery.
I look forward to your proposals for cute jewellery boutiques!
Thank you to Solène of "En voiture Murène"  for her pretty watercolour card of Paris, and her super work in the production of this guide