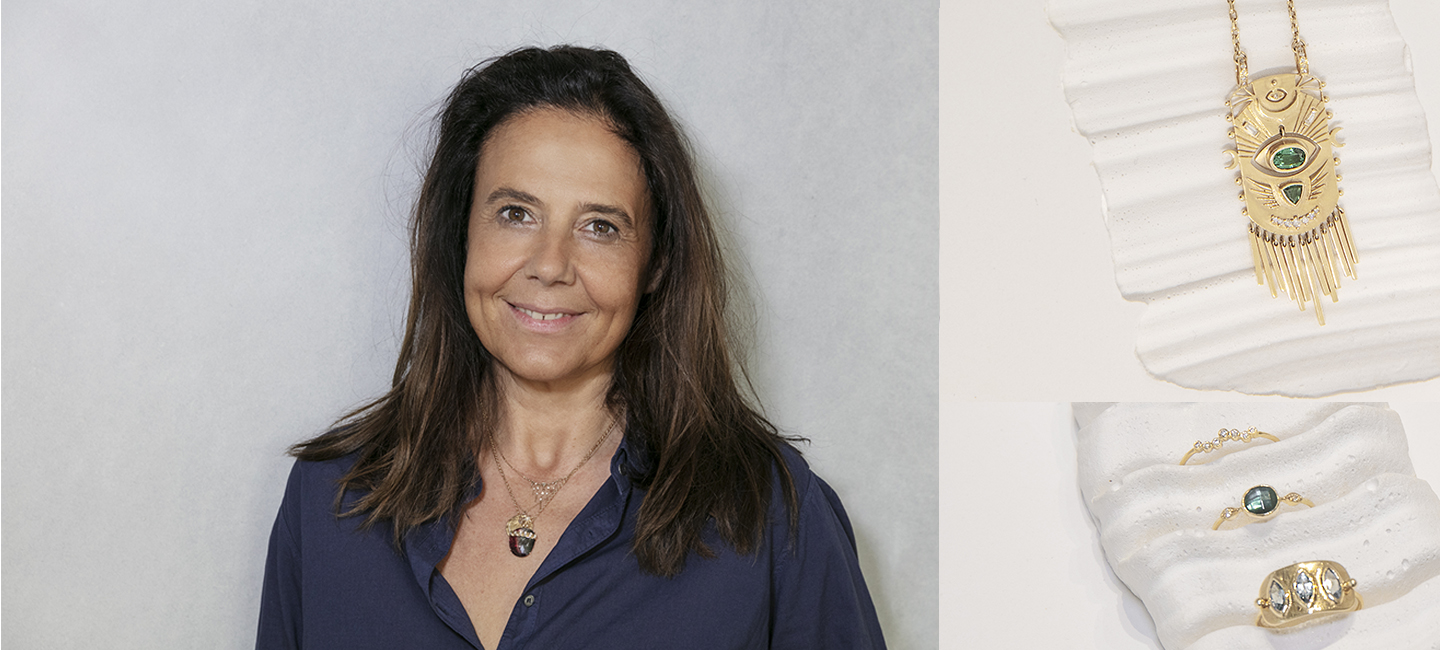 "When I was 11 years old, my mother would place an amethyst in my pocket when I traveled alone by plane."
Céline Daoust is Belgian..
Ah no, that's a bit short!
And yet, it says a lot…
To me, Belgians are a version of the French, devoid of their worst flaws. I see them as friendly but never snobby, funny but never malicious, foodies but never pretentious, creative but never arrogant. Need proof? Tintin, Hercule Poirot, Dries Van Noten, Cécile de France, and Benoit Poelvoorde. But some might say they are a bit slow? Yes, but these days, that's rather a quality.
For 15 years, Céline Daoust has been creating irresistible precious talismans adorned with fabulous watermelon tourmalines, poetic diamond slices , and magical labradorites. Her brand is distributed in over 150 fine shops worldwide and now her own in Paris, yet she remains unassuming.
And I believe it's this simplicity, maintained despite her growing talent, that I love about her, just as I do with all our northern cousins.*
Although our paths have crossed many times, we had never truly met.
Céline hides behind her jewelry and behind Matthieu, her alter ego, her partner, and the father of her two sons.
Matthieu, is Mr. Céline Daoust.
I met him in 2017 at the COUTURE show ,where, to my delight, his booth was next to that of Selim Mouzannar.
We instantly formed a little Gaulish-Belgian-Lebanese village in the midst of the Yankees, sharing jeweler gossip and business tips. Standing at 1m90, this giant with a brown beard exudes a coolness rarely seen in the jewelry business, a trait that has earned him the warm appreciation of the entire industry. When I asked him where Céline was, he simply replied with a gentle smile,« At the workshop in Jaipur, she doesn't really like shows… », and I realized that these two were quite the dynamic duo.
Céline imagines, draws, and creates. Matthieu manages, sells, and expands. And it's a smashing success. In just two COUTURE shows, the small Belgian brand had already won over the finest American retail outlets.
On the last day of the show, while celebrating our successes and after delighting the chic clientele of the Wynn's Japanese restaurant with a somewhat tipsy acrobatic slide fueled by Chardonnay, I set a date with Matthieu to profile Céline. That was 5 years ago.
Between Brussels, Jaipur, countless journeys, a health crisis, the opening of her Parisian store, and a feature in Forbes, we finally found time to talk in the pristine coolness of her Rue des Saint-Pères boutique.
With a gap-toothed smile, caramel complexion, and without a trace of makeup, Céline sports her precious charms layered over her work attire – a pair of Levi's jeans and a loose cotton shirt.
We settle in the back of her white cocoon filled with delightful design objects, and with her melodious, unhurried voice, the reserved Céline tells me her story, or rather, their story.
Because for the Daousts, everything comes in pairs.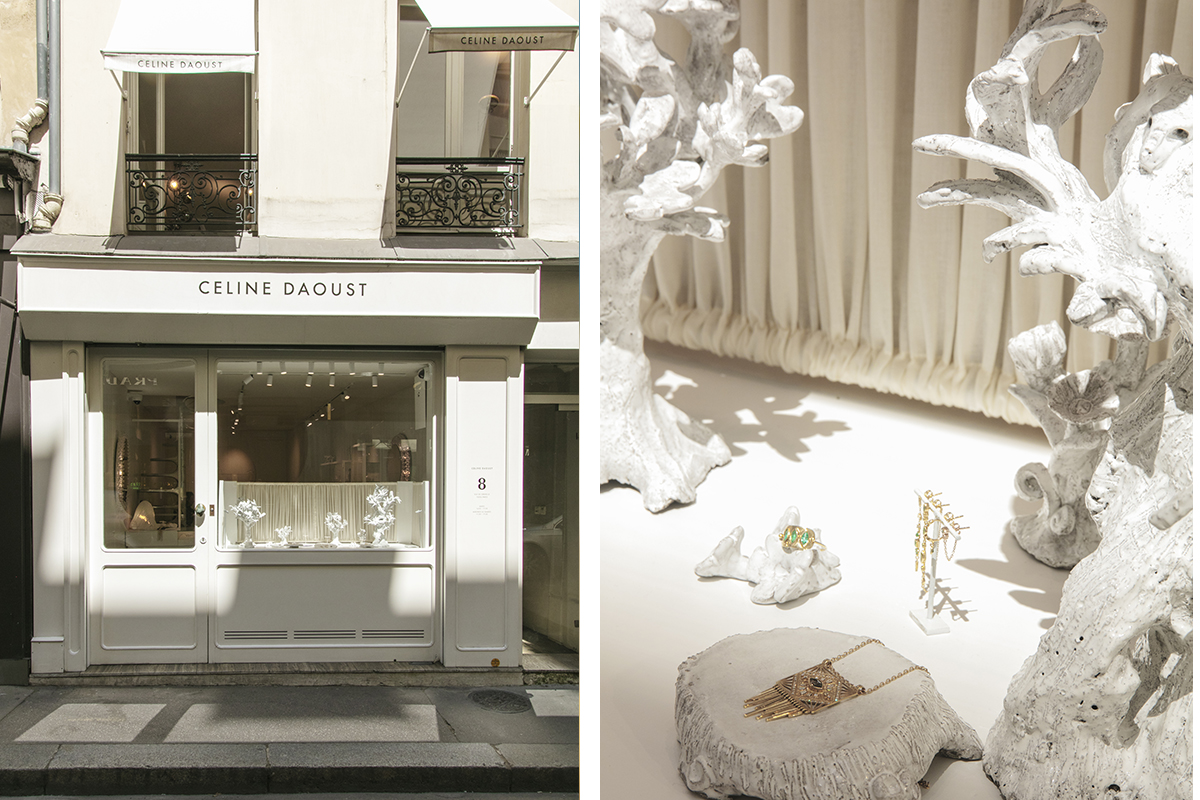 "My journey is somewhat unique… I met Matthieu when I was very young and had my first son at 20."
Impressive. At twenty, I was still frequenting nightclubs and grappling with existential questions. But Céline explains that this inexpected happy event propelled her into the realities of life. She stopped her studies, her second son arrived soon after, and she devoted herself to her little boys while Matthieu took on the role of breadwinner, pursuing his studies in evening classes.
Céline's essence lies here. A down-to-earth woman dedicated to her tribe, above all else.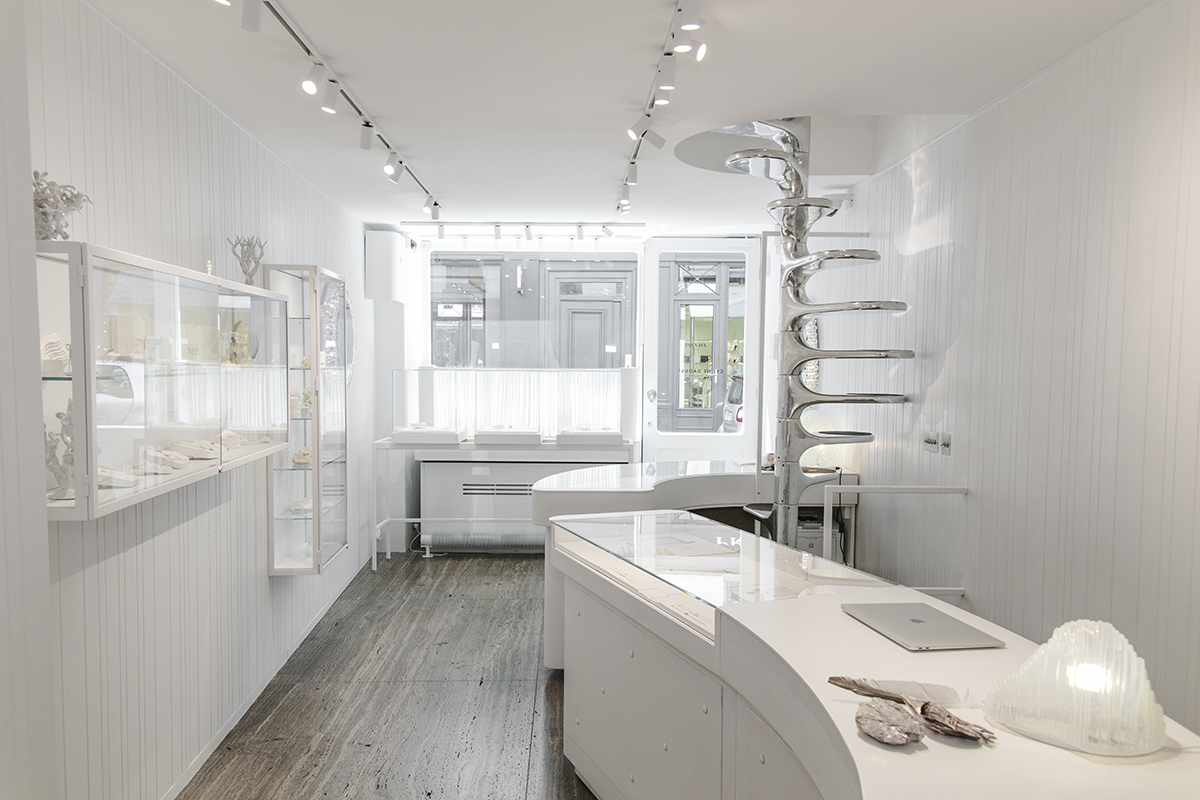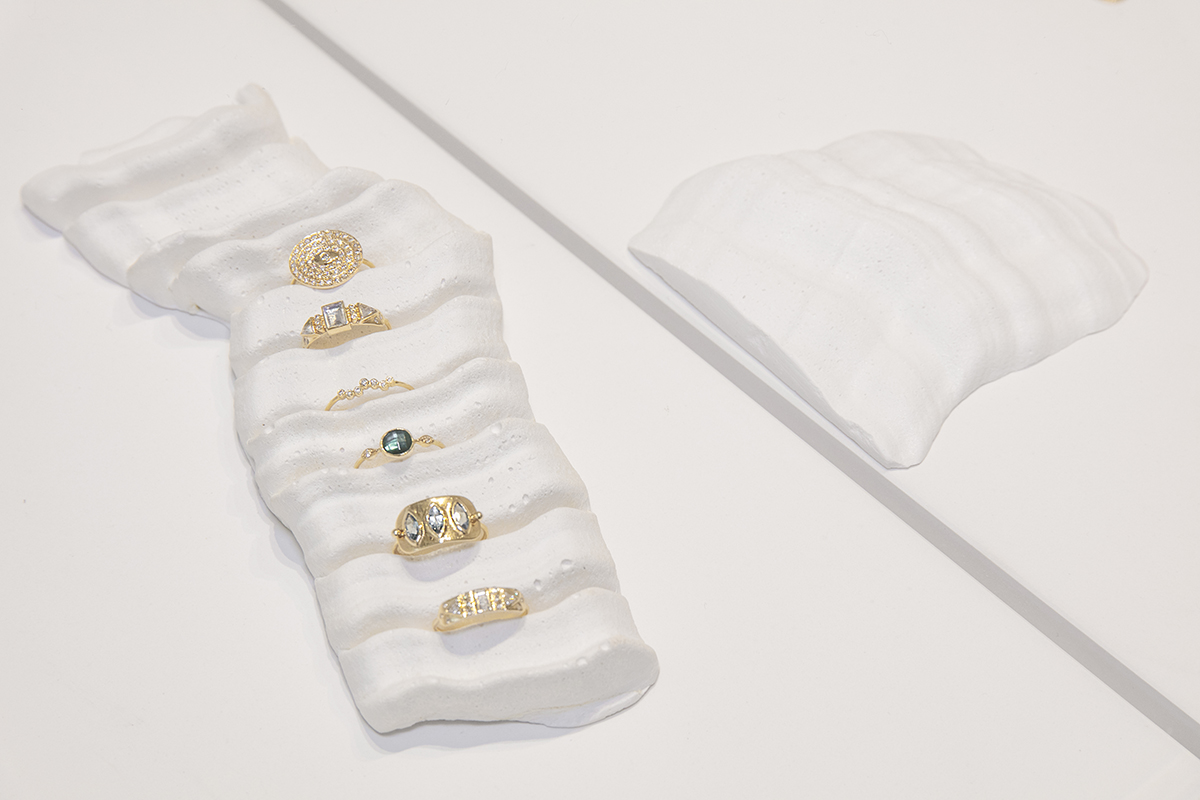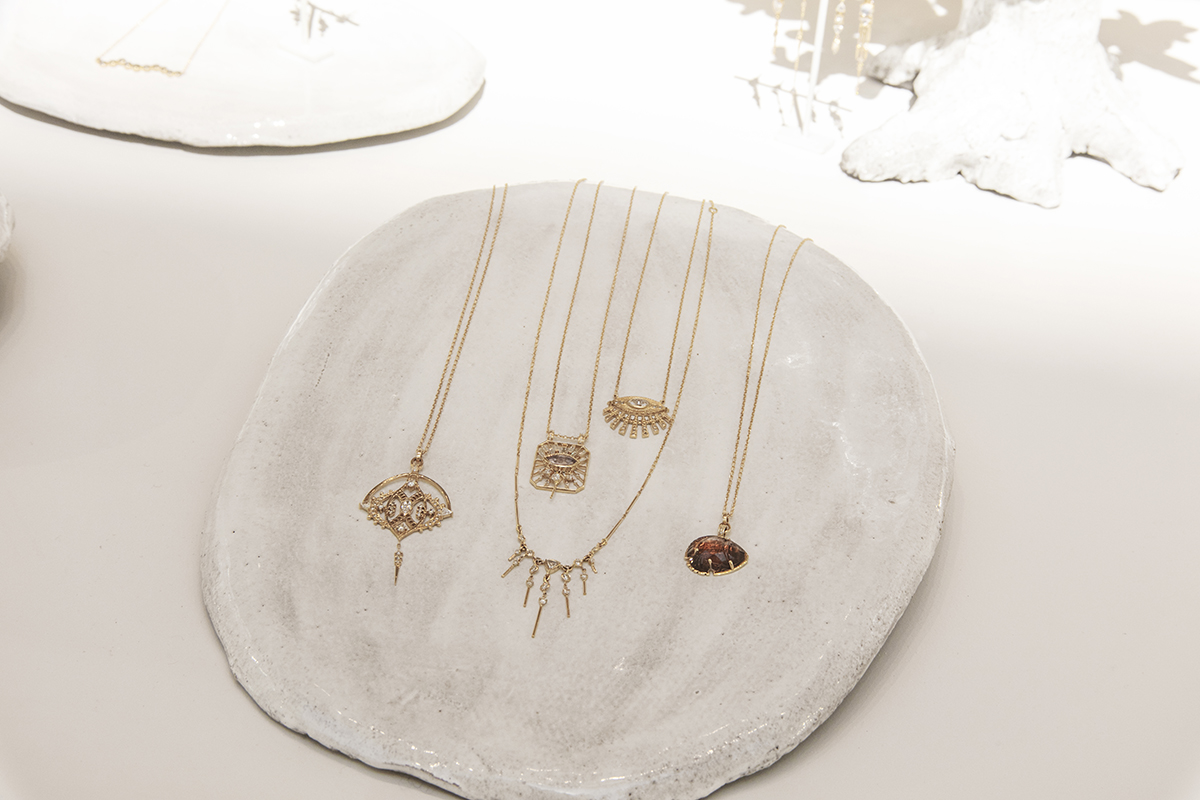 As soon as the boys started school, she took a fashion design course that led her straight into the fashion world, but she was put off by its hectic pace.
"I love slowness, materials, and above all, creating things that last."
It was an internship with an embroiderer from Lesage qui that revealed her true calling. She embroidered old ties from her grandfather, turning them into brooches, and realized that the essence of fashion lay in accessories. That's what appealed to her about jewelry. That personal touch it adds to an outfit, something that's not immediately noticeable but that can be discerned in fleeting moments. A light or intimate intention, depending on what one wishes to convey.
But how did she get into all these fabulous stones that give her jewelry its talismanic nature?
"When I was 11, my mother would put an amethyst in my pocket when I traveled alone by plane."
Talismans have always been a part of Céline's life; her nurse mother believed in the power of stones despite her challenging profession.
She explains that this peculiar relationship between the tangible and a more subtle realm, between rationality and the dreamy power of stones, shaped her imagination from an early age.
And when she began to handcraft her talismanic jewelry adorned with precious beads, she was merely continuing a path that had been set a long time ago.
All of Céline's philosophy is there. Knowing what touches her, what does her good. No need to look any further!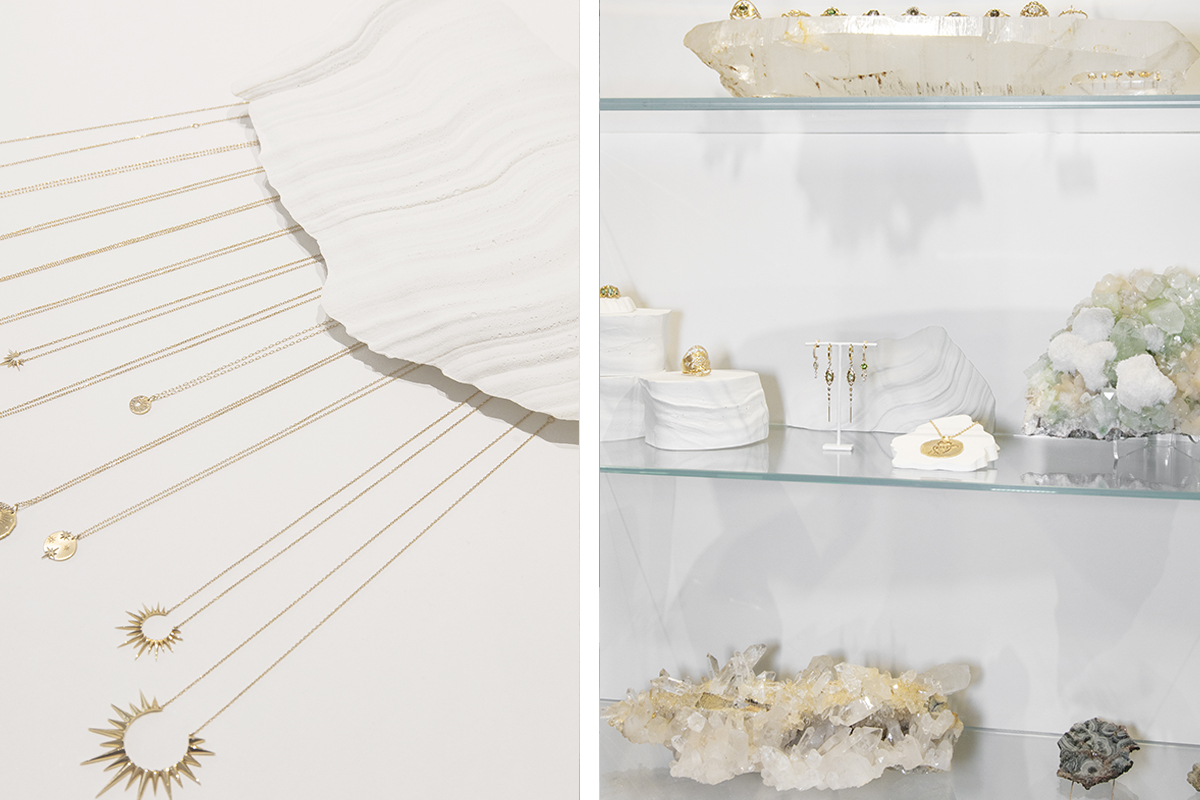 "From the start of her brand in 2008, her jewelry sold like hotcakes.
But Céline, who worked tirelessly in her basement, reinvested everything into buying raw materials. She was only rich in talent, without any financial backing from friends & family, and the banks didn't support her. Matthieu, who had a successful career in distribution, took a look at her accounts and told her:
«If you want to make money with your jewelry, you need to sell more.»

Céline replied that she didn't know how to sell. He quit his job and joined her immediately. The duo worked perfectly in complementing each other. Céline introduced Matthieu to the world of gemstones, while Matthieu channeled Céline's dreamy creativity.
The entire recipe for Céline Daoust's success is right there. Mutual trust in the other's talent. Together, it's better!
"I spend more time with my craftsmen than with my family! When I go to Jaipur, I stay for two months, and I go there 4 times a year!"

And no, apart from the Covid crisis, Céline and Matthieu aren't exactly glued to each other. While Matthieu travels the globe looking for the best distributors and suppliers, Céline works tirelessly in her Jaipur workshop to perfect her new ideas for talismanic jewelry. So much so that India is becoming her adopted country.
This workshop has grown with her, and although it allowed her to transition from the silver and affordable beads of her early days to 14-karat gold and rare gemstones, her craftsmen have learned a great deal thanks to the complexity of the projects she presents to them.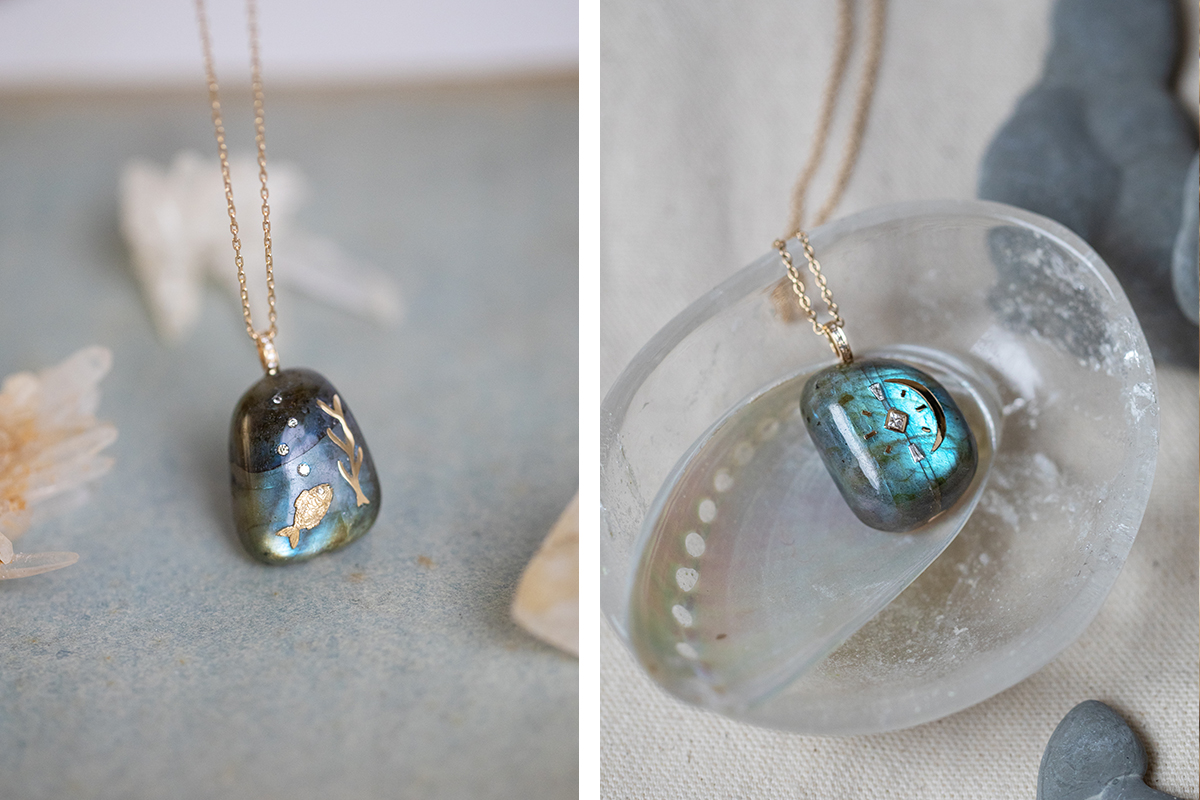 She explains to me that it took her an incredibly long time to create this line of labradorite pendants (which I'm crazy about) derived from her Dream Maker collection.
First, it was necessary to source the raw stones from Madagascar, then to conduct countless cutting tests with a lapidary, only to finally accept that out of 5 stones, only 2 will endure.
"It's such a fun period when we're searching together for technical processes. We wonder if we'll manage, we test things out, it fails, and we start over! Even if culturally, my craftsmen and I are quite different, we come together in the joy of finding a solution as a team !"

Céline Daoust's driving force is there. The simple joy of creating together!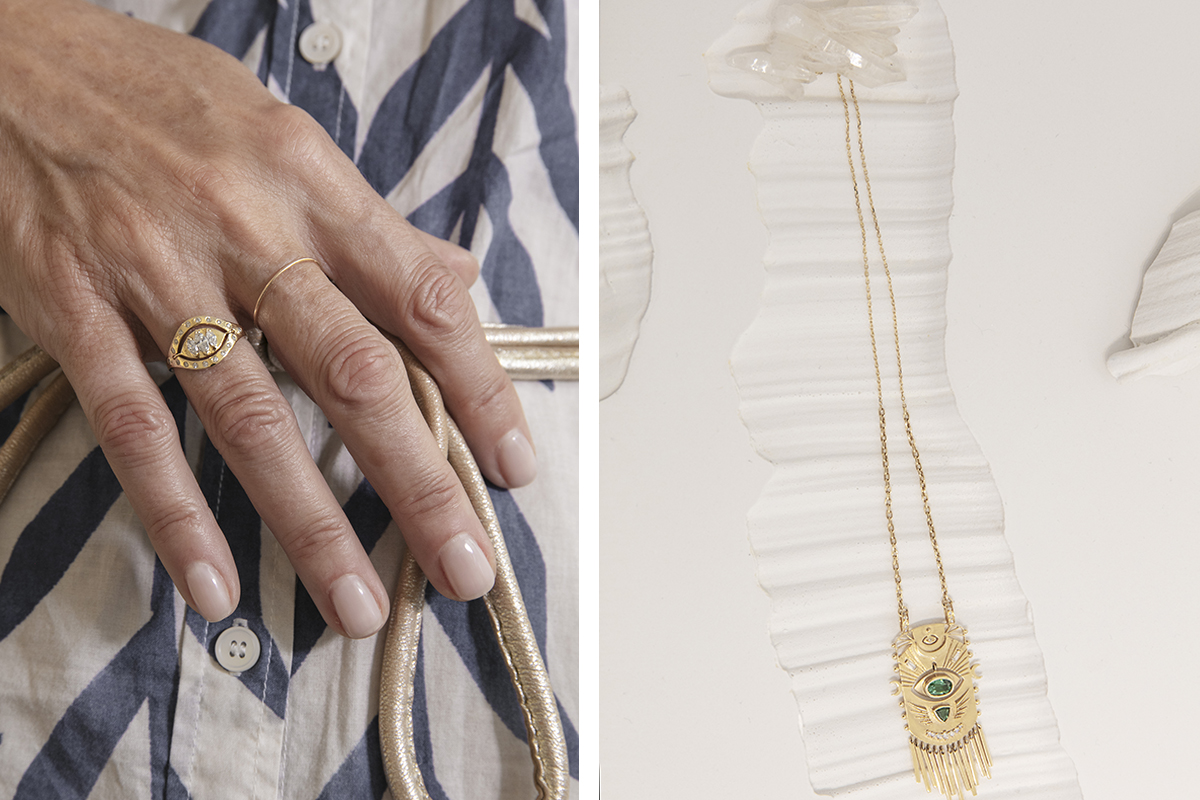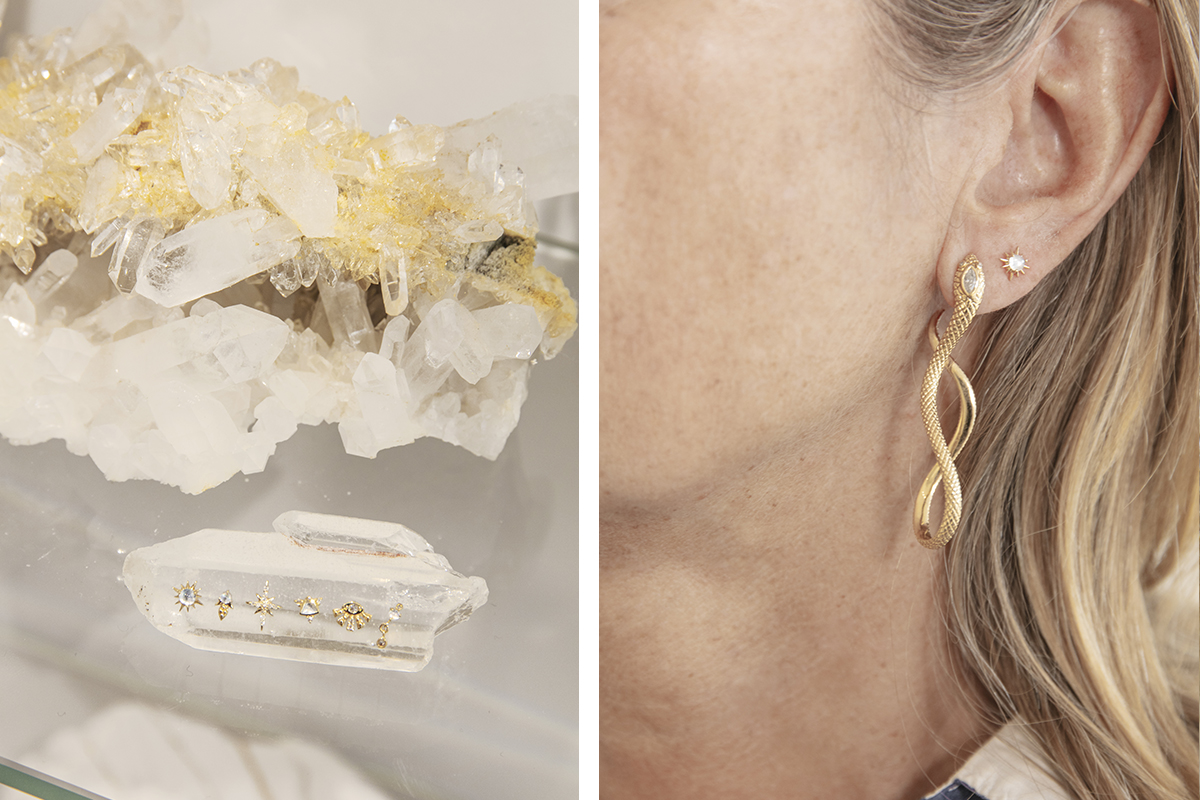 I look at the jewelry displayed on lovely white stands shaped like miniature dunes or on raw crystals.
Eye, snake, moon, sun, star, phoenix, dream maker, totem, scarab, dharma… While mystical symbolism and iconography seem to converge in Céline Daoust's Kharma, she doesn't confine herself to the Indian spirituality in which she has been immersed for almost 15 years.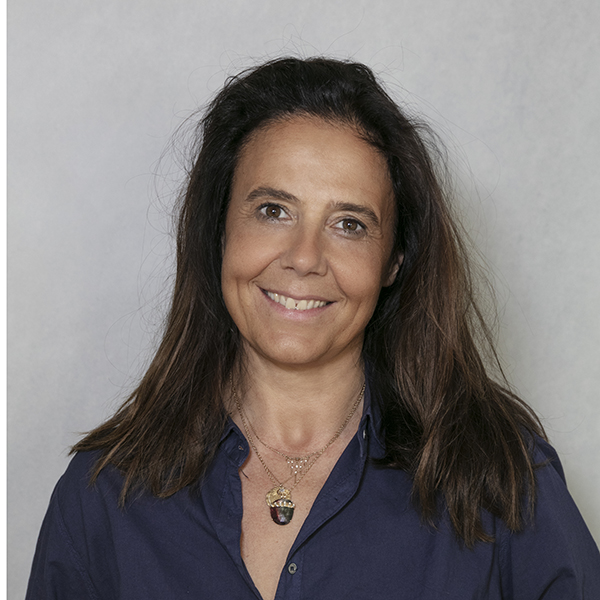 I am strongly influenced by my travels, ancient Egypt, colors, harmony, nature, an encounter, a movie, a book. I believe that beauty has vibrations, therapeutic virtues, just like stones…
No, Céline didn't convert to the Hindu religion upon discovering Jaipur. This epicurean would never sacrifice the sugar waffles of her homeland for yogic asceticism!
Let it be known, the talismans she has been creating for 15 years didn't wait for the current trend. They are rooted in that childhood mantra when her mother would slip the protective amethyst into her pocket…
And if she has a belief, it's in the happiness she sketches out daily, balancing intuitive animism, ancient symbolism, and a love for the earth, in which she remains firmly grounded.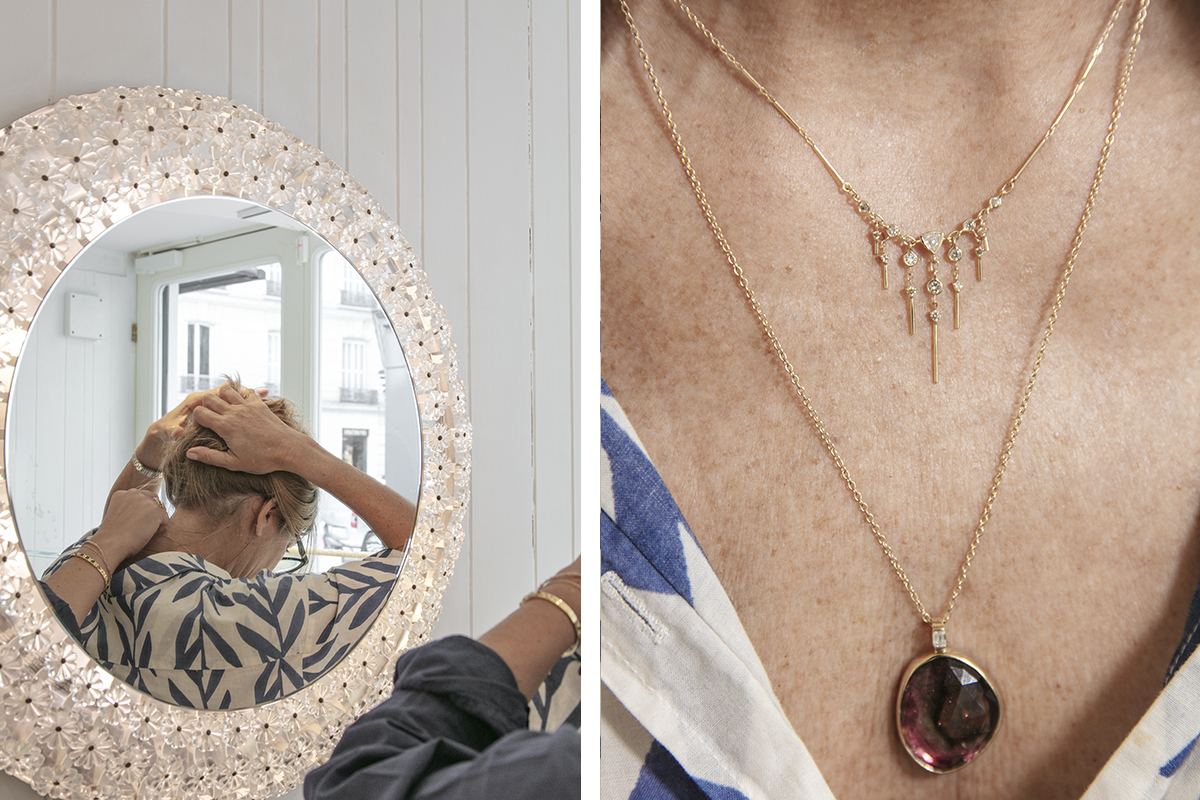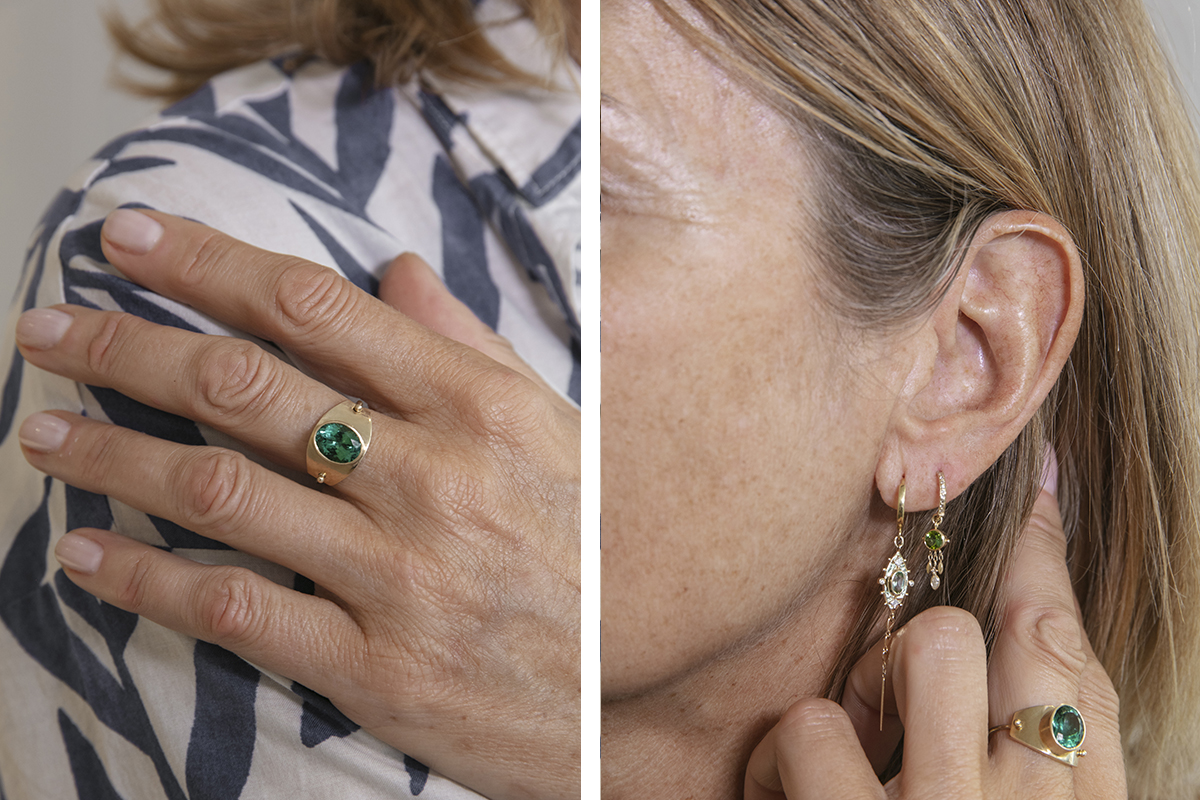 As we move on to the photo shoot under the unyielding direction of Delphine Jouandeau, I choose a shade of tourmalines and her lovely Dream Maker necklace in diamonds.
Céline tells me about her travels, her hunt for precious stones from Madagascar to South America, and the artists she has collaborated with for her shop.
The miniature dune displays are by the artist Christo Nogues, the enchanted forest in the showcase is by the ceramist Caroline Pholien. She found her jasper door handle in India and her white Carlo Nason lamp from the 70s at the Brussels flea market.
As for the fabulous Roger Tallon staircase that she cleared from the dusty wood panels of the old shop, it has become the backbone of Céline Daoust's white Parisian cocoon.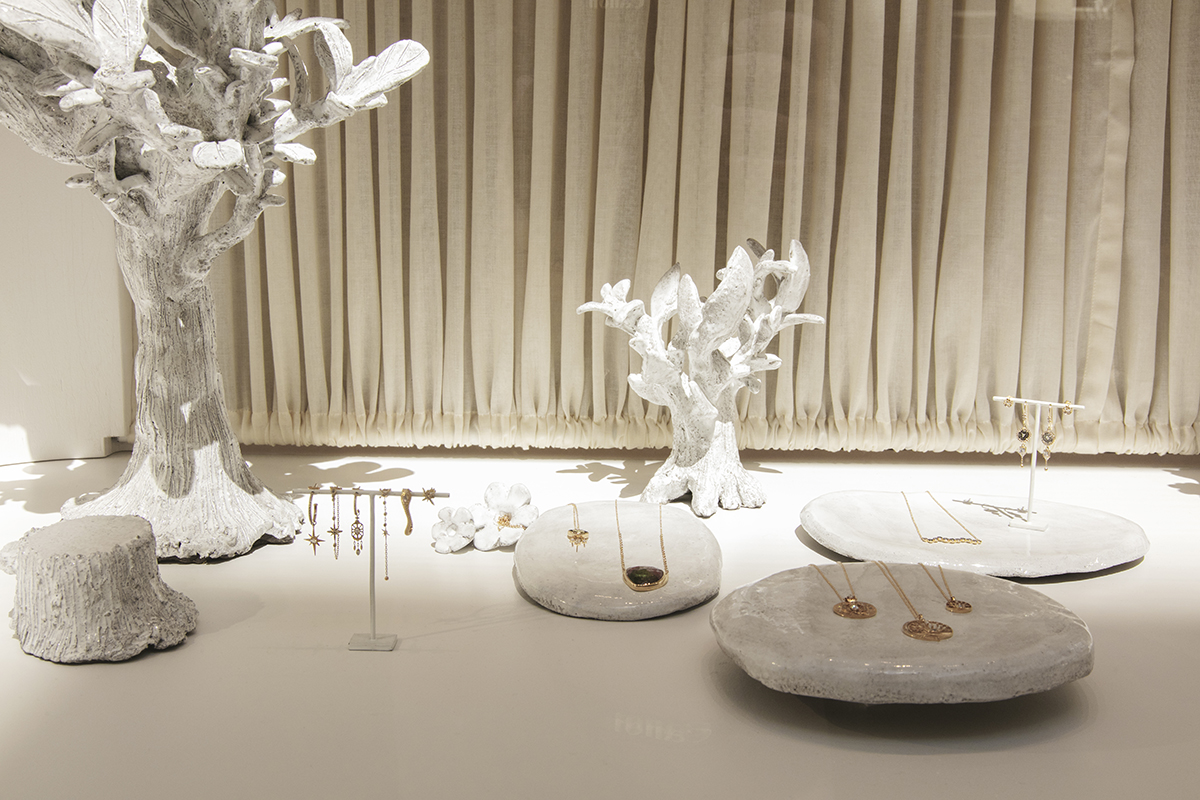 I ask her if I will see her at COUTURE at the end of the week, as I am taking the Paris-Vegas flight the next day, but I already know the answer… Céline is heading back to India where she has a big project, with Matthieu of course… But hush, it's still a secret! How about we set our next meeting in India? We've scheduled it, but this time, promise, we won't wait 5 years!